PROVIDENCE, R.I. [Brown University] — On the eve of a performance at Brown's Granoff Center, renowned violinist Tracy Silverman settled into a rehearsal room in Steinert Hall to run through several new works created specifically for him.
With his six-stringed electric violin, an instrument he designed in the early 1980s, a music stand in front of him and a host of equipment at his feet — the pedals and controls he uses to loop, add distortion, reverb and other effects — Silverman delved into a piece called "Rock and a Hard Place" by Brown sophomore Max Friedman.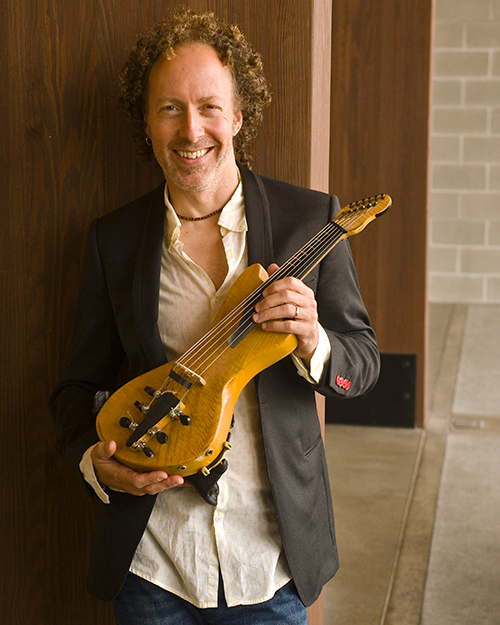 As he played, he paused every now and then to describe what Friedman's composition called for and to confer with Friedman and Assistant Professor of Music Eric Nathan about slight adjustments that could change how the piece sounded.
The rehearsal was part of what Nathan called a blitz of activity capping Silverman's semester-long engagement with students in Nathan's course, "Timbre in Electroacoustic Music." Through multiple in-person meetings and Skype conferences, the Nashville-based Silverman worked with Friedman and his classmates — undergraduate students Maita Eyzaguirre and Reid Merzbacher and graduate student Marcel Zaes — as they composed works for him to perform.
"I've seen these works in their infancy, when they just starting, when they were sketches and now when they're all completed," Silverman said of the students' compositions. "Along the way, I was available to play them for the students so they could hear how they sounded, and so they could get feedback from me about playability. They could hear what works and what doesn't and adjust their pieces."
Silverman, a composer and musician who performs as a solo artist as well as with symphonies and touring orchestras, is no stranger to having works composed specifically for him, such as Pulitzer Prize in Music winner John Adams' "The Dharma at Big Sur" or Kenji Bunch's "Embrace."
But while Brown music students have opportunities to compose for friends or University ensembles, it is unusual to engage in a prolonged dialogue with a distinguished performer like Silverman while the developmental process unfolds.
"As a student, it's a really rare opportunity to get the chance to have so much interaction with a performer before the concert," Eyzaguirre said. "I think that's something that comes along more when you're at a professional level."
Writing for Silverman meant learning all about the electric violin, an instrument whose capabilities the students learned about over the semester.
"I think in our first session, I was just demonstrating some of the different possibilities, some of the different sounds and effects, to give them a lot of choices, a palette that they could pick from," Silverman said. "For me it's really fascinating to see how different all these pieces are, how each student takes that information and goes in their direction with it. It's really a fascinating process to be part of."
Eyzaguirre said the instrument's capabilities changed the way she thought of creating a piece.
"Tracy's instrument is really one of a kind," she said. "With six strings, it has the range of a viola and an extra fifth below, so it opens up the sonic possibilities from a compositional standpoint."
Eyzaguirre said Nathan's course, which married a scholarly approach to the concept of timbre — the character of a musical sound, essentially — with the creative work of composition, helped ground her thinking and approach.
"Some of the scholarly articles we read defined things that I had been thinking of very abstractly in very concrete terms," Eyzaguirre said. "It brought to life many different aspects of sound and music that I had thought about before but had never had the chance to explore so thoroughly."
"Timbre in Electroacoustic Music" had two goals, Nathan said.
One goal was to introduce concepts and the study of timbre using models from other compositions and scholarly writing to enrich how students think of the world of contemporary music. This ranged from looking at the acoustic properties of sound to what physical properties make a clarinet sound different from an oboe, violin or other instrument.
"And then," Nathan said, "we looked at music perception, music psychology and cognition, how we perceive these sounds and how composers exploit the way our brain works."
The second goal was for students to use what they studied to enrich how they think about their own compositions. Class meeting times began with presentations and discussions of scholarly readings, followed by group work on the compositions that were being created.
The combined focus on scholarly and creative work, coupled with the students' interactions with Silverman, created a full-circle learning experience that began with concepts and ultimately concluded with a public performance in the Granoff Center in early December.
Silverman played an excerpt of John Adam's "Dharma at Big Sur," followed by the new works by Friedman, Eyzaguirre, Merzbacher and Zaes. Silverman welcomed the students to the stage to speak a bit about their pieces.
In March, Silverman will return to Brown for the second half of his residency. Artist residencies through the music department are often consolidated into a week of activity in which a visitor delivers a lecture, makes class visits, performs and meets with students. That was the case with jazz great Randy Weston, who was at the University in November. The schedule of Silverman's residency, however,  will play out over a longer period of time.
On March 2 and 3, Silverman will perform his own composition "Love Song to the Sun," which was co-commissioned by the Brown Department of Music and features interactive video projections by Todd Winkler, a Brown music professor and co-director of MEME (Multimedia and Electronic Music Experiments).
Silverman will be accompanied by the Brown University Orchestra, which will be conducted by Daniel Harp, a teaching associate in music at Brown.
Friedman, who plays the trumpet, will be part of the Orchestra playing Silverman's piece.
In the Steinert Hall rehearsal room, talking during a break from making the final adjustments to Friedman's "Rock and a Hard Place," Friedman told Silverman he was looking forward to performing "Love Song to the Sun" in the spring.
After a pause, Friedman qualified that statement a bit. "I'm excited about that," Friedman said to Silverman, "but it's hard."
Silverman laughed, preparing to launch back into rehearsals of Friedman's composition. "I'm returning the favor," he said.