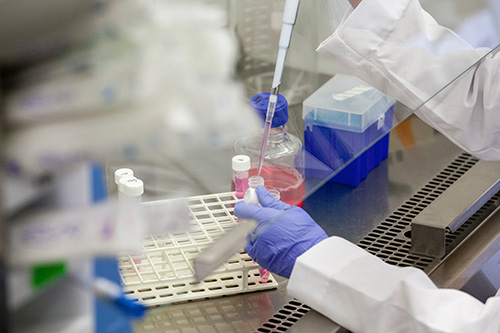 PROVIDENCE, R.I. [Brown University] — A new $50 million gift for Brown University's Warren Alpert Medical School will propel efforts to transform biomedical research and discovery into treatments and cures for disease.
The gift from Brown Chancellor Samuel M. Mencoff, a Class of 1978 alumnus, and his wife, Ann S. Mencoff, will help the medical school secure its position as a world-class center of innovation in biology and medicine, said Brown President Christina Paxson.
Half of the Mencoff family gift will be dedicated to establishing endowed chairs and providing funding to support outstanding researchers — from laboratory scientists to physician-scholars — whose discoveries alleviate illness and disease. The remaining $25 million will support medical education and research.
The gift will support the Brown Institute of Translational Science (BITS), which is part of the Warren Alpert Medical School. BITS is establishing teams of scientists and clinicians who convert scientific discoveries into medical breakthroughs that are tested in the clinic and brought to patients in the marketplace.
"The groundbreaking research of Brown faculty in the lab can see clinical applications at the bedside of patients in hospitals affiliated with Brown, and then lead to commercial applications," Paxson said. "The partnership between academic medicine and local health care providers is one of the essential ingredients for sustaining quality health care and propelling economic progress in Rhode Island."
The far-reaching benefits of investment in medical education and translational science make philanthropic investment in this area unique, said Samuel Mencoff. The co-CEO and co-founder of the private equity firm Madison Dearborn Partners in Chicago, Mencoff has served as chancellor of the Corporation of Brown University since July 2016.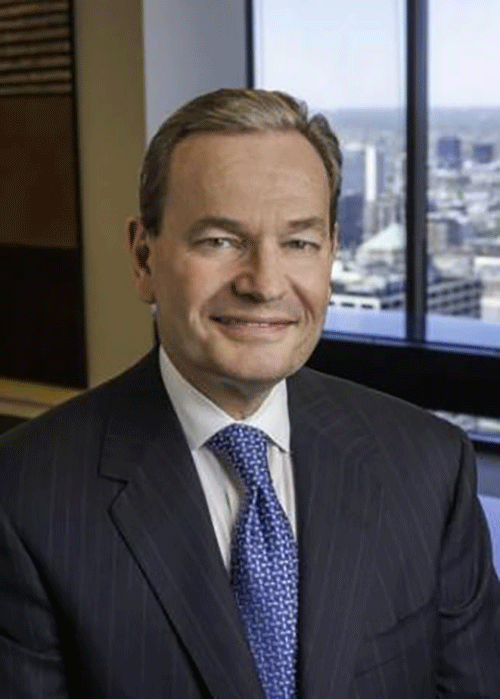 "The potential of medical research is almost limitless." Mencoff asserted. "What can be more exciting or important than finding cures and treatments for diseases that burden the lives of patients in Rhode Island and globally?"
Building on investment in cures
The Mencoffs' gift builds on the success of recent efforts at Brown to increase investment in more rapidly and effectively translating new knowledge about disease to clinical applications and commercialized treatments. Fundraising for the Warren Alpert Medical School and the Brown Institute for Translational Science is a priority for the $3-billion BrownTogether comprehensive campaign the University launched publicly in fall 2015.
A $27 million gift announced in November 2016 from The Warren Alpert Foundation already is making a major impact in advancing human health. The gift is supporting M.D.-Ph.D. training and bringing together researchers, clinicians and other scholars from across the University to focus on new modes of diagnosis, treatment and prevention.
Other support for research in health comes from the $12.5 million gift that established the Hassenfeld Child Health Innovation Institute, a collaboration with Hasbro Children's Hospital, Women & Infants Hospital of Rhode Island, and other local partners. The institute aims to improve the health of children by targeting autism, asthma, obesity and other urgent problems.
In addition, a new anonymous $6 million gift will establish two new endowed chairs in the medical school to retain and attract the very best scholars who work in Alzheimer's and other neurodegenerative diseases. This will complement the Mencoff gift, which will establish four professorships in biomedicine and fund the directorship for BITS.
"This is a critical time for philanthropic investment in talented scholars and medical research," said Jack A. Elias, dean of medicine and biological sciences, professor of medicine and Brown's senior vice president for health affairs.
"Over recent years, major investments in research in areas like immunology, cell biology and genetics have provided impressive insights into the basic biology of fundamental processes, such as injury, repair and neoplasia (abnormal cancerous tissue growth)," Elias said. "Now we need translational investigations to move from these exciting bodies of new knowledge to understanding the mechanisms that underlie human disease."
Investments like the Mencoff family gift are exciting because they allow faculty to focus their efforts on the next step, which is figuring out how the mechanisms underlying disease can be modulated to generate new treatments, Elias said. Philanthropic investment can give researchers the agility to pursue new studies or alter the design of studies in response to new data without the lengthy processes required to pursue federal or foundation grants.
"These investments keep Brown on an ambitious trajectory for moving research out of the labs and into clinics in areas like respiratory diseases, aging, Alzheimer's disease and treatments for malaria," Elias said.
This excites Jake Kurtis, the Stanley M. Aronson Professor and chair of the Department of Pathology and Laboratory Medicine at the medical school. Kurtis has developed a promising malaria vaccine that is poised to begin human trials.
Kurtis has been awarded numerous grants, including two last year totaling $4.8 million from the National Institutes of Health's National Institute of Allergy and Infectious Diseases. But receiving funding for diseases in developing countries can be challenging, Kurtis said. He has to be 18 months ahead of the grant process to try to identify funding for a project.
"Malaria isn't coming back to the U.S. anytime soon, so you can imagine how difficult it is for the government to use taxpayer money to fight malaria," Kurtis said. "But malaria is the greatest single-agent killer of children on the planet, killing one child every 15 to 60 seconds. It also inflicts a significant toll on pregnant women, causing maternal morbidity, mortality and early neonatal death."
Dedicating resources to medical research that helps underprivileged populations "is consistent with the Brown ethos of service to the world, through and through." Kurtis said.
Elias said it is also consistent with the idea that "donors can change the world by making gifts to the Warren Alpert Medical School at Brown University."
With the gift from the Mencoffs, the University has raised $141 million toward medical education, research, and recruiting and retaining top biomedical faculty as part of the BrownTogether campaign.