PROVIDENCE, R.I. [Brown University] — Cornel West, a prominent intellectual, author and activist who serves as professor of the practice of public philosophy at Harvard University, made a passionate argument for pursuing moral clarity and thinking about "what kind of human you are going to choose to be," in an address at Brown on Tuesday, March 6.
Referencing escalating income inequality, wage stagnation, mass incarceration and the persistence and resurgence of white supremacist movements, West said, "All these catastrophes are coalescing at the same time. That's what it is to be a young person in 2018."
Despite that bleak context, West delivered a fiery, uplifting plea for humanity. He urged audience members to confront these and other grave challenges by undertaking a "critical historical self-inventory," and, crucially, to resist becoming discombobulated by despair.
Identifying the need for a "deep education, not schooling," he referenced throughout his speech the Greek concept of paideia — a broad education focused on producing a whole, enlightened member of society — and called on students to distinguish between market-based success and freedom.
"Don't confuse your vocation with your profession," West said. "Put at the center of your calling and vocation integrity, not cupidity or venality. Venality means everything is up for sale. The black professional classes are told that to be free is to be successful. Success is one thing. Success is risk-averse. Freedom is something else."
West's talk at Brown was part of the Politics in the Humanities lecture series, organized through the Cogut Institute for the Humanities. Fittingly for a series designed to create dialogue on political questions across the humanities and social sciences, West discussed central existential questions through the examples of musicians, political and religious leaders, writers and philosophers ranging from the singer and pianist Dinah Washington to Martin Luther King Jr., playwright Anton Chekhov and philosopher John Dewey.
West said that artists in particular confront catastrophe with compassion and creativity, and that the work of blues musicians was instructive in staying alert to the suffering of others.
"Truth means the condition of suffering must speak," said West, who advised his listeners to "keep track of any form of harm, of unwarranted hurt."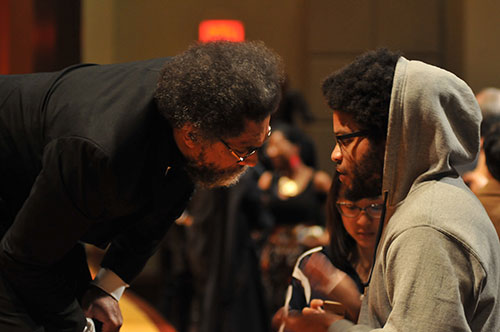 West also cautioned that it is important to remember that "we have been shaped very deeply by the things we are critical of" and that the focus should be on critical compassion and delicate, difficult conversations, rather than responding to terror or injustice or difficulty by imposing terror or injustice on others. "You can't hate your way through this," he said.
He raised the example of Mamie Till, the mother of Emmett Till, the black 14-year-old who was murdered in Mississippi in 1955 after he was accused of flirting with a white woman.
"Emmett Till's mother said: 'I don't have a minute to hate. I'm going to pursue justice for the rest of my life,'" West said.
At multiple points during his speech, West described himself as a radical democrat and revolutionary Christian. Bonnie Honig, a Brown professor of modern culture and media and political science and the organizer of the Politics in the Humanities series, called him "above all an educator, a teacher" who encourages us "to be more, to do more, to see more."
During his daylong visit to the Brown campus, West visited two courses, engaging directly with graduate and undergraduate students in a collaborative humanities seminar focusing on politics and literature and a religious studies course, respectively.
He was also a tireless interlocutor, answering complex questions by a long line of audience members after his address, all of whom seemed to want to hear more from West, who pronounced that in this "bleak moment now, we will find out who we are."