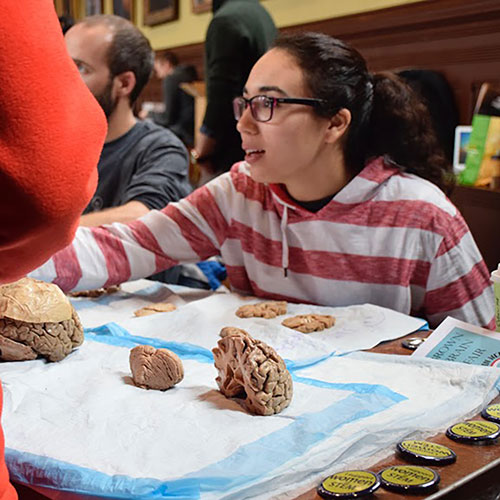 PROVIDENCE, R.I. [Brown University] — Most humans use only about 10 percent of their brains every day. True or false?

That's an assertion repeated so often that it's easy to accept as truth. But in fact, it's total fiction.
"We actually use 100 percent of our brains every day," said Victoria Heimer-McGinn, a postdoctoral associate at Providence College's Neuroscience and Animal Cognition Lab.
She attributes the myth in part to Wilder Penfield, a 19th-century doctor who treated epilepsy. Penfield cut out windows of his patients' skulls and poked their brains with electrodes to map different bodily sensations to parts of the human brain. Poke one side of the brain, he discovered, and his patient's finger would twitch; poke the other side, and the patient would feel a tiny toe tickle.
Penfield mapped as much of the brain as he could and concluded that he'd discovered it all. But he quite literally only scratched the surface: He forgot to delve inside the brain's ridges, where the other 90 percent of activity takes place.
"Ten percent is a flat-out lie," Heimer-McGinn said, laughing. "And don't get me started on the whole, 'Am I left-brained or right-brained?' thing. The truth is, each function that happens on one side of your brain happens on the other side as well."
Heimer-McGinn, until recently a postdoc at Brown, delights in busting common brain myths — so much so that she's organized a week of events focused on just that. Brain Week, a series of talks, film screenings, art shows, fairs and more held every year in March, aims to make brain research fun, educational and accessible for everyone. The celebration kicks off on Saturday, March 10, and runs through Sunday, March 18. Events are open to the public, and most take place on or near the Brown campus.

This year, Heimer-McGinn took special care to plan events that address topics that affect almost everyone's lives, whether directly or indirectly — mental illness, autism and Alzheimer's disease, for example.
"Everyone knows someone with Alzheimer's, and everyone wants to know how it happens and where we are in research," she said. "So we're hosting a screening of 'Still Alice,' about a woman struggling with Alzheimer's, and a discussion about it with a doctor and a neuroscientist."
Among the other events is a panel on reframing conversations about mental illness, an exhibit of art by people who fall on the autism spectrum and a dance class specifically designed for those with movement challenges.
Every event is a learning opportunity — even for those who dedicate their lives to brain research, said R. John Davenport, managing director of the Brown Institute for Brain Science, a co-sponsor of Brain Week.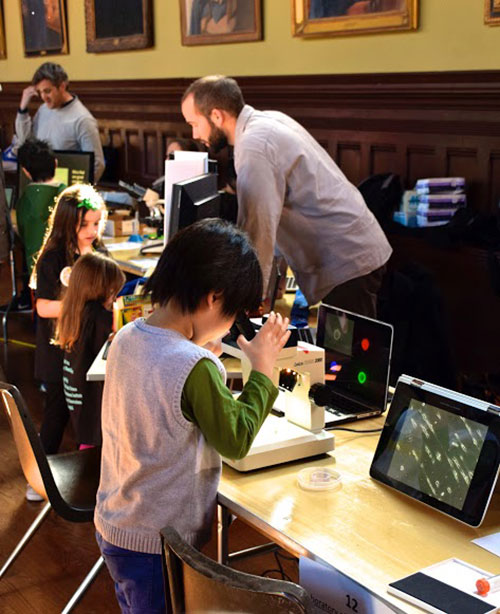 "Our whole goal at BIBS is not just to understand the brain but also to use our knowledge to benefit society," Davenport said. "These events offer a chance for scientists to communicate to the public what their research is all about, but it's also very important to hear back from the community and find out which issues and questions they think are the most urgent to address."
Collaboration across the academic disciplines is equally important to the BIBS mission. Shortly after Brain Week concludes, the institute will host Mind Brain Research Day, where brain researchers from all over campus can learn about each other's work at a poster session.
"In some sense, neuroscience is a field of scientific immigrants coming at brain research from all different perspectives — genetics, physics, physiology, psychology and many others," he said. "There's a willingness here to entertain all those different perspectives, and I think it positively affects the work people do."
It was at a BIBS poster session two years ago that Heimer-McGinn first experienced the power of cross-discipline collaboration. She was presenting her research on the hippocampus, a part of the brain that controls how we receive context. A researcher who'd been studying prisoners with psychopathy approached her to share his findings, which showed that the context-receiving part of the hippocampus was smaller in psychopaths.

"I'd never have known that if it weren't for Mind Brain Research Day," she said. "That's what Brain Week is about — bringing together people who wouldn't otherwise see each other, but who have a lot to learn from each other."
 
Selected Brain Week events at Brown
Precision Medicine and The Brain
Wednesday, March 14, 4 p.m.
Eddy Auditorium, Biomedical Center, 171 Meeting St.
This discussion focuses on the opportunities and challenges of using "big data" to enhance the care of those with autism and other neuropsychiatric disorders.
Dance for All People: Dance for Aging and Movement Challenges
Thursday, March 15, 10:30 a.m.
Ashamu Dance Studio, 77 Waterman St.
This dance class aims to help those with movement challenges increase coordination and strength and improve balance... while having fun.
Still Alice: Movie Screening with Panel Discussion
Thursday, March 15, 7 p.m.
Smith-Buonanno Hall, Room 106, 95 Cushing St.
Brown's Film Forum examines the relationship between mental illness and the silver screen with a showing of "Still Alice," followed by a moderated discussion about its portrayal of Alzheimer's disease.
Brown Brain Fair
Saturday, March 17, 10 a.m.
Engineering Research Center Lobby, 345 Brook St.
At this family-friendly event, more than 20 labs, institutes and organizations share their research using games and fun demonstrations.
"Out of My Head" Screening and Migraine Q&A
Sunday, March 18, 4 p.m.
Smith-Buonanno Hall, Room 106, 95 Cushing St.
"Out of My Head," a documentary about migraine disease, makes its Rhode Island debut at Brain Week. A Q&A session with experts follows the screening.