PROVIDENCE, R.I. [Brown University]—How can we grasp the immensity of the impact of ice melt on the landscape in Antarctica and Greenland, or interpret statistics on water scarcity and contamination so we understand what they mean for everyday life? How did the Aztec and Spanish combat catastrophic flooding at Mexico City? How do politics, economics and policies intersect in the Arctic?
Beginning on March 31, Brown University will host a series of events and exhibitions, ranging from public art and sound installations to scholarly conferences and symposia, that explore issues of climate change through multiple disciplines and practices.
Titled "WeatherProof: Arts, Humanities and Sciences Explore the Environment," the series brings together the work of the David Winton Bell Gallery, the Brown Arts Initiative (BAI), the Cogut Institute for the Humanities, the Institute at Brown for Environment and Society (IBES) and the John Carter Brown Library (JCB). Each program will approach the issue of climate change differently, but two common threads that will span the series are water and the impact of environmental change on the polar regions.
"WeatherProof is a vibrant example of the BAI's core mission and Brown's ethos: to bring together artists and other creative thinkers from a diversity of disciplines to tackle contemporary challenges," said Anne Bergeron, BAI's managing director. "The breadth of programming is designed to highlight collaborative experimentation, scholarship and problem-solving across disciplines."
A Bell Gallery public art exhibition titled "33°" will kick off the series when it opens on March 31. Through monumental photomurals mounted on the facades of five Brown buildings, the exhibition will document the beauty and destruction of the polar regions on a grand scale. The gallery will present companion programming including the 40-minute piece "Isfald" (Icefall), a recording made at the Illulisat ice fjord in Greenland that will allow visitors to hear the variety of sounds produced by melting, cracking glaciers.
Other events include IBES' "Water's Edge," which will include a seminar on water management, a speaker series featuring writers whose work focuses on water, and a lineup of poetry readings. The JCB will host a related exhibition, sound installation and panel discussion called "Fluidity: Knowing Water in the Americas," and a selection of items from the exhibition "Bodies of Water, Life and Bodies at Work: Oceans, Lakes, Rivers."
The Cogut Institute will hold a two-day conference titled "Earth(ly) Matters: New Directions in Environmental Humanities," that will focus on the intersection of the humanities and environmental issues. A BAI symposium, "Polar Opposites: Creative Interventions in the Arctic and Antarctica," will consider changes to the North Pole and South Pole alongside the broader questions of how artists' and scientists' work connects and how artists can productively intervene to address climate change.
Energizing campus-wide investigations
IBES, the BAI and the Cogut Institute have each worked independently in the past on discipline-crossing projects that engaged with environmental issues. This year marks the fourth in which IBES has presented the "Earth, Itself" series, which aims to stimulate conversations around climate change by bringing together humanities scholars, creative artists, social scientists and physical and life scientists. The Cogut Institute's annual scholarly theme for 2017-18 is the environmental humanities, making it a destination for humanities scholars who are actively engaged with issues that pertain to the environment, ecology or environmental studies. And the BAI kicked off its three-year arts and environment programmatic theme last spring with its "re|ACT: symposium on arts and environment."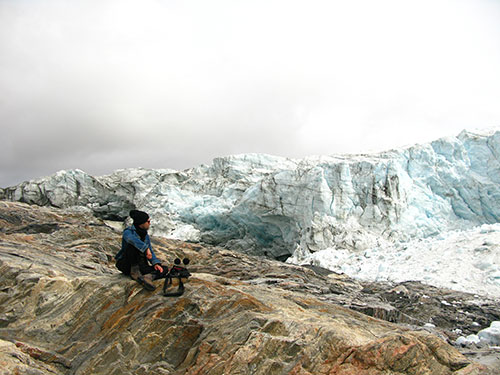 Now, by coordinating their efforts with those of the JCB and the Bell Gallery, these programs are providing an enlarged and expanded set of opportunities to explore essential questions about climate change from multiple points of entry, said Amanda Anderson, director of the Cogut Institute.
"We are excited to see the range of programming across the events, as well as the productive overlap of themes and issues," Anderson said.
Many of the Cogut Institute's speakers, she said, "will address philosophical questions arising when we cease to place human beings at the center of things, when we try to understand how profoundly environmental change is affecting all life and earthly matter." 
That programming will approach the question of climate change in a manner that is distinct from the events planned by the JCB or the BAI. But Lenore Manderson, a distinguished visiting professor of anthropology at Brown, pointed out that drawing together people from very different disciplines, as WeatherProof does, will help to reach a wide audience.
"Climate change is urgent, and bringing together the arts and sciences helps propel that sense of urgency," said Manderson, who is the founder and director of the "Earth, Itself" series. "It provides different ways for people to have conversations around climate change."
Manderson is also on the faculty at the University of the Witwatersrand in South Africa, a country that will likely see one of its largest cities, Cape Town, run out of water by this summer. That kind of crisis, in which four million people in an affluent city may have to fetch water at rationing stations by July 2018, means that reaching people in a way that is compelling to them, and not keeping climate change information "burrowed away" in separate disciplines, is crucial, she said.
"This is the crisis of our time," Manderson said. "But I think it's also a space for imagination."
Most of the "WeatherProof" events take place between April 2 and 13, with the Bell Gallery and JCB exhibitions staying up through May and June, respectively. For a full schedule, visit brown.edu/go/weatherproof2018.