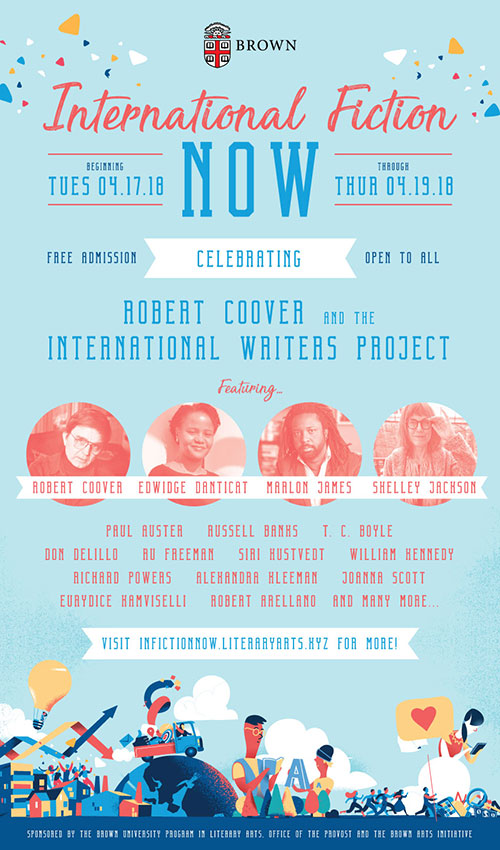 PROVIDENCE, R.I. [Brown University] —Don DeLillo. Edwidge Danticat. Marlon James. Siri Hustvedt. T.C. Boyle. Paul Auster. Ru Freeman.
For three days beginning on Tuesday, April 17, some of the most acclaimed writers from across the globe will convene at Brown University to celebrate the work of yet another literary luminary — Brown professor emeritus Robert Coover, a writer renowned for his innovative approach to narrative and his advocacy for the freedom to write.
Called "International Fiction Now: Celebrating the Unspeakable Practices of Robert Coover and the International Writers Project," the festival will feature each of those writers and many more for a series of readings, performances, panels and other events. The festival will celebrate not just Coover's writing, teaching and activism, but also his 86th birthday.
"We believe this is the most significant pooling of international writing talent on campus since Robert Coover mounted the first 'Unspeakable Practices' event in 1987," said Rick Moody, a professor of the practice of literary arts, referring to the three-day literary conferences Coover organized over the years to celebrate iconoclastic American fiction.
The writers — well-known and beloved authors who, considered collectively, have won just about every major literary prize out there — belong to and represent many communities. They offer not just a chance to "have a close-up and personal experience with literary excellence," as Colin Channer, an assistant professor of literary arts at Brown said, but an opportunity for audiences to see themselves represented.
"This experience will remind audiences that excellence comes in many genders, languages, accents, age ranges, body types, sexual preferences and angles of literary approach," Channer said.
The relative ease with which Moody, Channer and their colleagues were able to marshal dozens of literary superstars from all over the world speaks to the impact Coover had on generations of writers, both colleagues and former students.
"Robert Coover has earned, through his tireless promotion of literary values nationally and internationally, a lot of respect," Moody said. "He befriended a great many writers over 50 years in the literary community, here and abroad, simply by being a true believer."
Coover taught at Brown for more than 30 years until his retirement in 2012. Considered one of the foremost literary innovators of the post-WW-II generation, he won the 1966 William Faulkner award for his first novel, "The Origin of the Brunists," and last year published "Huck Out West," which imagines how the main character of Mark Twain's "Huckleberry Finn" would experience the American West as a grown man. He has also written collections of short stories and plays and was an early advocate of electronic writing, a literary practice that uses digital technologies and involves multiple artistic media, sometimes within virtual reality spaces like Brown's CAVE.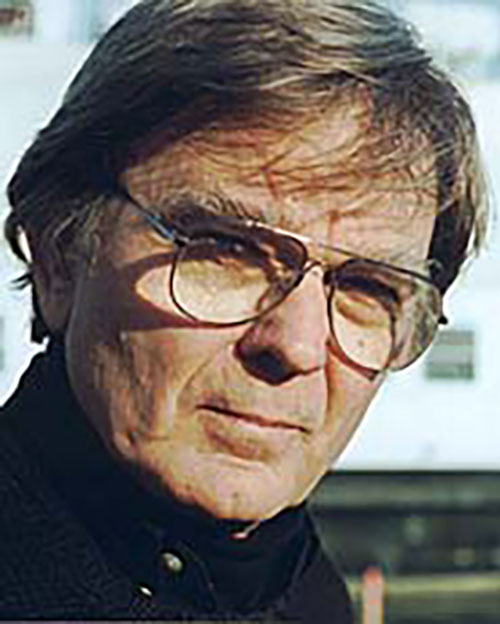 The festival's programming reflects Coover's preoccupations and his impact on literary practice. In addition to readings, a voice performance of his novel "Gerald's Party" and a "circus" that will close the festival on Thursday, April 19, International Fiction Now will include panels on contemporary literature and electronic writing as well as a discussion of postmodernism, a term often used to describe Coover's work, but one whose utility he has questioned.
The festival will also forefront the International Writers Project (IWP) and Coover's work on behalf of writers facing censorship or danger in their home countries.
"Coover's personal commitment to international writing is longstanding, and while it has most obviously taken the form of a commitment to writers at risk, it is perhaps also accurate to say that his advocacy is a feature of who he is as a person," Moody said. "Coover's writing has challenged authoritarianism and political orthodoxies, always on the side of art and expression. And this sense of mission has led organically to the International Writers Project."
Gale Nelson, the academic program director in literary arts, said that the forerunner to the IWP was the Freedom to Write Program, which Coover founded in 1989. That program brought to Brown three Chinese dissident writers and later provided ongoing support to them and to other writers from China, Cuba and Somalia, Nelson said. In 2003, Coover began directing the IWP, which provides a one-year fellowship to a writer who faces personal danger and threats to their livelihood in nations throughout the world.  
Channer, who has assumed directorship of the IWP, said the University's support of the IWP through the Office of the Provost is a powerful, measurable way of giving service to the local community and the world.
"It's the kind of support that is best measured one life at a time, in the individual value of every writer relocated to our campus out of harm's way," he said. "The University's support is courageous. It is ethical. It is also smart. The writers bring their literary excellence from all around the world to our campus. They help to widen our collective perception of who we are."
Channer said that the International Fiction Now programming, which came about with the aid of the Brown Arts Initiative, was organized to be accessible, and he hopes that local and regional community members take advantage of all the festival has to offer. All events are free and open to the public and a schedule (with some last-minute updates pending) is available on the web.
"This is a public festival, conceived with the public in mind," he said. "We want everyone to come. We want that sense of belonging to many communities."
The festival opens on Tuesday, April 17 at 5:30 p.m. with a voice performance of selections from Coover's novel "Gerald's Party." Please direct all questions about events and programming to the Program in Literary Arts by calling (401) 863-3260 or emailing [email protected].