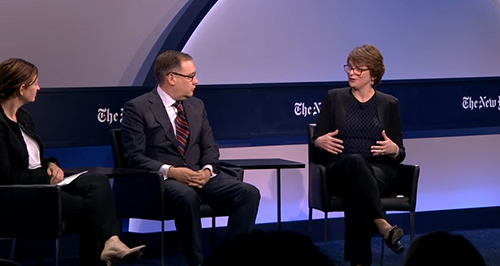 PROVIDENCE, R.I. [Brown University] — At a New York Times forum that convened influential leaders in higher education to discuss issues affecting campuses across America, Brown President Christina Paxson said that protest is a necessary and acceptable means of expression, but universities must ensure that it does not obstruct the basic exchange of ideas. 
"We are not aiming to eliminate protest," Paxson said. "We actually think protest is valid, sometimes necessary, but we're aiming for the right of the speaker to speak no matter what."
Paxson's remarks at the New York Times Higher Ed Leaders Forum came in a May 31 panel titled "Unpopular Words Without Unruly Protests," which explored how schools can promote a spirited exchange of diverse ideas without the types of incidents ratchet up tensions on campus and draw widespread media coverage.
In addition to Paxson, the conversation featured Dean Andrew D. Martin of the University of Michigan and moderator Rebecca Blumenstein, deputy managing editor for the New York Times.
Blumstein noted that Brown hosted self-described conservative Guy Benson in February without any disruption to the event, and was cited on the op-ed page of the Wall Street Journal for "staring down the censors." Blumstein asked how Brown made the event work.
"You have to start with discussions with the students early and often," Paxson said, "with the students who are hosting the event and with group of students who may be unhappy about the event. I think it's 90 percent of the battle."
Paxson explained that this extensive student engagement is a core aspect of the Event Disruption Protocol policy that Brown officially launched this past academic year. She explained that the protocol formally combined various approaches the University had been taking, but also added key standard elements that include multi-partial teams of students to help bring people of diverging views together to talk about the event before it takes place, and a contingency for live streaming the speaker if there is a disruption in the original venue.
"The thing is, the speech goes on," Paxson said. "It just has to go on."
Martin said it is important to acknowledge that, depending on the nature of an event, various groups of students may at times feel unsafe with the ideas a speaker expresses. These include conservative students who may feel they are in the minority, and particularly students from historically underrepresented groups, such as religious or ethnic minorities.
But this does not mean that universities believe in the so-called "safe spaces" that some critics have described universities as providing for students — spaces supposedly intended to shield students from uncomfortable ideas.
"I don't know what a safe space is," Martin said, explaining that he doesn't know how to define the ambiguous term. "I think our obligation is, do what we can to support our students to help educate them. But to remove them from situations when they are in these intellectually and emotionally difficult circumstances isn't going to serve our students well in the long run."
Both Martin and Paxson talked about the importance free speech and free inquiry, whether at a public university bound by the clear lines of the First Amendment, or at private institution that may have a more difficult challenge grappling with establishing community standards around speech because "some lines can be drawn."
Paxson alluded to the fact that students may disagree with the University's position that any student organization or academic department may invite any speaker to campus.
"It's sort of easy to say to students, sorry it's the law," Paxson said. "It's a little bit harder to say, 'You know what, we're a university and we're here to produce knowledge, and free inquiry is a vital part of that, and so we have to do this because it's grounded in our core principles…' But we have to make that case."
The full discussion is included in the video below.