PROVIDENCE, R.I. [Brown University] — More than 500 Brown University employees joined forces on Wednesday, June 13, in an effort to support local school kids — and in the process, they blew the lid off of a Guinness World Record.
As part of the 25th annual Staff Development Day, organizers from Brown's human resources department arranged for University staff members to stuff 3,000 backpacks with school supplies for Rhode Island children who will participate in the Hasbro Summer Learning Initiative in the coming weeks.
Employees gathered inside Brown's Meehan Auditorium had 60 minutes to break the record for the most backpacks stuffed with school supplies within an hour, which previously stood at 1,512. In the end, they didn't need 60 minutes, much less five. With 55 minutes remaining on the clock, staff at every table were cheering, having stuffed each pack with items including pencils, notebooks, glue sticks, erasers and packets of crayons.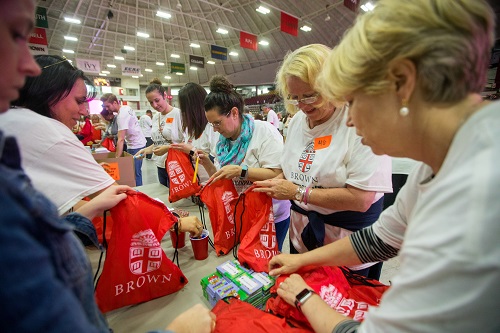 Anne Kerkian, assistant director of English language learning at Brown's Sheridan Center for Teaching and Learning, was not surprised that she and her colleagues made short work of the task.
"It's a driven group of people," Kerkian said. "And I think people are extra motivated because it's such a valuable thing to do."
Equally unsurprised was Angel Hilliard, communication and program director in Brown's human resources department.
"We had it mapped out," said Hilliard, who spearheaded the world record attempt and the entirety of Staff Development Day. "To get to 3,000 backpacks with 500 people, each person has to make at least one backpack every 10 minutes. That's a cinch!"
More complex was the process of organizing an official world record attempt, she said. The Guinness World Records organization requires potential record-breakers to request the presence of a Guinness judge and to round up about two dozen unbiased witnesses.
Hilliard said "Today Show" host Al Roker's 2017 visit to five colleges in five days to break five Guinness World Records in a row inspired the attempt at Brown. She even consulted with staff from each of the five schools to learn how they successfully orchestrated the events.
And with a commitment to community engagement deeply embedded in Brown's culture and a long-time component of Staff Development Day's agenda, Hilliard knew that volunteers would emerge en masse. The backpacks will go to kids who participate in the six-week summer learning initiative run jointly by the Hasbro Children's Fund and United Way of Rhode Island.
"Looking at results from a survey we sent out last year, lots of our staff said they wanted to be part of a campus-wide activity that benefited the community," Hilliard said. "I thought, why not do something really big?"
Community engagement has been a fundamental part of Staff Development Day for more than a decade. In past years, staff have packed 1,200 lunches for homeless and at-risk families in partnership with Crossroads Rhode Island, donated hundreds of hand-knit hats, mittens and blankets to Women & Infants Hospital, gardened in local parks and picked up trash on the state's shorelines.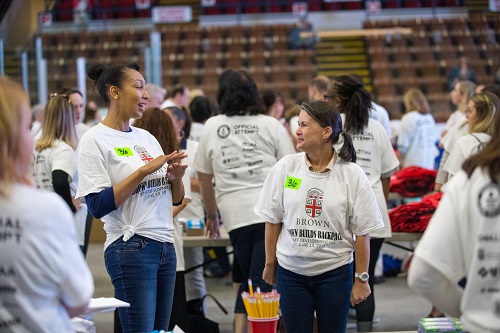 "At Brown, we take the notion of public service very seriously," Brown President Christina Paxson told the volunteers who assembled on Wednesday morning. "Since 2005, you have consistently embraced this ideal of service. Today is just a continuation of years of dedication to serving the community."
Staff Development Day was born in 1993, when Brown employees Karen Sibley and Sheila Curran dreamed up an event that would unite staff from every corner of the University for a full day of learning and networking.
"Sheila and I subscribe to the idea that being a community is what makes everything possible," said Sibley, now vice president for strategic initiatives and dean of the School of Professional Studies. "It was important for us to think about how we could enable our colleagues to understand this institution the way our students do, to feel as excited and empowered by the learning experience as they do."
In addition to the world record attempt, Staff Development Day 2018 included a networking lunch and a handful of afternoon keynotes, many of which offered chances for professional and personal development.
Perhaps to the organizers' surprise, the day also included an impromptu celebration when jubilant staff members, having set the Guinness World Record, formed a conga line so long it wrapped all the way around the perimeter of Meehan's hockey rink.
Chris Grossi and Amar Jasti, coworkers in Brown's computing and information services department, agreed that the festive spirit was about much more than simply setting a new record.
"We don't get many opportunities to work together as one unit," Jasti said. "That's what stands out about today to me."