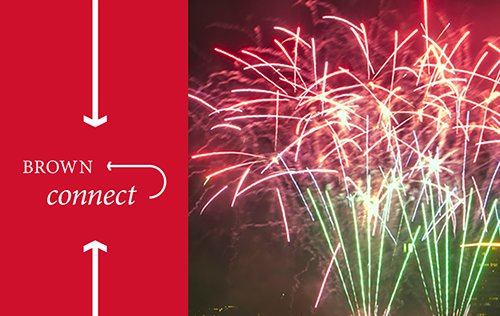 PROVIDENCE, R.I. [Brown University] — As a student at Brown, Class of 2015 graduate Maahika Srinivasan landed an internship through the Swearer Center's iProv program, which funds full-time summer work experiences at local nonprofits. Srinivasan worked on Providence Talks, a mayoral initiative that aims to increase the vocabularies of children from low-income households.
"We used technology — a 'word pedometer' — to encourage parents to have earlier conversations with their kids," said Srinivasan, who after graduation helped young people work for social change at DoSomething.org, served as a research assistant at Columbia University and begins studies at Harvard Medical School in August. "The experience made me think about how to model local interventions in a meaningful way."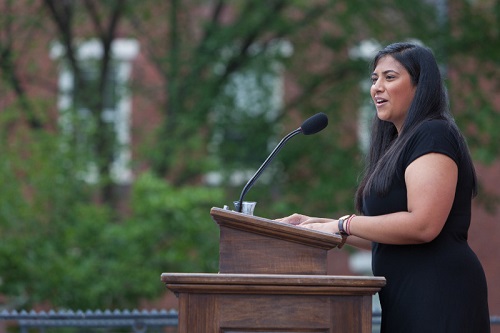 Internships like Srinivasan's are invaluable in helping students gain hands-on exposure to a wide variety of career fields before they graduate, according to experts at the Center for Careers and Life after Brown (CareerLAB). And over the past four years, BrownConnect — an initiative that takes advantage of a digital platform to connect students with alumni for mentoring, advice and internships — has been critical in expanding access to such opportunities.
Building on this success, the University on Tuesday, June 12, broadened the impact of BrownConnect by extending full access to all Brown alumni. Enhancements to BrownConnect have turned the student-oriented initiative into one that now will enable alumni to expand professional networks, cultivate career connections and seek advice from fellow alumni.
"BrownConnect has been tremendously effective in bringing together our undergraduates with our alumni and opening doors to internships and career opportunities," said Brown President Christina Paxson. "We are excited about this next phase, the launch of alumni-to-alumni professional networking, and see it as a major step in strengthening engagement among alumni and between alumni and the University."
Learning beyond the classroom
One among CareerLAB's suite of services, BrownConnect grew out of a commitment Paxson made in 2014. As part of a White House summit hosted by then-President Barack Obama, Paxson pledged to ensure that all undergraduates at Brown, regardless of financial need, would have the opportunity to take part in an internship or research experience.
By involving Brown alumni, parents and friends, BrownConnect has sparked a significant increase in both internship opportunities and student-alumni connections around careers. When the pilot program launched in 2014, it offered 154 summer internship opportunities. Four years later, BrownConnect's opportunities have risen to 887. By fall 2017, the digital platform had logged 12,187 unique users and 9,784 student emails sent to alumni — with a 90 percent response rate.
True to Paxson's pledge, a key priority has been ensuring that summer learning opportunities, including internships and research projects that pay little or nothing, are accessible to students from all economic backgrounds. Now, several sources provide stipends to help cover living expenses while students participate in internships.
A grant from the Quattrochi Family Fund, for example, allowed Brown undergrad Anya Hong to pursue an Undergraduate Teaching and Research Award last summer that complemented her classics concentration.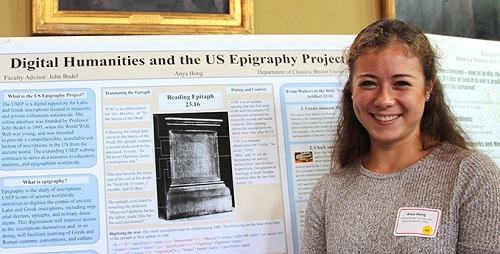 "My work with the U.S. Epigraphy Project involved creating, updating and verifying paper files of museum objects and encoding each inscription," she said. The texts were unlike the ancient works of literature she normally studies in class, Hong added.
Whether research or internship-based, unique experiences that build on classroom learning are a hallmark of BrownConnect. "We want to have offerings that are as diverse as possible," said Srinivasan, who now serves as a member of the President's Advisory Council on Internships.
A history of networking — and a new chapter
In the years since its 2014 launch, BrownConnect has made student-to-alumni career conversations a much greater part of Brown's culture.
"While BRUnet (Brown's old alumni networking platform) was 'opt-in' — only alumni who actively chose to serve as a career resource could be contacted — BrownConnect followed an opt-out model from its inception," said BrownConnect director Aixa Kidd. "The number of alumni who have responded to students' inquiries is far larger than the number who had previously volunteered, demonstrating a deep reservoir of goodwill and enriching this resource for the benefit of both students and alumni."
Moving forward, the ability for alumni to not only serve as resources for students, but also to use BrownConnect to cultivate their own professional connections and seek advice from fellow alumni across a wide range of industries, will extend that culture even further.
Class of 1977 graduate and Brown parent Genine Macks Fidler, who co-chairs the President's Advisory Council on Internships, said that as students secure opportunities through BrownConnect, complete their degrees and become alumni, the initiative will remain a go-to resource.
"In this age of digital connectedness, Brown is stepping up to better connect our worldwide alumni community," Fidler said. 
Alumni can sign-in directly at BrownConnect or through the University's Brunonia site, read FAQs or contact the alumni help desk to establish a new account.