PROVIDENCE, R.I. [Brown University] — In the auditorium of Kassar House at Brown University on Thursday, Aug. 16, a group of more than 100 military officers, scholars, medical practitioners, humanitarian response experts and others gathered to kick off the third annual Civilian-Military Humanitarian Response Workshop. The workshop series is designed to bring civilians and members of the military together to discuss how to best respond to humanitarian emergencies ranging from natural disasters and pandemics to the provision of medical care in war zones.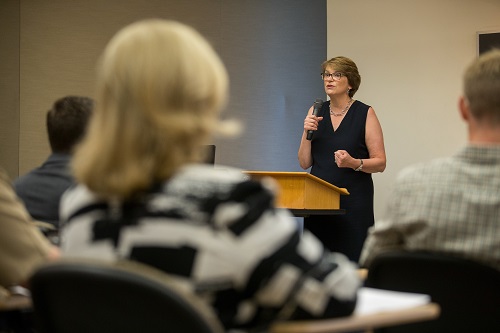 "This is a real partnership across academic, civil and military organizations, and it's a partnership that we need," said Brown University President Christina Paxson.
Noting the breadth of expertise in the room, which was filled with civilians and members of the military who have worked in global hotspots from Chechnya to Mosul, Paxson emphasized the importance of ensuring that educational institutions work in concert with the military so that responses to humanitarian crises are not developed in a vacuum.
"This is the perfect opportunity for people who are working on the ground to help us put together a research agenda that can advance knowledge and understanding on the issues that they're working with," Paxson said. "We have the potential here to really move forward and create the networks that let us do humanitarian response better than we have in the past."
Organized by Brown's Humanitarian Innovation Initiative (HI2), the U.S. Naval War College, the Harvard Humanitarian Initiative and the United Nations Office for the Coordination of Humanitarian Affairs, the workshop series has spurred the formation of seven working groups whose participants stay in touch throughout the year, according to Adam Levine, professor of medicine at Brown and the director of HI2. HI2 is housed at the Watson Institute for International and Public Affairs.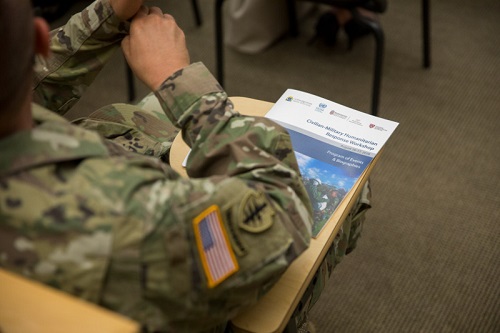 The working groups focus on topics like climate change and sea level rise, corruption in humanitarian response and international humanitarian law, among others. The collaborators in those groups have been working together since the first workshop in 2016, generating projects and new areas of research.
"We really welcome everyone to utilize the ideas that come out of this and build upon it," Levine said. "We're creating a forum that will allow for multiple areas of scholarship to grow out of this so that scholarship will eventually be able to improve the delivery of humanitarian aid around the world."