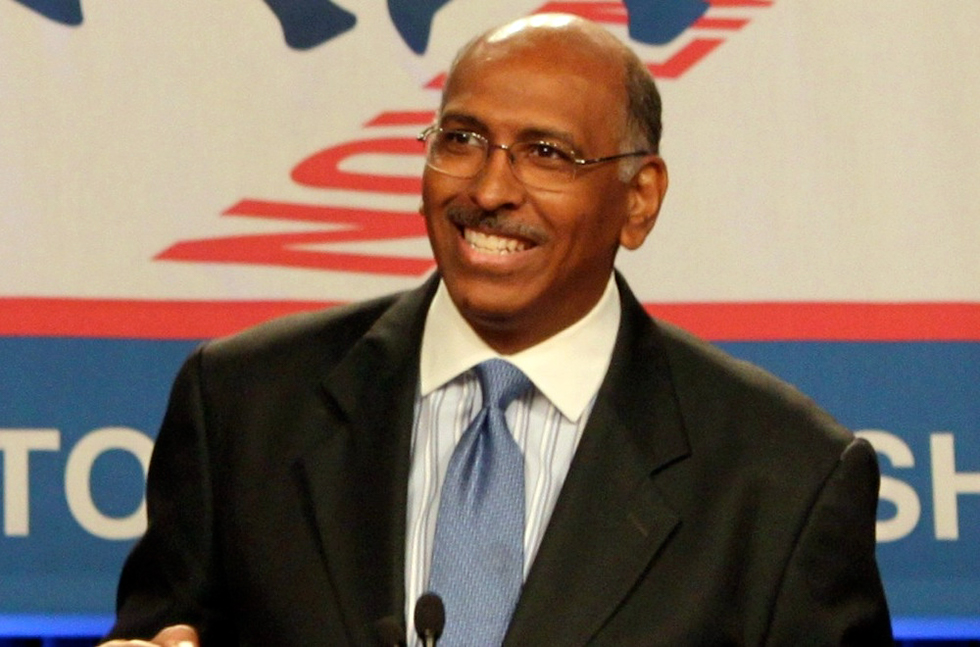 PROVIDENCE, R.I. [Brown University] —Michael Steele, a conservative political commentator and former chair of the Republican National Committee, has been named a faculty fellow at Brown University's Watson Institute for International and Public Affairs.
As a fellow, Steele — an author and the former lieutenant governor of Maryland — will draw on his extensive on-the-ground experience to help students apply theory to real world challenges, Watson officials said. And in two public events that he will co-host with Tom Perez, a Brown alumnus and current Democratic National Committee chair, he will provide commentary and analysis on the upcoming 2018 midterm elections.
"Michael Steele has had an extraordinary and ongoing career spanning law, business, politics, public service and journalism," said Edward Steinfeld, director of the Watson Institute. "As everyone knows who has read his work and seen him on television, he is deeply insightful about politics and public affairs. Moreover, he is committed to open, respectful and spirited dialogue across the political spectrum."
Steele's not-for-credit study group, titled "The Dismantling and Rebranding of American Politics," will be similar in structure to seminars led by Perez last spring and fall — yet with a view from the other side of the aisle. Over five sessions this fall, Steele's seminar will examine the methods used by political parties to win elections and how the current political moment is transforming — and potentially signaling the demise of — the Republican and Democratic political parties, according to Steele. 
"Just when you think you know everything there is about American politics, along comes Donald Trump," Steele said. "So, it has become essential to understand the why and how of one of the most volatile periods in America's political history. I'm excited that the Watson Institute has offered me the opportunity to provide students a front-row seat to some perspectives they may not otherwise appreciate about our culture, our politics and themselves."
Steele's seminar will be open to Brown undergraduates and explore America's early political history and the passions that inspired fighting between and among parties. It will also look at political polarization, sloganeering and branding, activism from the Tea Party to the #MeToo movement, and the 2018 midterm elections. Steele said he plans to have guest speakers, including political commentators and advisors who represent different political points of view, join his study group sessions.
That same openness to multiple viewpoints will also characterize the two public events, scheduled for Oct. 25 and Nov. 19, both focused on the all-important midterm elections. With Perez, Steele will engage audiences in a close look at the elections and what they mean for the future.
"Michael Steele and Tom Perez approach issues from different political perspectives, and they probably disagree about many aspects of public policy," Steinfeld said. "They both, however, are champions of open discussion and the sharing of diverse ideas."