PROVIDENCE, R.I. [Brown University] —The David Winton Bell Gallery at Brown University will present "Walter Feldman: A Memorial Exhibition," featuring a selection of works by the longtime Brown visual art professor, who died in 2017.
The exhibition will be on view from Sept. 8 to Oct. 21, and art historian and critic Donald Kuspit will give a lecture on Feldman's work at an opening reception on Friday, Sept. 14.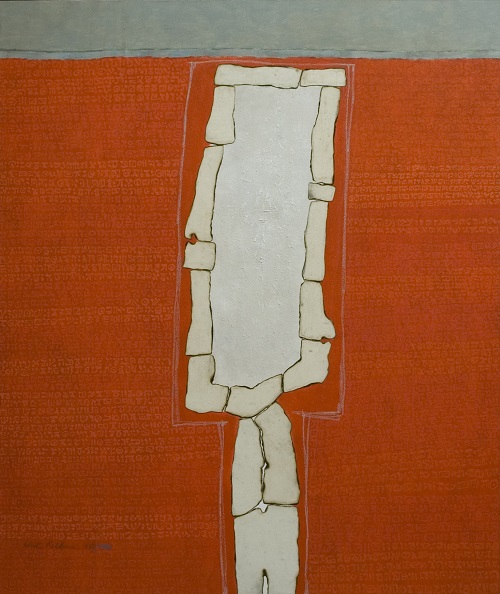 Curated by Jo-Ann Conklin, the Bell Gallery director, the exhibition begins with a painting Feldman completed in 1946, a macabre image of a skeleton-faced soldier made shortly after he returned from service as a U.S. Army infantryman during WW-II. That war is also referenced in the most recent painting in the exhibition, "Memorial X," painted 68 years later in 2014.
"War and the Holocaust cast a long shadow over Feldman's work," Conklin said. "However, between these two works, there are many more that testify to the joy that he found in family and nature, poetry and music, and teaching and the sustenance that his artistic practice provided."
Feldman served on the Brown faculty from 1953 until his retirement in 2007, teaching generations of students. Many of Feldman's students stayed in touch with him, he said in a 2012 interview, because his approach, which was to always criticize with empathy, cultivated lasting relationships.
During Feldman's career, he worked in a wide range of mediums, experimenting while expanding his command of techniques, Conklin said. Among his works are paintings in egg tempera, gouache, oil and acrylic; drawings in pencil, pen and acetylene torch; mosaics and stained glass; silkscreens, woodcuts, etchings and lithographs; mixed media sculpture, collages applied in paper and pigment or imbedded in handmade paper, and hand-set letterpress books.
He worked within stylistic modes ranging from German expressionism to abstract expressionism and color field painting. He often returned to certain subjects, Conklin said, and those subjects — like letters as forms and means of communication, Don Quixote, Mesoamerican warriors, biblical narratives and steles, the upright slabs that can be markers or burial stones — became signatures of his work.
Feldman's interest in letterpress and illustrated books began in the 1980s, according to Conklin, and in 1990 he founded Ziggurat Press. Through that press, he produced an extensive body of small-edition books, including volumes made in collaboration with distinguished poets such as the late Brown faculty members C. D. Wright and Michael Harper and others. In 2012, Feldman said he considered his artwork to be visual accompaniments rather than illustrations of the poems, and that his process was to read the poems, wait and create the artwork later, enabling his memory to be "charged by some kind of vision."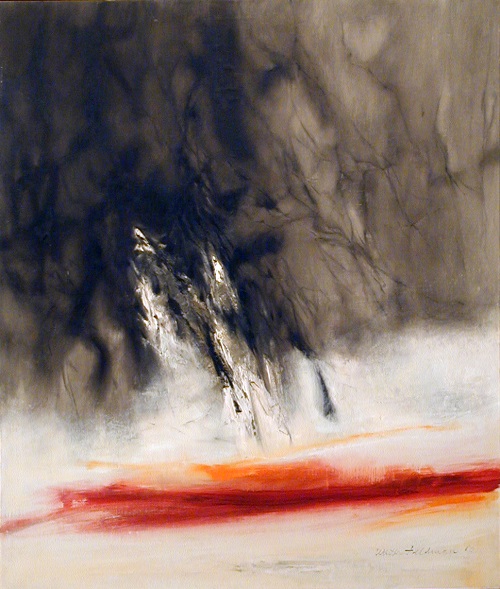 Feldman also made personal books, including one featuring poems written by his six-year-old grandniece, and a memoir of the home he shared with his wife, Barbara, in Little Compton, R.I.
Feldman's work has been included in numerous one-person and group exhibitions at major museums, including the Museum of Modern Art in New York; the Corcoran Gallery in Washington, D.C.; the Institute of Contemporary Arts in London; and the Institute of Contemporary Art in Boston.
"Walter Feldman: A Memorial Exhibition" will run in the Bell Gallery, which is located in Brown's List Art Center at 64 College Street in Providence, through Sunday, Oct. 21. The opening reception on Friday, Sept. 14, will run from 5:30 p.m. to 7:30 p.m.
The gallery is open Monday through Wednesday and Friday from 11 a.m. to 4 p.m., Thursday from 1 p.m. to 9 p.m., and on Saturday and Sunday from 1 p.m. to 4 p.m. For more information, call 401-863-2932 or visit www.brown.edu/bellgallery.