PROVIDENCE, R.I. [Brown University] — Rainbow Chen, a second-year student at Brown, leads a group of high school students up and down Broad Street in Providence's South Side, a low-income, majority Hispanic neighborhood. They're in search of local residents willing to be interviewed about living here for a project called "Humans of Providence," which strives to unearth stories of people who traditionally have not been represented in narratives about living in the city.
So far, no takers — yet Chen and her fellow students are undaunted. They continue their search, sharing an easy camaraderie as they wander down the street. It's obvious they've spent a lot of time together.
"This is not just a job for me," Chen said. "I am so lucky that I get to spend time with these youth who are going to make such a big difference in the world."
The project is part of leadership programming offered by Youth in Action (YIA), an after-school program in Providence for disadvantaged and underrepresented high school students where Chen has worked since Fall 2017 as a Brown University Bonner Community Fellow. In 2016, Brown joined the Bonner Foundation Network, a national consortium of more than 60 college and universities, as its first Ivy League member. This year, 117 Brown students will participate in the program, which was launched by the University's Swearer Center.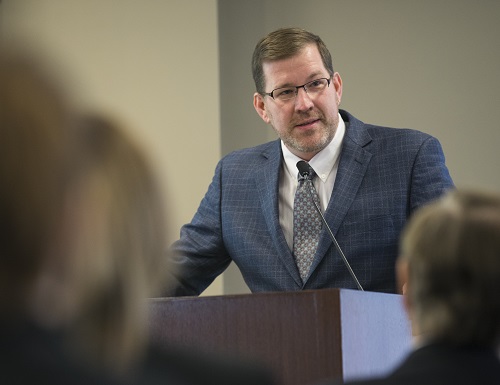 At Brown, the Bonner program matches predominately low-income, first-generation and underrepresented undergraduates with local community organizations working in education, health care, environment, economic justice and the arts. Students commit to working for their organization they are matched with for their undergraduate years at Brown, learning about and from the community partner from the bottom up. Many take on leadership roles over time, based on the needs of the organizations and each fellow's skills and interests.
Bonner Fellows are identified and invited to apply to the program prior to their first year at Brown based on their demonstrated commitment to community engagement in high school.
"These are students who come to Brown already involved and passionate about community engagement," said Juan Carlos Carranza, manager of student development at the Swearer Center. "They want to be involved in social change and social justice and want to make that a central part of their time at Brown."
Three quarters of the Bonner Fellows (all of those who demonstrate financial need) receive stipends, which enable many participants who might otherwise need to find paid work to support themselves while at Brown to take part in the time-intensive program.
Mathew Johnson, the Swearer Center's executive director and associate dean of engaged scholarship, says the Bonner program not only offers many underrepresented students leadership and skill development opportunities to complement their classroom studies, but positions them as campus leaders on Brown's work with local community partners.
"Many of these students have direct experience with what the community challenges are for the partner they are working with," Johnson said. "Just like we need community organizations to lead the agenda when we participate in the community, we need students who come from backgrounds similar to those in the community to manage and lead these efforts. They have insider skills and knowledge that others might not have."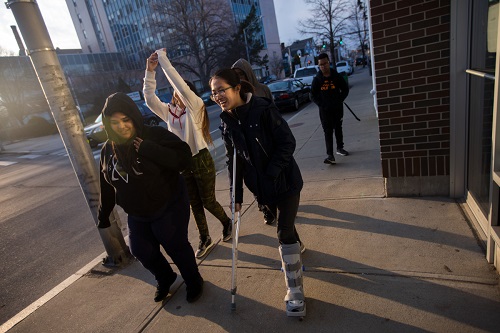 This year, the Bonner Fellows program has partnered with 20 organizations whose works fits within its five focus areas. They range from youth-serving organizations like YIA and Boys and Girls Club of Providence to clinics that provide low-cost healthcare, including Rhode Island Free Clinic and Clinica Esperanza, to local government offices such as Providence's Department of Arts, Culture and Tourism.
In addition to spending five to seven hours each week providing direct service to their community partner, the Bonner Fellows also commit to two community-focused summer internships and take part in a pre-orientation program, a service and learning trip to Tougaloo College in Jackson, Mississippi, and weekly workshops where they connect their work with community partners to broader movements for social change and justice — all facilitated by the Swearer Center. By spending this much time together as a cohort, students say they have a deeper sense of community on College Hill.
Chen, a first-generation college student from a low-income family, says when she first came to Brown, she felt nervous about the prospect of attending a school where many students came from higher-income families. The Bonner Fellows pre-orientation program, where many others had similar backgrounds, eased her fears.
"Having a community of students right away who were like me made me feel more comfortable," Chen said. "It made me feel like it's okay to be first-gen and low-income, and that there are a lot of people here at Brown who are dedicated to public service and changing stigmas. After the orientation, we all felt like we belonged here a little more than when we came in."
While Bonner Fellows benefit from the community-based experiences, the benefits are of equal values to the partner organizations as well — especially given the sustained, long-term partnerships the program enables.
"Because students stay at their partner organization for four years, partners feel more inclined to invest in them and to increase their level of responsibility each year," Johnson said. "And because there is a constant feed of new Bonner Fellows into these organizations, it also creates long-term sustainability in the relationship between the Bonner sites and campus."
At YIA, the four-year commitment matches the amount of time that most participating high school students are in the program, which makes for a good fit, says Court King, YIA's program director. Partnering with the Bonner Fellows program, she says, is a natural extension of YIA's work empowering young leaders to focus on equity and social justice issues. Along with Chen, Symone Houston started as a Bonner Fellow with YIA last fall, and the organization is welcoming two more fellows this year.
"By the time the Bonners have been here for four years, they will be able to step in at any point and run programming," King said. "Our hope is that they will take the skills we have given them in year one and continue to build on them. And in their fourth year, our hope is that they will be able to look at their time at our organization and say: 'I have wanted change, I have seen change, and I have been a part of change.'"
On Broad Street, Chen and the students continue on their quest for the hidden stories of this vibrant neighborhood, which they will ultimately curate — each accompanied by a photograph of the storyteller — for an exhibition open to the public.
"If I were to sum up my work, I would say I get to hang out with amazing kids and live my best life," Chen said. "I look forward to every Wednesday at YIA. It's made my experience at Brown so much better. I can't wait for three more years of it."