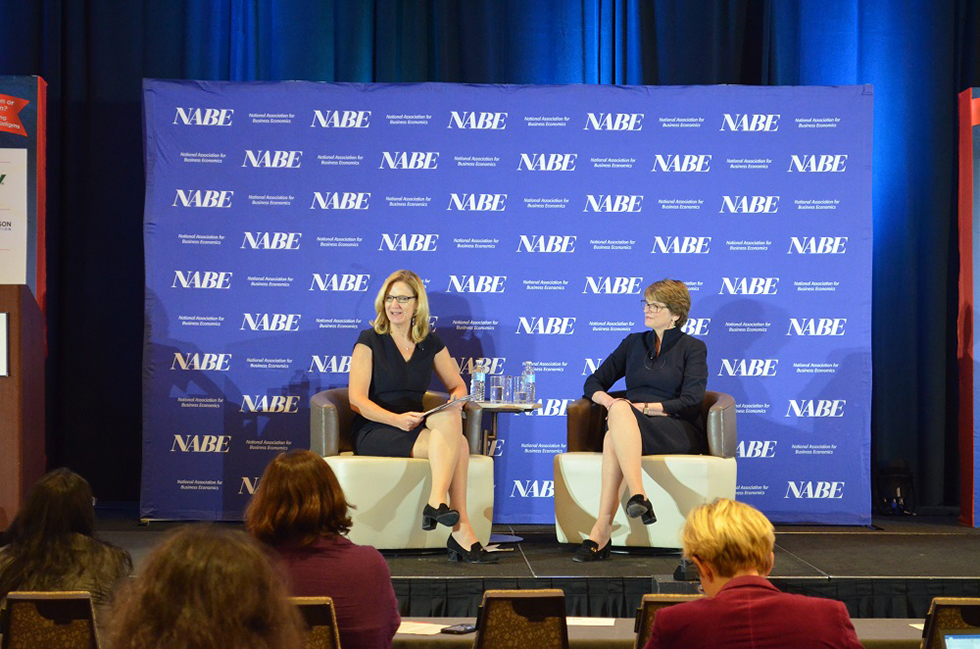 PROVIDENCE, R.I. [Brown University] —Higher education and business leaders need to reinvigorate efforts to demonstrate the unassailable value of earning a college degree, both to individuals and to the greater economy.
That was the clear message delivered by economist and Brown University President Christina Paxson to an audience of leading economists from across the globe in the keynote discussion at the 60thNational Association for Business Economics Annual Meeting in Boston on Sunday, Sept. 30.
"I don't think that as university presidents, or as economists, we are doing an effective job shaping the national discourse around the value of education," Paxson said. "In a recent poll, 75 percent of Republicans and 52 percent of Democrats said that higher education in this country is heading in the wrong direction. Other polls say that higher education is bad for the country. If you look at the economic research out there, that's crazy."
An abundance of research documents that considerable growth in the number of college degrees awarded between 1955 and the early 2000s led to significant societal and economic returns, Paxson noted.
Now, at a time when there is a dramatic ramp-up in wage inequality alongside stagnating incomes for people with high school degrees, it would make sense if students were flooding into higher education, she said — yet the percentage of high school graduates advancing to colleges and universities has hit a plateau.
Paxson's remarks came during a keynote discussion about the challenges of leading an Ivy League institution in the 21st century. She spoke about the public discourse on higher education and a range of related topics — from why she became an economist, to her view of the current health care economy, to how universities can best address inequality — with moderator Julia Coronado, founder and president of MacroPolicy Perspectives.
Asked by Coronado how to confront attitudes toward higher education, Paxson said that both university leaders and members of the business community need to speak about the value and the need for an educated and skilled workforce in the modern economy.
"I talk to CEOs and business people all the time," she said. "They can't hire the people they want. They tell me, 'We're trying to get talent and we can't find it.'"
Breaking down barriers
Asked about factors that can prevent students and their families from pursuing higher education, Paxson acknowledged that cost of attendance can discourage some from applying.
With that in mind, Brown has implemented multiple initiatives aimed at making a Brown education more affordable for more students, she said. Net tuition has grown just slightly faster than the rate of inflation, Paxson noted, and undergraduate financial aid is the fastest-growing area of Brown's budget. With a need-blind admission process for U.S. students, Brown admits students regardless of their ability to pay tuition. And with the launch of The Brown Promise initiative this year, Brown replaced loans with scholarship funds in all University financial aid packages.
Questioned about how those initiatives can work from a financial standpoint, Paxson said that the University's financial aid budget shifts according to the packages awarded to admitted students. That element of the unknown can be anxiety-provoking for university leaders, she said, and often prevents institutions that rely on state funding or private colleges with limited endowments from shifting to a need-blind model.
She said that contributions from Brown's endowment, and a continued focus on managing a budget that effectively balances fiscal discipline with the need for ongoing strategic investment, are critical to bringing talented, high-achieving students from the widest array of backgrounds to the University.
"We're very focused on access for low-income, moderate-income and rural families," Paxson said.
Paxson noted that in addition to increasing scholarships for low-income students, accelerating support for those from moderate-income families and improving support for graduate students, Brown established the First-Generation and Low-Income College Student Center in 2016. The center supports students who have minimal prior exposure to or knowledge of experiences like those at Brown, she said, and has helped to sustain a diverse student body quite unlike that of her own college experience, which she described as homogeneous.
She pointed out that Brown's student body represents a broad range of experiences and socioeconomic backgrounds, ranging from those who grew up in privileged environments to others who confronted challenges such as homelessness and food insecurity.
"They're all great students," Paxson said, "and they all deserve to be at Brown."