PROVIDENCE, R.I. [Brown University] — During a visit to Brown University, former U.S. Secretary of State John Kerry shared insights from his decades of public service and emphasized that young people have the opportunity to effect significant changes if they commit to voting and acting on important national issues.
"To me, one of the concepts that we are blessed to exercise here in this country is citizenship," Kerry told the capacity crowd of students, faculty, staff and community members at the Salomon Center for Teaching on Wednesday, Oct. 10. "We've got to start taking that vision for what we want life to be and doing something about it."
On the Brown campus to deliver the Noah Krieger '93 Memorial Lecture and to discuss his book, "Every Day is Extra," Kerry was introduced by Susan Moffitt, director of the Taubman Center for American Politics and Policy.
"His experience truly spans local, state, national and global public service," Moffitt said of Kerry, who served as a U.S. Navy officer in the Vietnam War and later was a prosecutor and then lieutenant governor of Massachusetts.
The 2004 Democratic presidential nominee, Kerry served five terms in the U.S. Senate, chairing the Senate Foreign Relations Committee before succeeding Hillary Clinton as secretary of state in 2013. In that position, he worked toward peace in the Middle East, dealt with the Syrian civil war while combatting ISIS, and negotiated the Iran nuclear deal and the Paris climate agreement.
In answering questions posed by Edward Steinfeld, director of Brown's Watson Institute for International and Public Affairs, as well as from students, Kerry spoke about how his personal, wartime and political experiences shaped his views and about how taking action is vital.
As an undergraduate at Yale University, Kerry said, he and his fellow students were motivated to take action on critical issues, hiring buses so they could go to Mississippi to register voters, leading the environmental movement and the effort to get the Equal Rights Amendment passed, and working to end the Vietnam War.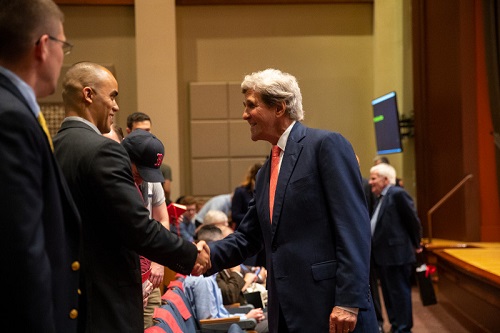 "Each individual can make a difference," Kerry said. "It matters."
Kerry also spoke about testifying before Congress as a young Vietnam War veteran opposed to the war, and how the extension of that war motivated him to get involved in politics.
"When the war kept going on — despite the fact that in 1968 President Nixon ran for office promising that he had a secret plan for peace, and by 1972 the only promise he'd kept was that the plan was still a secret — I decided that, okay, we've got to go down to Washington and hold them accountable," Kerry said.
"I supported Father Bob Drinan, who ran for Congress in Massachusetts against Philip Philbin, a war hawk, and we beat him. And that made a difference in sending the message that we had to end the war. So that was when I decided that it was important to run for office in order to hold the system accountable."
Kerry also talked about how he and the late U.S. Sen. John McCain, who was held as a prisoner of war in Hanoi, were able to develop a friendship despite the discomfort their different perspectives on the war caused, and how the two partnered on an effort to repatriate the bodies of more than 700 American soldiers.
That sort of bipartisanship is incredibly difficult today in a political environment dominated by extreme partisanship, Kerry acknowledged.
"How do we get back to a Senate where you can work together and do things?" Kerry asked. "The Senate is not irretrievably broken, but it is mighty broken."
Kerry said some of the seeds of the Senate's challenges can be traced back to the Republican Party's "Southern strategy," which aimed to appeal to white voters using anti-black racism, but that focused attacks and demands for ideological orthodoxy increased after the party's 1994 Contract with America. That document outlined legislation to be enacted by the U.S. House of Representatives within the first 100 days of the 104th Congress via a Republican majority. Voter anger, embodied in the emergence of the Tea Party and inflamed by the 2008 economic downturn, enabled what Kerry described as President Donald Trump's "hostile takeover" of the Republican party.
Kerry said that the partisanship in the Senate is not structural, however, but a personal choice made by senators.
"It's not that the rules of the United States Senate have changed that make what is happening in Washington inevitable," Kerry said. "It's not that the rules of the Senate dictate that you have to behave the way the Senate is currently behaving. It's the people. And you need to remember that as you think about what you're going to do to act out the responsibility of citizenship to reclaim our democracy here in the United State of America."