PROVIDENCE, R.I. [Brown University] —  Big changes are under way in Brown's music department. With the recent launch of the Brown Arts Initiative and plans toward a new performing arts center on College Hill in full swing, the department also welcomed a new Brown University Orchestra leader this fall.
Mark Seto, a musicologist and violinist, comes to Brown from Connecticut College, where he directed the student and faculty orchestras and taught courses in music history, theory, conducting and orchestration. Seto is also the artistic director and conductor of New York's Chelsea Symphony, which supplied much of the music for the award-winning Amazon television show "Mozart in the Jungle."
Seto is set to make his on-campus conducting debut in a pair of concerts coinciding with Family Weekend, when more than 1,700 parents and other family members come to College Hill to get a taste of life at Brown. Public concerts take place in Sayles Hall on Saturday, Oct. 20, at 8 p.m. and Sunday, Oct. 21, at 2 p.m. Tickets are $12 for the general public, $7 for seniors and $5 for students.
In advance of the performances, Seto shared information on his plans for the orchestra.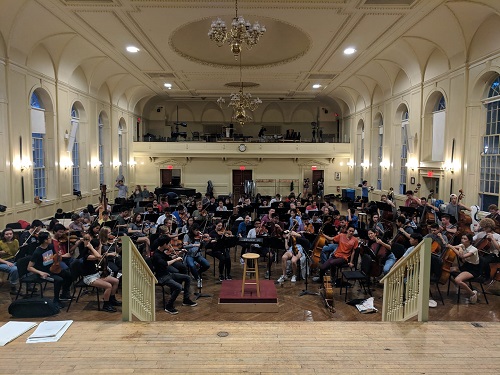 Q: What compelled you to come to Brown?
First, I've long been an admirer not only of Brown in general but also of the music program at the University, having known many amazing people who studied here. Second, this is an exciting time for the arts at Brown, with plans for a new performing arts center on the horizon. And finally, one of the great attractions of this particular position was that it presented a rare opportunity to continue my work not only as a practitioner but also as a teacher and academic researcher.
Q: Let's talk about the "practitioner" part of the equation. What's it like to conduct an orchestra? What are you thinking about when you're at the podium?
Someone once likened conducting to living in three time zones at once. You have to stay present to make the music come alive for the audience. But you also have to be focused on the future so you're prepared to conduct what's ahead — and in rehearsal especially, you have to take note of the past because it can inform how you direct future rehearsals and performances.
Q: As you mentioned, your appointment involves more than just conducting — it also involves teaching. What courses do you plan to teach at Brown?
This semester, I'm teaching a course in music history covering the baroque and classical periods, and in the spring I'm teaching music theory. In the future, I'll continue to teach history, theory and other academic subjects in music. At the same time, I'll continue my academic research, which primarily focuses on music from the late 19th century and early 20th century.
Q: Brown's orchestra is unique in that the majority of its members aren't music concentrators. How does that affect the dynamic among the musicians?
We have 100 orchestra members, and my recollection is that fewer than 10 are music concentrators. The full gamut of concentrations is represented in the orchestra membership, which speaks to the fact that at Brown, people participate in the orchestra because they want to do it. It's such a gift to be able to work with musicians who are there because they want to be there, not because they're required to be there. The breadth of intellectual and academic interests of the group just enriches the experience of everyone — it brings a real curiosity about the historical and cultural context of the music we play.
Q: What's your long-term vision for the orchestra?
I think there's incredible potential for this orchestra — a large, very public-facing ensemble — to be an agent for community building. This is a space where 100 people from different walks of life can come together on a regular basis to work toward a common goal, so it's very well suited to unite other campus and community entities to do the same.
For instance, in the spring, we'll host Syrian composer and clarinetist Kinan Azmeh, who plays with Yo-Yo Ma in the Silkroad Ensemble. As part of his residency, he'll work not only with composition students at Brown but also with Providence kids who participate in Community MusicWorks. There will be a component of his residency concerning Syrian art, which could potentially lead to partnerships with other artists on campus. He'll also potentially speak to the issues surrounding the Syrian refugee crisis, which could involve political science and international affairs faculty.


Q: It sounds like you plan to carry on the orchestra's long tradition of programming adventurous contemporary music.
Absolutely. Our
next concert
will feature a work by Anna Clyne, who I think is one of the most exciting composers working today. In the spring, we'll play the East Coast premiere of a work by Kinan Azmeh while he's in residence. There's more on tap for next season, but I won't let the cat out of the bag just yet. We're lucky to have such amazing composers within the Brown community who work not only in the acoustic music realm but also in electronic music. I look forward to working with colleagues and students on projects that highlight that work. My overall goal for the orchestra is to perform music from a wide variety of cultural traditions, historical time periods and genres, so that it's as much a learning experience for the audience as it is for the orchestra members.
Q: What can people expect from this weekend's concerts?
What I think is really special about both of the pieces we're performing is the way in which they capture an incredible range of human expression, the likes of which you won't find in most other music — from moments of the deepest sorrow to moments of the most unbridled jubilation. That could resonate with any listener, whether they're familiar with classical music or have never listened to any before.