PROVIDENCE, R.I. [Brown University] —Brown University's David Winton Bell Gallery will present an exhibition of more than 100 photographs and four films by Danny Lyon, an artist known for his emphasis on themes of empathy, freedom, history, destruction and narrative.
Part of a broader Brown Arts Initiative series titled "On Protest, Art and Activism," the Lyon exhibition — "The Only Thing I Saw Worth Leaving" — will be on view from Friday, Nov. 2, through Wednesday, Dec. 19.
"We are delighted to present this important work from our collection that captures the volatility of the 1960s through Danny Lyon's lens," said Jo-Ann Conklin, Bell Gallery director.
The exhibition features photographs from four of Lyon's most significant series that are part of the Bell Gallery's collection: "Memories of the Southern Civil Rights Movement," "The Bikeriders," "The Destruction of Lower Manhattan" and "Conversations with the Dead," all of which were created in the 1960s.
The films, on loan from the artist, include 1972's "Llanito," which profiles people living in rural communities in New Mexico; 1974's "El Mojado," following the plight of undocumented workers from Mexico; 1981's "Dear Mark," a tribute to the artist Mark di Suvero; and 1982's "Born to Film," featuring generations of Lyon's family and friends.
"Lyon's oeuvre evokes many stories — collective and individual — explicitly detailing a particular reality in time and place and revealing chapters of American history, elements of identity and a diversity of human experiences," said Allison Pappas, a Brown graduate student who curated the exhibition. "The narrative power of Lyon's films and photographs helps to encourage empathy, define freedom, recount history and admonish destruction. As he said in 1967, 'I am left feeling the people I photograph are the best people in America. I leave to the future the only thing I saw worth leaving.'"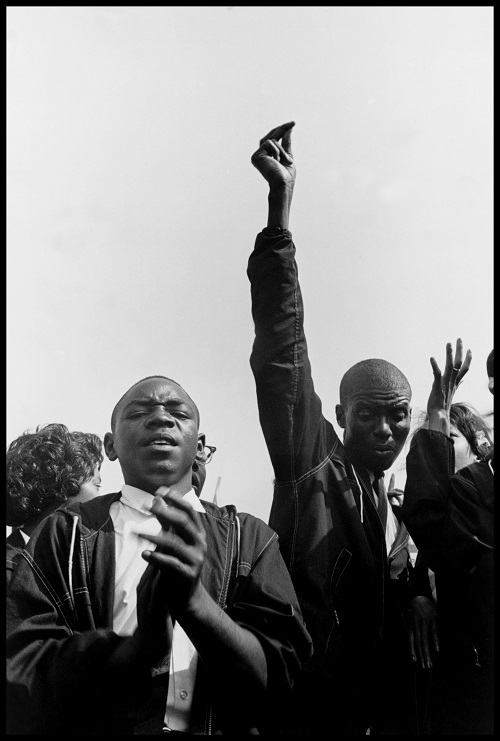 On Protest, Art and Activism
Lyon's photographs eloquently amplify the Brown Arts Initiative's programming examining protest, art and activism on the anniversary of 1968, Conklin said.
In addition to being a time of upheaval in the Civil Rights Movement, 1968 was the year 65 black students enrolled at Brown marched down College Hill to Congdon Street Baptist Church and camped there for three days, pressing the University to significantly increase the number of black students in each entering class. The 1968 Walkout received national attention and catalyzed a move toward a deeper commitment on the part of the University to diversity as a cornerstone of academic excellence. It also led to the creation of the University's Rites and Reason Theatre and Department of Africana Studies.
"On Protest, Art and Activism" features artists who, like Lyon, engage political and social issues. Also opening on Nov. 2 is the second of two exhibitions in the series at the Granoff Center for the Creative Arts' Cohen Gallery, featuring work by Hermine Freed, Guerrilla Girls, Suzanne Lacy, Howardena Pindell and Martha Rosler.
Through the series, the artwork "New No's," a poem by Paul Chan and Badlands Unlimited, will be on view in the lobby of the List Art Building from Nov. 2 to Dec. 19. A manifesto of resistance and a protest for solidarity, the poem was created in the wake of the 2016 election.
Also on Friday, Nov. 2, Brown will host an open-to-the-public conversation about constructing a curatorial narrative around the history and impact of protest art and artistic activism. The panelists include Whitney Museum of American Art assistant curators Jennie Goldstein and Rujeko Hockley, Bell Gallery curator Ian Alden Russell and University archivist and John Hay Library assistant director Jennifer Betts. "Curating protest, art and activism: A conversation" will take place at 5:30 p.m. in the Granoff Center's Martinos Auditorium.
"On Protest, Art and Activism" is an affiliated program of the Warren and Allison Kanders Lecture Series.
The Lyon exhibition in the David Winton Bell Gallery is open Monday through Wednesday and Friday from 11 a.m. to 4 p.m., Thursday from 1 p.m. to 9 p.m., and on Saturday and Sunday from 1 p.m. to 4 p.m. For more information, call 401-863-2932 or visit www.brown.edu/bellgallery.