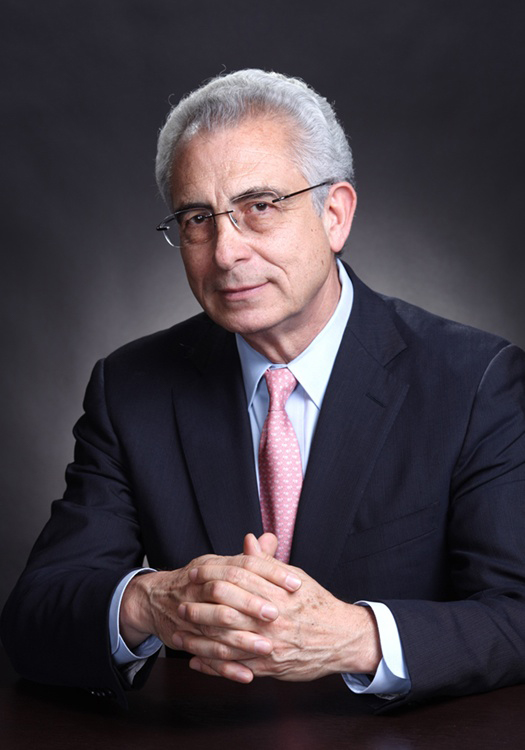 PROVIDENCE, R.I. [Brown University] — Ernesto Zedillo, who served as Mexico's president from 1994 to 2000, will deliver the Stephen A. Ogden Jr. '60 Memorial Lecture on International Affairs at Brown on Monday, Nov. 12.
Zedillo, who directs the Yale Center for the Study of Globalization, will give an address titled "Challenging the Challengers of Globalization." Following his remarks, the former head of state will participate in a discussion moderated by University President Christina Paxson.
The event takes place at 5 p.m. in the Salomon Center for Teaching's De Ciccio Family Auditorium. 
A professor of international economics and politics, international and area studies, and forestry and environmental studies at Yale, Zedillo is active in a number of leadership organizations focused on issues of global concern.
In addition to serving as chairman of the board of the Natural Resource Governance Institute and the Rockefeller Foundation Economic Council on Planetary Health, Zedillo serves on the Global Commission on Drug Policy and the High-Level Board of Experts on the Future of Global Trade Governance. He is a member of the Group of 30, a consultative group on international economic and monetary affairs, and The Elders, an independent group of global leaders who use their collective experience and influence for peace, justice and human rights worldwide. 
Zedillo has edited books including "The Future of Globalization: Explorations in Light of Recent Turbulence," which includes essays by world leaders and others that examine the forces that propel and resist globalization; and "Global Warming: Looking Beyond Kyoto," which looks at the profound social and economic impacts of climate change and brings together policymakers' approaches to global collective action.
The event at Brown, which will be live-streamed on the University website, is free and open to the public, but advance registration is required. All general admission tickets to the live event have been reserved, but tickets for a simulcast in Salomon 001 are available. At 4:50 p.m., any unclaimed general admission seats will be released to those with reserved simulcast tickets. 
For tickets and more information, visit brown.edu/ogden.
The Stephen A. Ogden Jr. '60 Memorial Lecture
Since 1965, the Ogden Lectureship has presented the University and its neighboring communities with authoritative and timely addresses about international affairs. The lectureship was established in memory of Stephen A. Ogden Jr., a member of the Brown Class of 1960 who died in 1963 from injuries he suffered in a car accident during his junior year. His family created the series as a tribute to Ogden's interest in advancing international peace and understanding.
Dozens of heads of state, diplomats and observers of the international scene have participated in the series, including former British Prime Minister David Cameron, Queen Noor of Jordan, former President of the Soviet Union Mikhail Gorbachev, former Canadian Prime Minister Kim Campbell, media innovator Ted Turner, astronaut Sen. John Glenn, economist Paul Volcker, former Florida Governor Jeb Bush, Bolivian President Evo Morales, former prime minister of Italy Romano Prodi, His Holiness the Dalai Lama, World Bank President Jim Yong Kim, former U.N. Secretary-General Ban-ki Moon and His Highness the Aga Khan.