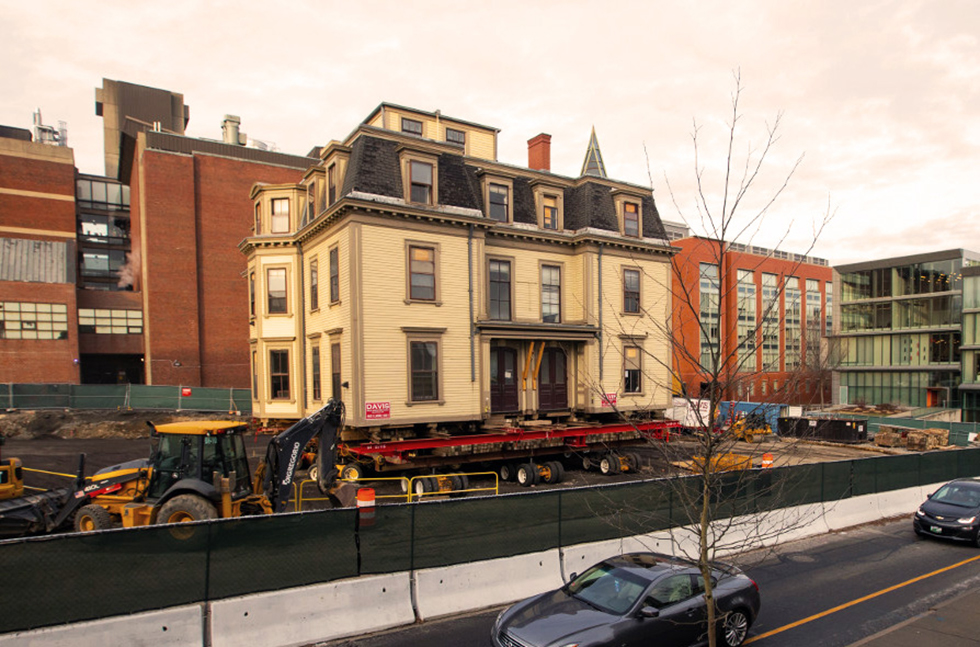 PROVIDENCE, R.I. [Brown University] —Moving at a rate of half a foot per second, Sharpe House — the stately former residence that is the once-and-future home of half of Brown University's history department — began its trek on Monday, Dec. 17, from 130-132 Angell St. to a new location on Brown Street.
Its new home, near the corner of Olive Street, will position Sharpe House on a site directly adjacent to Peter Green House, another 19th century residence creatively adapted for use as Brown academic space, which was itself relocated to Brown Street in 2007.
With the other half of the history department located in Peter Green House, the Sharpe House relocation, and a renovation to follow, will unify the department and preserve a building that Brown has owned since the 1920s. It will also make the Department of History's spaces fully accessible to community members with physical disabilities.
The move will also open a site that would enable future development of Brown's planned Performing Arts Center, for which planning and fundraising is ongoing. The University envisions a centrally located, state-of-the-art home for the performing arts on College Hill, and after a comprehensive community engagement process, secured approval from the City of Providence in April to proceed with planning for the site where Sharpe House now sits.
"Through the Sharpe House relocation and renovation, the University will not only preserve the historic building and improve the Department of History's academic space, but also free a key site in the heart of College Hill as we continue planning toward a Performing Arts Center," said Russell Carey, Brown's executive vice president for planning and policy.
The Sharpe House move, which follows a six-month process of planning, permitting and programming, is expected to take two or three days, said James Sisson, a senior construction manager in Brown's Department of Facilities Management who is overseeing the project.
For months, the 446-ton building has been elevated on wooden "cribbing" — a matrix of wood blocks used to raise and support the structure — as Facilities Management, working with Davis Building Movers, has prepared it to move west on a path called a "haul road."
Davis Building Movers has been moving structures since the 1800s and formerly used teams of horses to relocate buildings. For this week's Sharpe House move, the team is using four large, metal, motorized four-wheeled dollies outfitted with levels, Sisson said.
The steerable dollies, which were placed under the house on Dec. 11, lift the building and are controlled by a technician using a joystick, he said. The dollies — and the building — are moved with great care to avoid tilting the structure more than 12 inches off plumb to maintain its structural integrity.
As the house is moved, it will pivot so the front doors of Sharpe House, which formerly faced Angell Street, will open onto Brown Street. The house will be set down on a prepared footing, and then a foundation will be built from underneath the structure.
A renovation project designed by Kite Architects will connect Sharpe House and Peter Green on three floors — the ground, second and third floors — creating, in essence, a single unified facility. An elevator will be installed in Sharpe House, and the new connections between buildings and all interior spaces will be accessible to those with disabilities. The renovation is expected to be complete in time for the 2019-20 academic year, according to Robert Self, chair of the history department. 
While Sharpe House has been undergoing preparations for the move, history faculty have occupied temporary space in Norwood House and Arnold Laboratory. After the move and renovations are complete, the department's faculty, staff and graduate students will be centrally located and have access to additional classroom space on site.
"I think it's marvelous," Self said. "The history department has been in two separate buildings for a long time. Having a unified home for all faculty and graduate students, with additional classroom space, is a tremendous development for the department."
VIDEO: Time-lapse view of the Sharpe House move. Video by Stephen Crocker.