PROVIDENCE, R.I. [Brown University] — Quinton Huang thought he knew Rhode Island's Chinese food scene well — until the fall of 2018.
Over the course of a few years, the history concentrator at Brown University had become familiar with several Chinese restaurants and grocery stores on the outskirts of Providence. He'd gotten to know their menus, aisles and addresses.
What he hadn't known was that many of them once existed within steps of one another, part of a once-vibrant, now-defunct Chinatown in the heart of downtown Providence.
"The story of Chinese Americans is often told through the lens of Chinatowns in urban centers," Huang said. "But I find it's just as interesting to focus instead on how these communities change when they become scattered to the suburbs."
As a student in an archaeology class titled "Heritage in the Metropolis," Huang spent the fall semester doing just that. Through the handful of interviews with longtime Rhode Islanders in the Chinese food business, Huang learned about the ways in which the local restaurant and grocery store scene changed in the 1960s and 1970s, as residents of Providence's urban center left for nearby suburban areas.
Huang is just one of the many students who will share pieces of little-known and hidden city history at "Providence's Heritage: Above and Below Ground," an event hosted by Brown's Joukowsky Institute for Archaeology and the Ancient World. In an informal poster session-style setting, students from two archaeology classes will share their historical discoveries from the last semester, with some presenting videos or oral histories and others unveiling informational websites or interactive presentations.
The event, which takes place on Friday, Feb. 1 at 4 p.m. in Rhode Island Hall, helps kick off Year of the City, a 12-month-long, citywide effort to uncover the unseen stories behind Providence's storefronts, residences and high rises. Dozens of cultural, artistic and educational institutions — including Brown, the Providence Public Library and the after-school programming organization Providence CityArts for Youth — have teamed up in 2019 to present several exhibitions, talks and other events that shine a spotlight on overlooked aspects of the city's past.
Marisa Angell Brown, assistant director for programs at the University's John Nicholas Brown Center for Public Humanities and Cultural Heritage, said she and two longtime friends were inspired to create Year of the City after the Getty Conservation Institute organized Pacific Standard Time, a similar collaboration between dozens of cultural institutions in Los Angeles, in 2011.
"There are so many top-notch cultural and historical institutions in L.A., yet they had never come together to explore a single theme on a grand scale like that," Brown said. "Providence is the same way. It has such an amazing wealth of historical, artistic and cultural organizations considering its small size, and everyone knows each other. Bringing so many organizations together felt very organic."
Developing blueprints and board games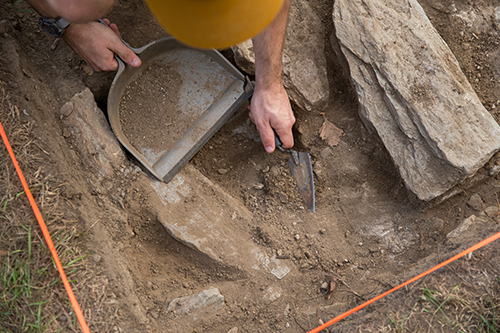 To honor Year of the City's focus on architecture, the students presenting at "Providence's Heritage" will make connections between the city's people and buildings. Some, like Huang, developed their own independent projects in the "Heritage in the Metropolis" class. Others, like Sam Wertheimer, worked together to better understand one particular excavation site as part of the "Archaeology of College Hill" course.
Wertheimer, a second-year student concentrating in archaeology and computer science, spent the fall creating a geographic information system, or GIS, that mapped the boundaries of a University excavation site at the corner of Hope Street and Lloyd Avenue. The parcel of land, underneath which lay the remains of a family home from the Gilded Age, has served as a hands-on excavation lesson for archaeology students since 2014. Now, thanks to Wertheimer's work, students have a firm grasp on the boundaries of the house for the first time.
"I used drone images, historical atlas photos and a plan of the house from 1908 to figure out exactly where on the property the house sat," Wertheimer says. "We discovered that most of the house foundation has gone unexplored."
According to doctoral student Alex Marko, who teaches the course, Wertheimer's GIS project helped students unearth exciting artifacts last semester — including a turn-of-the-century gold ring, several decorated ceramic tiles, and some of the first cans of Narragansett Brewing Company beer ever made.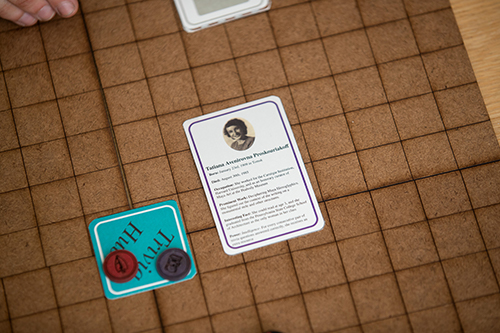 "We already know a lot about this house from historical records — we know the family, we know their occupations and incomes, we know the name of their butler — yet we're still learning more every day," Marko says. "It really shows the power of archaeology to expand narratives about the past."
Presenting alongside Wertheimer at the Friday event will be Bessie Jiang, Sophie Saskin and Lauren Ho, three computer science concentrators who created a Settlers of Catan-inspired board game to demonstrate what they learned in "Archaeology of College Hill." According to Jiang, the game is designed to educate players not only on the process of archaeology but also on the history of College Hill.
"Taking this class and excavating so close to campus made me realize that archaeology isn't just something that takes place in Egypt or 'Indiana Jones,'" Jiang says. "Getting to excavate a real site that was so relevant to our lives as Brown students helped me understand where I live a little more."
The year ahead
"Providence's Heritage" is one of the first among many University-hosted Year of the City events, said Marisa Brown.
In January, as part of the year-long project, the John Hay Library debuted an exhibition on Providence's Lost Cat Swamp Habitat, now home to the Wayland and Blackstone neighborhoods. Library staff worked with the University Herbarium to curate a display of vintage plant specimens from the habitat, pairing them with watercolor renderings of the specimens painted by Edward Lewis Peckham in the 1800s. The exhibition runs through April.
Also coming up this spring is the John Nicholas Brown Center's fourth-annual Hacking Heritage Unconference, which this year manifests as a series of conversations about issues related to preservation and heritage in Providence's neighborhoods; an exhibition of downtown Providence photography from the 1950s and 1960s; and more.
Lauren Yapp, a postdoctoral research associate who taught Huang and others enrolled in the fall's "Heritage in the Metropolis" course, hopes Year of the City gives students more perspective on their temporary home.
"I think that going beyond College Hill and learning about the city in which you live, getting to know the communities that share that space with you, really enriches your experience of being there," Yapp says. "I think students who become interested in the history of Providence are more apt to become interested in today's Providence — its culture, its politics."
Marisa Brown has much the same hope for the general public: that Year of the City helps erase both literal and metaphorical borders, bringing residents closer together.
"A lot of known history here has to do with downtown and College Hill, but we don't know much about, for example, the Wanskuck neighborhood [northwest of downtown]," Brown said. "People who have lived here all their lives may never have known Wanskuck existed. We want to break down those invisible barriers and stoke curiosity."