PROVIDENCE, R.I. [Brown University] — The Andrew W. Mellon Foundation has awarded Brown University's Haffenreffer Museum of Anthropology a $5 million grant to catalog and prepare for the anticipated move of nearly 1 million ethnographic objects, archaeological specimens and images that illustrate and document human cultures and societies from across the globe.
The funds will enable the museum to create an accurate inventory of its diverse holdings, which are currently housed in Bristol, Rhode Island, in anticipation of a move to a to-be-determined future home near the University's campus in Providence. The relocation would unite the museum's collections in one city, boost public access to its collections and create new opportunities for scholarship in anthropology, Native American and indigenous studies and other academic disciplines at Brown.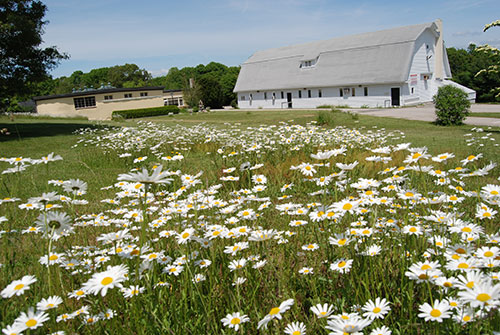 "A move to Providence would consolidate the research, teaching and exhibition activities of the museum under one roof," said Robert Preucel, director of the Haffenreffer Museum and a Brown professor of anthropology. "This transformational award from the Mellon Foundation allows us to move one step closer toward that goal, which will facilitate further collaboration not only with Brown's teaching and research programs but also with the city's distinguished arts and cultural institutions."
The museum's operations are currently divided between Bristol and Providence. The Bristol facilities, which include the Collections Research Center and the Circumpolar Laboratory, currently house most of the museum's staff and collections — but the two buildings are nearly 80 years old, and according to Preucel, they were never intended to support the needs of a modern-day professional museum.
For decades, staff have worked to combat challenges such as climate control, inadequate storage space and poor conditions for public access to the collection. The frequent movement of historical artifacts between Bristol and Manning Hall, the Haffenreffer Museum's exhibition space on the Brown campus in Providence, takes a physical toll on the objects, Preucel says. And in 2008, fire code requirements forced the museum to close its Bristol facility to the public, limiting its exhibitions to one gallery on campus.
The University is currently exploring potential spaces near the Brown campus that could house the Haffenreffer Museum's entire collection. As that process continues, the museum will use Mellon Foundation funds to formally catalog and store each object in preparation for potential relocation, hiring a team of professionals to assist. A photographer will document nearly 143,000 objects that haven't yet been photographed, and collection assistants will help to establish an updated cataloging system. A conservator will protect and stabilize items to prepare them for a move. And a community engagement specialist will work with the region's Native American and indigenous communities to bring their voices and expertise into the museum's plans for the future.
An extensive collection
The Haffenreffer Museum's origins date to 1903, when brewer, entrepreneur and philanthropist Rudolf F. Haffenreffer Jr. purchased an amusement park at Mount Hope in Bristol for use as a summer home and farm.
Centuries earlier, Mount Hope had been the site of pivotal events in American history — it was there that Wampanoag leader Metacom, also known as King Philip, held his tribal council and was later killed in a major conflict between Native Americans and English colonists. Perhaps because of the property's history, Haffenreffer became deeply interested in Native American archaeology and history. He purchased collections of indigenous artifacts from New England and the American Southwest, interacted with local tribes and served on the board of the precursor of the Smithsonian's National Museum of the American Indian in Washington. He named the building that housed his growing collection the King Philip Museum and opened it to the public in 1928.
After Haffenreffer died in 1954, his heirs donated his museum and the Mount Hope property to Brown, launching a new anthropology department at the University and allowing for more academic research on Native American history. The collection has since expanded to include nearly 150,000 artifacts illustrating and documenting human cultures and societies across the globe. The museum is also a federal repository for some 850,000 objects excavated by Brown researchers from lands in northwestern Alaska under the jurisdiction of the National Park Service and Bureau of Land Management.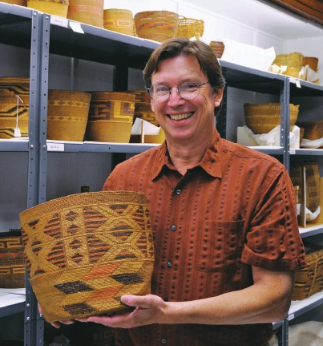 The extensive collection has long been a valuable resource for faculty at Brown, serving as a basis for scholarly research and as a tool for teaching across many fields of study. Assistant professor of American studies Elizabeth Hoover says she used artifacts from the museum for a recent course on Native American environmental health movements.
"A class on environmental health doesn't sound like an automatic fit for a museum visit," Hoover said. "But the staff helped me pull objects that came from the communities whose environmental health we were studying, and the students were able to make connections between our discussions and those cultural artifacts."
Hoover is hopeful that the work made possible by the Mellon Foundation grant will make the collection more accessible not only to scholars, but also to members of Native American and indigenous communities.
"A big part of this grant is really about getting into those collections and taking inventory of all that is there," she said. "Creating a more consistent catalog will make everything more available for people who want to conduct research and incorporate artifacts into classes. It will also go a long way toward helping people from indigenous communities reconnect with their own history."
Honoring history
Preucel says that given the tremendous historical and cultural importance of the Mount Hope area, the University and the Haffenreffer Museum staff have for decades ensured that all Native American tribes have had access to the land, including for religious observances and ceremonies.
In 2017, following an encampment on the Mount Hope land by members of the Pokanoket tribe, Brown signed an agreement to transfer a portion of its Bristol property into a preservation trust to ensure sustainable access by Native tribes in the region. The agreement required the encamped Pokanoket people and tribes with historical interest in the land "to determine and agree upon a viable governance and organizational structure that will enable the University to transfer the to-be-determined amount of land into the preservation trust."
Over the last year, the University has supported the efforts of the interested tribes to arrive at consensus regarding management of the preservation trust. Brown has encouraged participation by tribes, hired a mediator and commissioned Public Archeology Laboratory to work on a cultural resources survey, among other efforts. Russell Carey, executive vice president for planning and policy, says the University continues to support efforts among the tribes to develop a viable governance structure, a process that remains ongoing.
In addition to ensuring access to the Mount Hope land, Haffenreffer Museum staff have also been invested in the important issue of repatriating of items that originally belonged to Native American communities. For example, the staff worked with the Mashpee Wampanoag Tribe, the Wampanoag Tribe of Gay Head (Aquinnah) and the Assonet Band of Wampanoag to return human remains and funerary objects from Rudolf Haffenreffer's original collection.
Preucel says the Haffenreffer Museum's potential relocation to Providence will spur more interest in and understanding of Native American and indigenous communities, both in New England and elsewhere. But even before a plan for relocation is finalized, the Mellon Foundation funds will give museum staff a chance to vastly increase access to its holdings by both scholars and members of the public.
"We now have the support we need to begin photographing all our objects and adding them to our collections management database," he said. "This marks a crucial first step in bringing more visibility to historical and contemporary Native culture and strengthening the study of indigenous culture, both here at Brown and elsewhere."