PROVIDENCE, R.I. [Brown University] — The David Winton Bell Gallery at Brown University will present "Snæbjörnsdóttir/Wilson: The Only Show in Town," featuring the artist duo's visual representation of the changing natural habitat of an endangered local bird species.
Opening at the gallery on April 5 with an artist talk and reception and on view through July 7, "The Only Show in Town" is an installation of photographs and sculpture by Bell Gallery artists-in-residence Bryndís Snæbjörnsdóttir and Mark Wilson. The acclaimed duo created the exhibition's works in response to the plight of the saltmarsh sparrow, which lives along a narrow and depleted margin of the East Coast and is marked for extinction by 2050.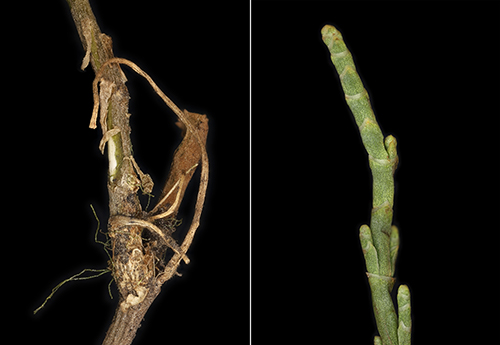 "The work of Bryndís and Mark is deeply concerned with the relationship between humans and other animals," said Jo-Ann Conklin, director of the Bell Gallery and curator of the exhibition. "Their past projects have addressed California condors, humpback chub in the Grand Canyon, polar bears living in Alaska and taxidermied in the United Kingdom, seals in Iceland, gulls in Sweden – and all our pets and pests in city centers."
According to the artists, the saltmarsh sparrows' highly particular breeding habit allows them to mate, lay, hatch eggs and fledge chicks in 28-day cycles to match the time between spring tides, when sea levels rise to their highest and the marshes flood. But today's ever-higher tides and longer flooding periods, which scientists say is caused by climate change, give just-hatched chicks less time to prepare to take flight for the first time, causing many to drown in their nests.
In the summer of 2018, Snæbjörnsdóttir and Wilson worked alongside field biologists Deirdre Robinson and Steve Reinhart on the Saltmarsh Sparrow Research Initiative. The researchers, based at Jacob's Point in Warren, Rhode Island, hope to learn as much as possible about saltmarsh sparrows in hopes that the knowledge they gather will help to save other species that are not yet endangered.
In "The Only Show in Town," Snæbjörnsdóttir and Wilson aim to "represent the process of research itself." Through a series of five works, the artists invite viewers to share their experiences conducting and observing research in the saltmarsh, which Wilson described as "the significant search for some understanding not yet known."
Among the exhibition's works is a collection of 19 photos depicting tangled grasses, some of which contain sparrow nests. The work recalls the artists' efforts in the field "to distinguish between promising-looking twists of dried grass and the constructions that might hold or have once held the eggs and hatchlings of saltmarsh sparrows," Wilson said.
Another piece is a 14-foot-high photograph of a blade of glasswort, enlarged 17 times using an electron microscope at the Rhode Island School of Design's nature lab. The extreme magnification, the artists say, invites viewers to see the plant from the perspective of a saltmarsh sparrow.
Throughout the exhibition, there's just one clear representation of the sparrow itself, housed inside a bird blind — a kind of shelter used by researchers in the field. It's a 3D, life-sized and time-based image, as lifelike a rendering as possible; soon, the artists say, renderings like these may be all we have to remember the species.

"Snæbjörnsdóttir/Wilson: The Only Show in Town" is on view in the Bell Gallery at Brown's List Art Building at 64 College Street. The gallery is open Monday, Tuesday, Wednesday and Friday from 11 a.m. to 4 p.m., Thursday from 1 p.m. to 9 p.m., and Saturday and Sunday from 1 p.m. to 4 p.m. For more information, call 401-863-2932 or visit brown.edu/bellgallery.
An opening reception and talk with the artists is scheduled for Friday, April 5. On Thursday, April 18, University of Connecticut ecologist Chris Elphick gives a talk on averting extinction in an era of sea-level rise. Both talks take place at 5:30 p.m. in the List Art Building's auditorium.