PROVIDENCE, R.I. [Brown University] — With a combined 42 Ivy League championships and 47 NCAA tournament appearances among them, Brown's lacrosse and soccer programs — with both women's and men's teams competing in each sport — have long track records of success.
Soon, these winning Bears teams will have a dedicated, state-of-the-art home in the heart of Brown's athletics complex as the University advances plans to build a new Center for Lacrosse and Soccer at Stevenson-Pincince Field.
As envisioned, the three-story, 22,500-square-foot center will provide a championship-level experience that reflects Brown's commitment to ensuring that student-athletes can compete at the highest level, said athletics director Jack Hayes.
"The lacrosse and soccer programs at Brown have long and storied traditions, great student-athletes and outstanding coaches," Hayes said. "And now we have the opportunity to make a significant advancement in these programs with this center, which is poised to be one of the nation's premier facilities of its kind."
The new center will include dedicated team locker rooms, a training room, head and assistant coaches' offices and team meeting spaces. Spectators will enjoy an expansive, modern grandstand, a new scoreboard as well as concessions and restrooms located on a concourse level. The building will have event space for gameday hosting and team gatherings, and players will have direct access between the center and the field through a tunnel.
Currently, facilities for the lacrosse and soccer programs are spread across multiple buildings, with some locker rooms in the Olney-Margolies Athletic Center and other locker rooms — plus coaches' offices and training rooms — in Pizzitola Sports Center. None of those facilities is adjacent to Stevenson-Pincince Field, which also lacks fan amenities and restrooms.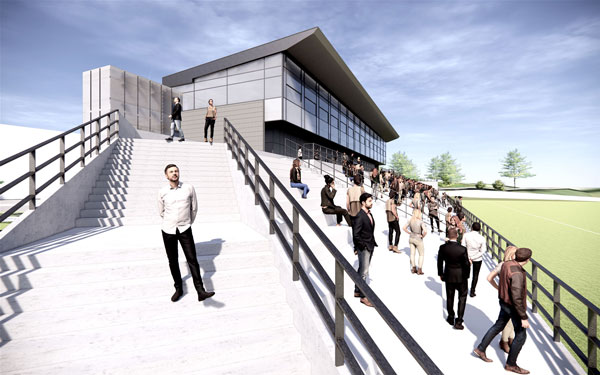 Men's lacrosse coach Mike Daly said the new center will give student-athletes significantly more practice time, since they will no longer have to trek back and forth between various buildings and the playing field.
"Over the last few years as our sport and coaching staff have expanded, we've certainly outgrown our current space," Daly said. "To have a much more functional area where our coaches can meet with players and recruits — that's going to have a huge impact on everything from game-planning to recruiting to day-to-day operations within our program."
Kia McNeill, head coach of women's soccer, said that a state-of-the-art lacrosse and soccer facility like the one planned at Brown is rare at the college level — and its presence will greatly expand the University's ability to recruit top student-athletes and offer a top-quality experience once they arrive.
"This is every coach's dream to have a sport-specific stadium like this with new offices, meeting space, a training room, all in one," McNeill said.  "A facility like this is not only going to be one of the best stadiums in the Ivy League — but I think this will be one of the best stadiums in New England and beyond. It's going to have massive effects on our program and our success going forward."
In late March, Brown secured the authorization from the City of Providence required to proceed with plans to build the center on the site. With Architectural Resources Cambridge selected to design the center and fundraising well underway, the University is targeting a construction timeline that would enable initial use by the lacrosse teams and spectators in Spring 2020 with the full center ready for use by the 2020-21 academic year.
Brown's ability to plan for such an ambitious timeline is thanks to early support from parents, alumni and community members, Hayes said.
"This project would not be moving so quickly without the generosity and determination of many who are supportive of lacrosse and soccer at Brown," Hayes said. "We are grateful for all that our community has done to provide this transformational opportunity."
Players on McNeill's team were thrilled to hear the news, she said.
"One of the best feelings was being able to tell my players about the stadium and just seeing the looks on their faces and them slapping high fives and hugging each other," McNeill said. "They all deserve this. But this facility isn't just a win for our current players. This is a win for all the players who came before us and really paved the way."