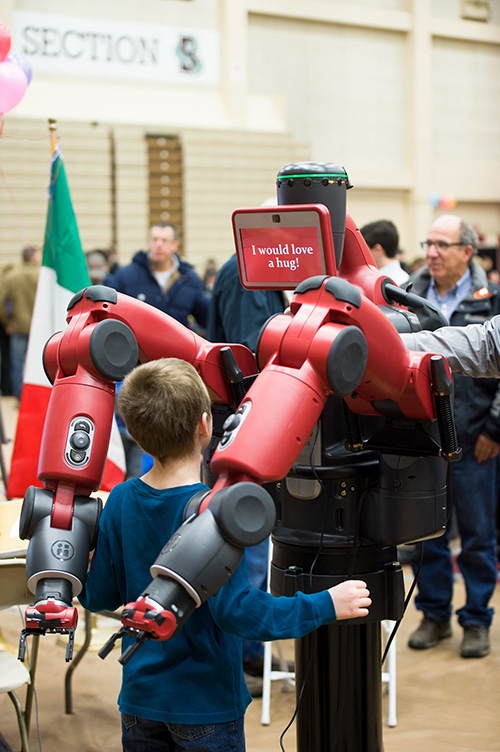 PROVIDENCE, R.I. [Brown University] — The Rhode Island Robot Block Party, presented by Rhode Island Students of the Future and Brown University's Humanity Centered Robotics Initiative (HCRI), is back for another year. This year's family-friendly celebration of all things robotic will be on Saturday, April 13, from 12 to 4 p.m. at the WaterFire Arts Center, 475 Valley Street, Providence.
Now in its sixth year, the Robot Block Party is a chance for children and adults alike to learn more about the robotic technologies being developed in the Ocean State and beyond. More than 50 exhibitors will offer demonstrations and hands-on activities with robots used in research, education, work and play.
Exhibitors from Brown will include the Humans to Robots lab, which specializes in developing technologies that enable robots to work side-by-side with humans. The lab's exhibit will include a robot that can reproduce human handwriting just by looking a printed word, as well as autonomous aerial drones and robotic telepresence devices.
Brown professor Jack Mustard and members of his lab will be on hand to discuss how robots are used in the exploration of Mars and other planetary bodies. Researchers from Brown's BrainGate lab will discuss their work in developing brain-computer interfaces that enable people with paralysis to operate computers and robotic prosthetics.
Brown presenters will be joined by others from the University of Rhode Island, Roger Williams, Johnson and Wales and Salve Regina, as well as industry groups from around Rhode Island and beyond.
Throughout the day, Brown's HCRI will sponsor a series of talks on a variety of topics. They include:
12:30: "Bias, Jobs and the Future of AI and Robotics," Peter Haas, associate director, HCRI
1:00: "The Future of VR and AR," Siu Li Khoe, executive director, Rhode Island Virtual Reality
2:00: "Wearable Robotized Prosthetics," Kunal Mankodiya, director, Wearable Biosensing Lab URI and Joshua Gyllinsky, research analyst and data scientist, University of Rhode Island
2:30: "Human-Robot Collaboration," Stefanie Tellex,  assistant professor of computer science, Humans to Robots Lab, Brown University
3:00: "Machine Learning: Programming Computers Using Data," Michael Littman, professor of computer science, Brown University
The event also hosts a range of robotic competitions involving students from elementary school through college.
The Rhode Island Robot Block Party is presented by Rhode Island Students of the Future, a nonprofit education advocacy organization, in partnership with Brown's Humanity-Centered Robotics Initiative and the Department of Computer Science.