PROVIDENCE, R.I. [Brown University] — In keeping with Brown's long-standing tradition of highlighting student voices at Commencement, the University's Graduate Student Council (GSC) selected two students to deliver addresses at this year's Graduate School ceremonies on Sunday, May 26.
Jen Thum, who will earn her Ph.D. in archaeology, will address graduates and guests at the Doctoral Ceremony on Pembroke Field. Eunice Gonzalez-Sierra, who will earn her master's degree in teaching, will speak at the Master's Ceremony in Meehan Auditorium. Both speakers will recognize the hard work of their fellow graduates while also calling on their peers to understand, and reach out to, those with different backgrounds.
Rebecca Thorsness, chair of nominations for the GSC, said a selection panel chose Thum and Gonzalez-Sierra after reading through applicants' proposed speech abstracts and hearing a select few delivered in person. The speeches they chose, Thorsness said, will resonate as much with friends and family in the audience as they will for the graduates.
"The GSC strives to find speakers who can speak to and celebrate the diverse backgrounds, experiences and work of all graduates," Thorsness said. "While Jen and Eunice's speeches will accomplish this goal in different ways, both center on the communities that support all advanced degree candidates, and both reflect on what their work represents for these communities."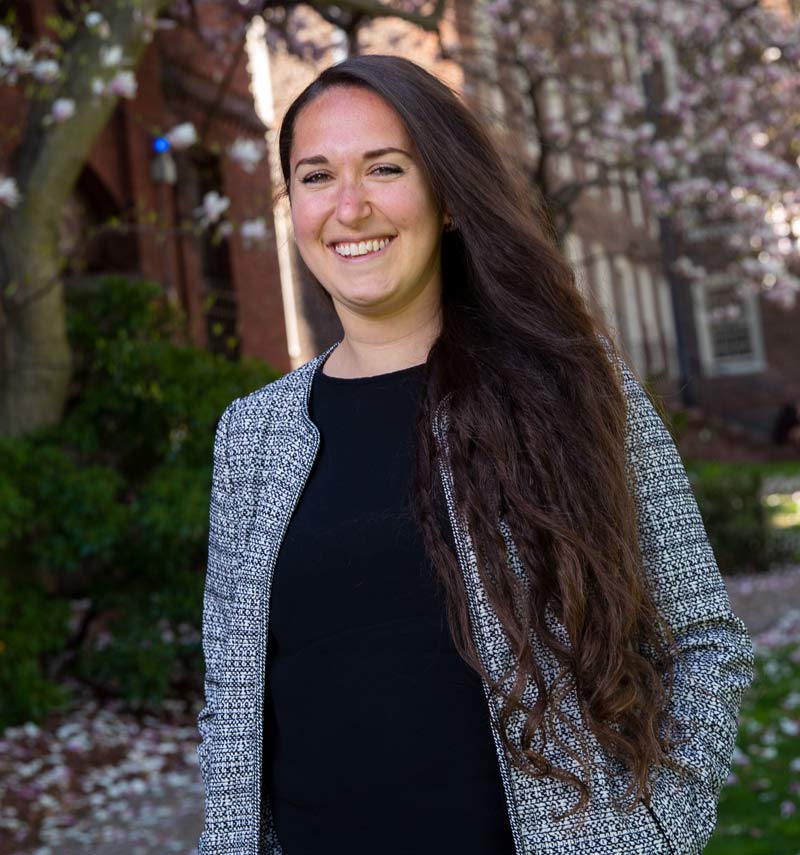 In her Doctoral Ceremony speech, Thum — a Barnard College and Oxford University alumna — will ponder a question she first posed three years ago when describing her research: "This stuff matters to me, but why does it matter to everybody else?"
She floated the question in a 2016 presentation at Research Matters, an annual TED-like conference hosted by Brown's Graduate School. Thum, an archaeologist, knows that most people outside her field probably don't see any connection between the ancient Egyptian rock inscriptions she studies and their own 21st-century lives. 
"There are people in my life who have no idea what I do," Thum said. "I think people really misunderstand what academia is and what getting a Ph.D. is like. I've become a big advocate for communicating research more effectively — for giving it legs outside the little bubble of academia."
Thum's activities at Brown demonstrate her passion for showing others why her work, and why the field of archaeology in general, is relevant to all.
She created the Interactive Dissertation, an e-newsletter that chronicled her doctoral research process at Brown, from research funding applications to fieldwork in North Africa and the Middle East to the process of formulating research questions for her dissertation. She co-curated an interactive exhibit at the Haffenreffer Museum of Anthropology and taught K-12 students at the RISD Museum. She worked at the Sheridan Center for Teaching and Learning, where she consulted with members of the Brown teaching community on course design and educational techniques. And she joined the organization Skype a Scientist, which allows her to teach students anywhere in the world about ancient civilizations.
Three years later, the question Thum posed at Research Matters is at the heart of "Tell Me More," the speech she'll deliver before Brown's Ph.D. Class of 2019. While she will touch briefly on her own research and outreach efforts, she'll spend much of the time highlighting the creative ways in which her peers have translated their work to a wider audience. She hopes her words inspire every newly minted Ph.D. in the audience to think about how their research can be more accessible and more impactful.
"We have a responsibility to be not only publicly visible members of our communities, but also partners in a reciprocal exchange of knowledge," Thum said. "I want to empower experts in their fields to be able to say, 'This is what I did, and this is why it matters,' to open up a community dialogue about higher ed."
Thum is not the only speaker who hopes to empower others. A few blocks away, at a ceremony for graduating master's students, Gonzalez-Sierra will celebrate the resilience of those who, like her, come from households with undocumented family members — and she'll describe just how much it means to these students to earn an advanced degree from Brown.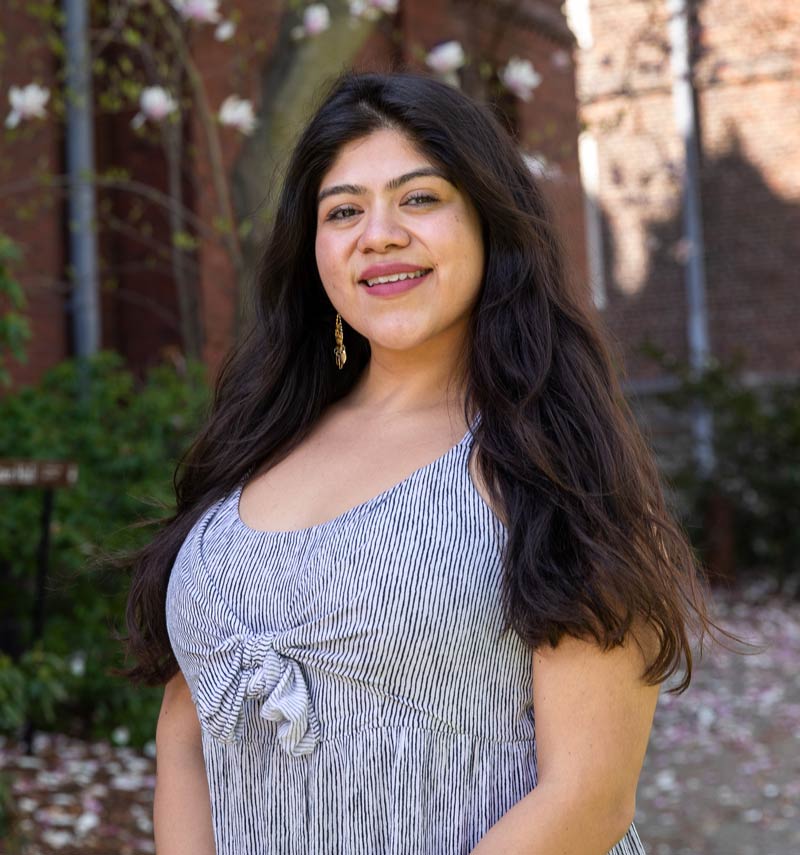 Born in the United States to Mexican parents who made their living as strawberry pickers in Southern California, Gonzalez-Sierra grew up with little exposure to the world of higher education. Her parents did not speak English and did not have the opportunity to attend college, so they were unable to help her navigate the college admission and financial aid process. At the same time, she says it was her parents' tireless work ethic that inspired her to apply and gain admission to the University of California, Los Angeles, where she majored in Chicana/o studies. 
"I think we all have loved ones who have shaped our educational trajectories," she said. "What my parents gave to this country, this land, both literally and figuratively — how hard they worked — that has shaped my identity and my resiliency in such a huge way."
Gonzalez-Sierra says her speech, titled "Harvesting the Fruit of Our Labor," will pay homage to the resiliency of fellow graduates whom she calls "undocu+" — those who are undocumented, have undocumented family members, come from low-income families or are the first in their families to earn a college degree. She wanted to call attention to these students in part because she knows that many of them, herself included, may not be able to celebrate Commencement with family.
"I wanted there to be a narrative that undocu+ students can relate to on such an important day, especially since it's a day many of our families aren't able to access or witness," she said. "We learned not only how to overcome so many obstacles to get here but also how to thrive in an unfamiliar environment, and I want to celebrate that."
Throughout her year at Brown, Gonzalez-Sierra has worked hard to help create a more visible community for graduate students like herself. As a graduate community fellow, she designs and implements community-building initiatives for master's students, including a graduate mixer and other events at the Undocumented, First Generation College and Low-Income Student Center. She also served as a master's in teaching ambassador, answering prospective students' questions and hosting recently admitted students earlier this spring.
Gonzalez-Sierra said that, like her, many of the admitted students she met had discovered their passion for teaching outside of the undergraduate classroom. After graduating from UCLA, Gonzalez-Sierra became a college coordinator for the University of California, Santa Barbara, and spent much of her time in schools near her hometown of Santa Maria, where many of the students are Latinx, low-income and the children of immigrants. The experience helped her realize how comfortable she was in a place many others find intimidating: the middle-school classroom. She hopes to return to her hometown and find a teaching position there.
"I love the idea of making sure our students can succeed in whatever they set their mind to, of planting that college seed for them," she said. "I want to go back to Santa Maria and make sure I'm paying it forward."