PROVIDENCE, R.I. [Brown University] — Two days before Memorial Day, while alumni from across the generations connected with graduating students from the Class of 2019, and a wide variety of achievements were celebrated during Commencement and Reunion Weekend — Brown University took a moment to recognize the time-honored commitment to serving one's country.
During the University's annual Graduating Veterans Recognition and Commissioning Ceremony on Saturday, May 25, two Brown students were commissioned as second lieutenants in the U.S. Army, and another was promoted to Army captain. The ceremony also honored seven veterans who served as members of the U.S. Armed Forces and will earn degrees during the University's 251st Commencement on Sunday.
University President Christina Paxson said that in an unpredictable world and amid unprecedented threats to human security, the notion of "readiness" takes on new urgency. Brown continues to embrace the responsibility to prepare students for such a world, she said. 
"Our commitment is reflected in the quality and depth of our education programs, which offer opportunities for discussion and capacity-building around dimensions of military service," Paxson said. "Our commitment is also reflected in our expansion of ROTC opportunities to all branches of the military. And our commitment is reflected in our ongoing work to strengthen the veteran presence here at Brown."
In addressing students, their loved ones and members of the Brown community — including U.S. Rep. David Cicilline, a Brown Class of 1983 graduate who serves on the House Foreign Affairs Committee — Paxson spoke of recent efforts made by the University and its Office of Military-Affiliated Students to create a supportive experience for both veterans and students launching military careers. Those have included, for example, enhancing the participation of Brown student veterans in the Yellow Ribbon Program, which provides financial aid to veterans in higher education.
"To all of you, my hope is that wherever your military service or careers take you, your Brown education — your time on College Hill — has prepared you well to serve with distinction," Paxson said.
New second lieutenants
Following the afternoon's commissioning ceremony, William Summers and Kaela Lynch were set to begin careers as U.S. Army officers. Both Class of 2019 graduates participated in the Army's Reserve Officers' Training Corps (ROTC) program.
Summers, who concentrated in international relations and Slavic studies, will head to Fort Benning in Georgia for the next stage of his career in the Army infantry.
Lynch, who concentrated in health and human biology, will head to Fort Rucker in Alabama to attend Aviation Basic Officer Leader Course. She will remain there for flight school, where she'll to learn to be a helicopter pilot.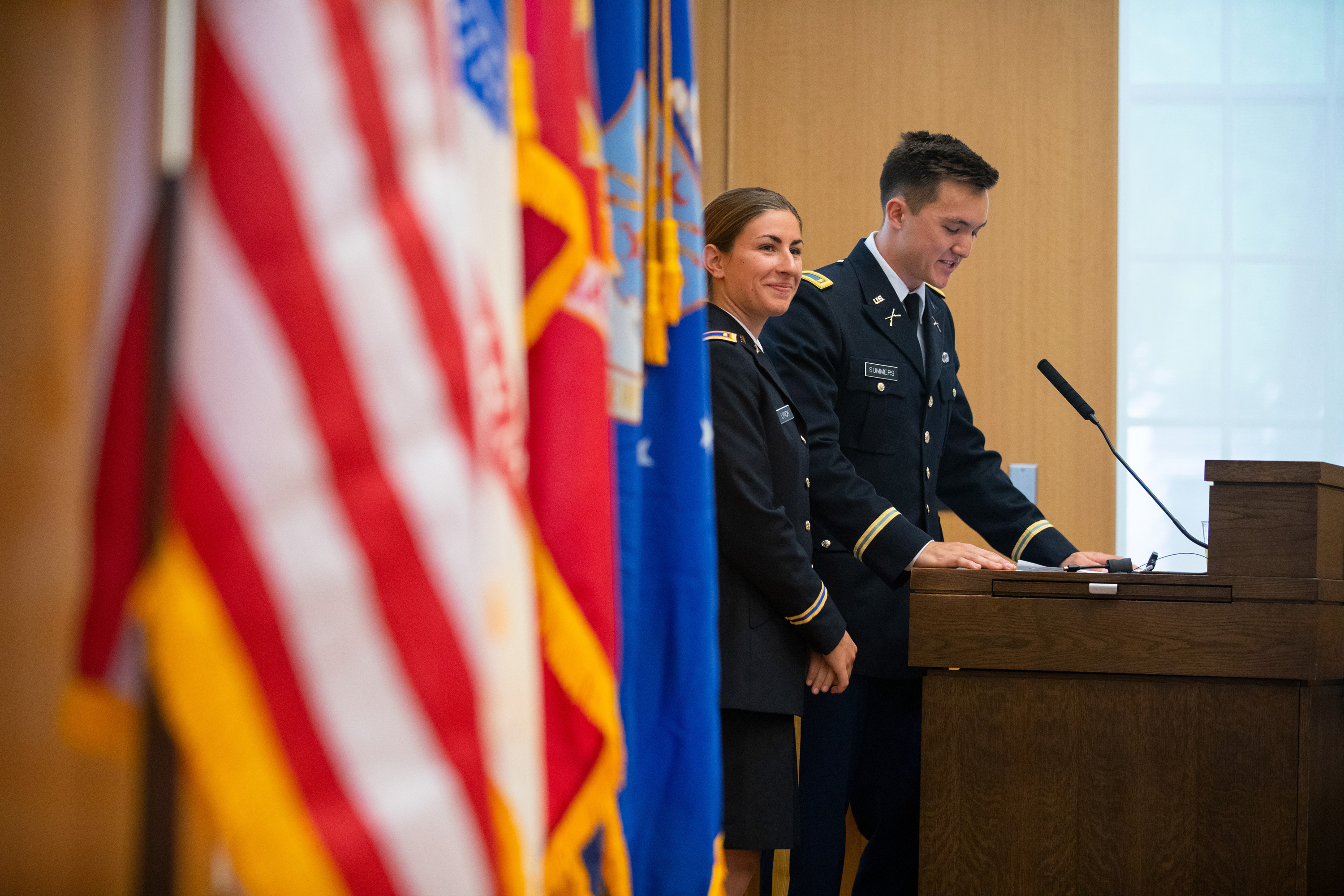 Pursuing a military career in aviation has been her goal since her sophomore year at Brown — an ambitious one, Lynch said, given the small number of Army aviation positions available and the robust set of qualifications required. Successfully managing her course work, rising at 5 a.m. three days a week for physical training, and passing the flight aptitude test were just a few of the responsibilities she successfully tackled in reaching her goal.
"Getting aviation as my branch is an accumulation of a lot of achievements and things I've worked really hard for," Lynch said. "All the hard work that paid off, and all of the support I got to make that happen, are the most rewarding things. "
Lynch's father is an Army colonel and physician, and she grew up on military bases. She credits her parents, communities and high school teachers for instilling within her a commitment to "selfless service," which inspired her to seek an ROTC experience. At Brown, mentorship from older students and support from faculty advisers were critical for adjusting to the dual commitments of the ROTC program and classroom responsibilities, she added.
Lynch noted that she has watched the ROTC program grow significantly during her four years. As a first-year student, she was one of only four Brown students participating. However, as the University resumed relationships with the Navy and Air Force ROTC programs, the number of Brown students also in ROTC programs increased.
"It shows that we are getting our name out there and effectively recruiting people that are gaining this experience, but also giving so much back to this program, "Lynch said.
In addition to Brown's Open Curriculum, which enabled her to take chances on classes that she might not have otherwise pursued, Lynch found her interactions with students across campus both invigorating and enlightening.
"Brown has given me the opportunity to learn a lot from people who didn't have the same upbringing as myself," Lynch said. "The Army is probably one of the most diverse employers in the U.S. as far as age, socioeconomic status, ethnicity and race. I think having had very open and candid conversations with many different people will help me do that when I lead people who are not like me."
Welcoming a new U.S. Army captain
In addition to the two second lieutenants, graduate Timothy Wright was promoted to the rank of U.S. Army captain during the ceremony. On Sunday, he will receive his M.D. from Brown's Warren Alpert Medical School. The next phase of his military and medical career will be as a urology resident at the Madigan Army Medical Center in Washington.
Wright joined the Army four years ago through the Health Professions Scholarship Program. After he completes his five years of residency, he will serve at least four years of active duty. Wright was drawn to the military's medical corps by the opportunity to provide overseas humanitarian aid and the privilege it allows doctors to focus on patient care rather than administrative responsibilities. He found his clinical rotations at the Providence Veterans Affairs Medical Center particularly rewarding. 
"For my outpatient time, I got to work at the V.A. geriatrics clinic," Wright said. "That patient population is really, really unique. All the patients were 85 years old or older, and getting to talk to WW-II veterans — people who had lived in this entirely different era and had so many stories — was really neat. It was incredible to connect with to those people and also contribute to their health care."
Wright is unsure precisely what his future will hold and what the Army will need, but he is interested in providing specialty care for active-duty Army personnel, their families and veterans.
Graduating veterans 
As the three new officers embarked on their military careers, the University's eight graduating veterans were recognized for their achievements in higher education after having served their country.
Davin Lewis, who served in the Navy for 12 years as nuclear submarine mechanic, came to Brown through the Resumed Undergraduate Education program. He concentrated in business, entrepreneurship and organizations, and after graduation will begin working at Deloitte as a consultant on the government and public services team.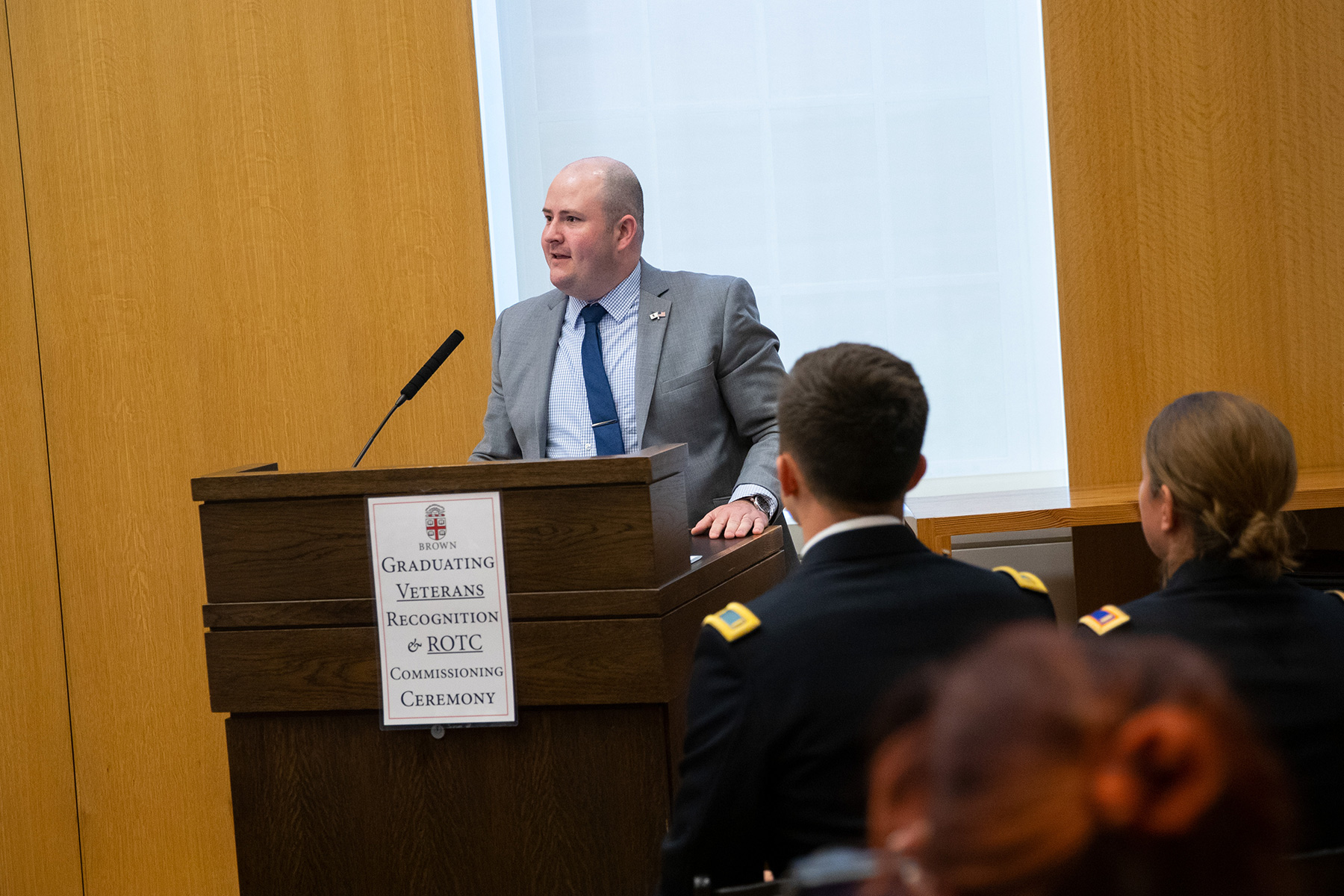 Beyond the Open Curriculum allowing him to explore topics outside of his concentration and delve into the business of agriculture in an independent study, Lewis credited his concentration classes for honing the critical thinking skills that will be essential for his new career.
"A lot of what goes into being a consultant is having a questioning attitude and having very keen critical thinking skills," Lewis said. "As a consultant, you could be on a project for only a few months in one organization and then immediately go to a new project for a different organization in a different focus area. Every class I've had at Brown has challenged me to use my critical thinking skills a lot."
Lewis represented the veteran students as a speaker during the ceremony, during which he spoke about the impressive and diverse group of student veterans he has had the opportunity to meet while at Brown and the importance of supporting the community of student veterans. 
"When you look at the group of student veterans that I've interacted with in the three years I've been here, it's really impressive," Lewis said before the event. "We have everyone from Army Rangers and Green Beret to Air Force firefighters and Navy intelligence analysts. We studied very different things… from political science and health and human biology to international relations and economics. And we participate in a lot of different things outside of class."
Among the diverse group of veterans with whom Lewis overlapped at Brown, James Fox, who served in the Navy, will also receive a bachelor's degree on Sunday in business, entrepreneurship and organizations. Alexandrea Pimentel, who served for six years as an intelligence analyst in the Navy, graduated in December at the Midyear Completion Ceremony with a dual concentration in geological sciences and visual art, but returned to Brown on Saturday for the Graduating Veterans Recognition and Commissioning Ceremony. 
Seth Higgins (Air Force) and John Kern (Marine Corps) will receive master's degrees in public affairs on Sunday. Steven Coddington (Army) and Joseph Sinicrope (Marine Corps) will earn executive master's degrees in science, technology and leadership.