PROVIDENCE, R.I. [Brown University] — During its annual Commencement week meeting on May 23 and 24, the Corporation of Brown University approved Class of 2019 degree candidates, elected two new members to the Board of Fellows and 12 new members to the Board of Trustees.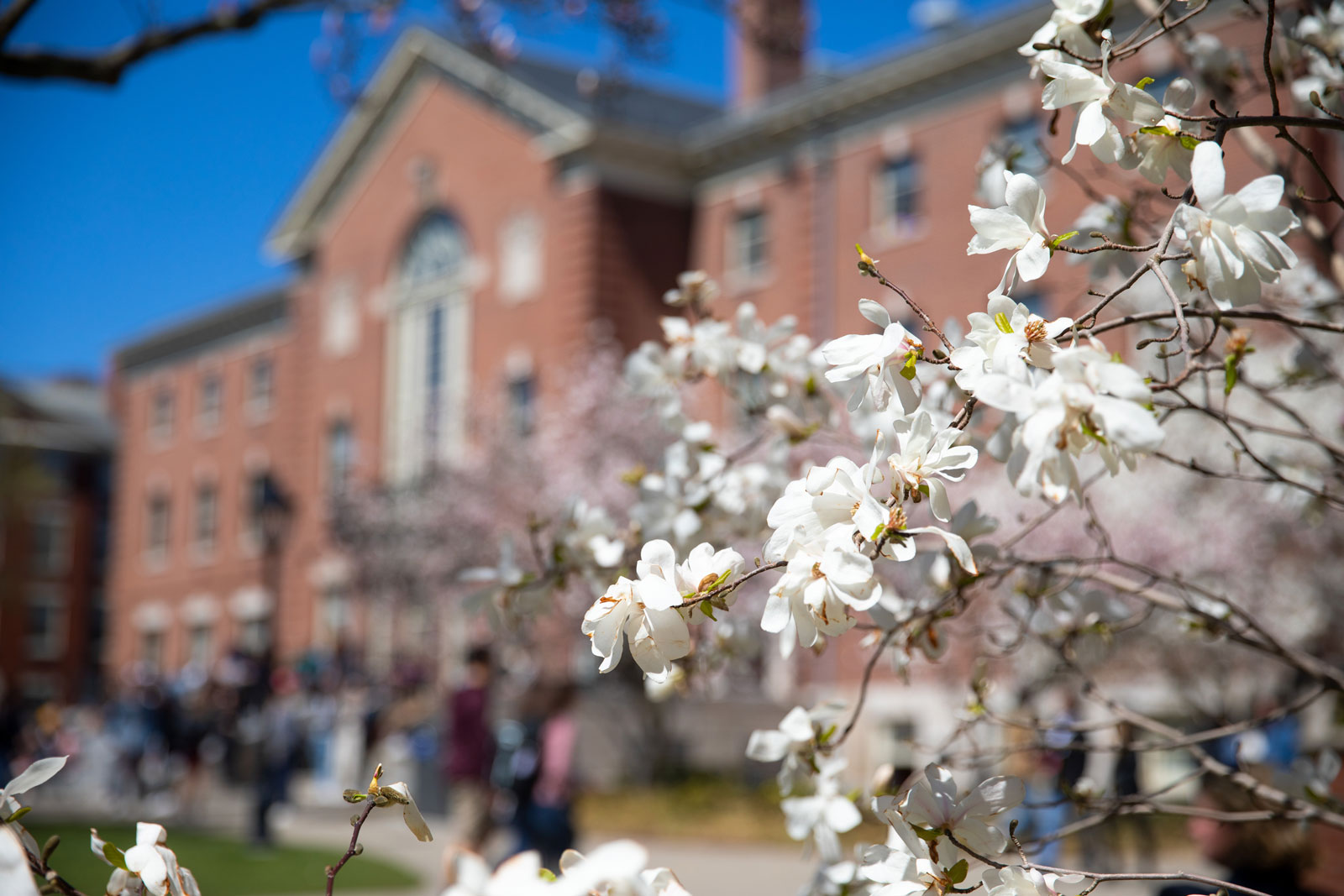 Brown's governing board discussed a wide range of strategic University priorities and approved a new Code of Student Conduct following a yearlong review by a committee of students, faculty and staff.
The Corporation also formally approved building sites for planned health and wellness center and residence hall (on Brook Street near Pembroke Field) and Center for Lacrosse and Soccer (adjacent to Stevenson-Pincince Field in the University's athletics complex).
The Corporation's Board of Fellows approved the awarding of 2,954 degrees at the University's 251st Commencement on Sunday, May 26. The awarding of academic degrees is a responsibility reserved for the Board of Fellows, according to Brown's 1764 charter.
Election of new members
Sangeeta N. Bhatia, a 1990 Brown graduate and a trustee since 2015, and Jim Yong Kim, a 1982 graduate and a trustee since 2017, were elected to the Board of Fellows. Members of the Board of Fellows serve 11-year terms.
Twelve new trustees — Amanda Boston, Orlando Bravo, Kate Burton, A. Richard Caputo Jr., Joseph E. Edelman, Jill Furman, Oliver Haarmann, Mitchell R. Julis,  Frayda B. Lindemann, Sara Savage, Donna McGraw Weiss and Nancy G. Zimmerman — were elected by the Corporation. Members of the Board of Trustees customarily serve six-year terms, with new alumni trustees serving for two years. Boston will serve as a new alumni trustee.
Members are elected by the Corporation and are formally engaged in October at the first Corporation meeting of the academic year.
Sangeeta N. Bhatia, a 1990 Brown graduate, is a cancer researcher, Massachusetts Institute of Technology professor and biotech entrepreneur who adapts technologies developed in the computer industry for medical innovation. Among her team's inventions are human microlivers that model liver disease and responsive nanoparticles that can be engineered to diagnose, study and treat a variety of diseases. Dr. Bhatia holds an M.D. from Harvard Medical School and a Ph.D. from MIT. At MIT, she is the John J. and Dorothy Wilson Professor at the Institute for Medical Engineering and Science and Electrical Engineering and Computer Science, and inaugural director of the Marble Center for Cancer Nanomedicine at the Koch Institute for Integrative Cancer Research. Bhatia is a Howard Hughes Medical Institute investigator and an elected member of both the National Academy of Science and the National Academy of Engineering. She has been honored with the Lemelson-MIT Prize and the Heinz Medal for groundbreaking inventions and advocacy for women in STEM fields. She has presented her vision for the application of engineering solutions to solve medical problems on international stages such as the World Economic Forum, TED, the Gates Grand Challenges, and the Biden Cancer Moonshot.
 
Jim Yong Kim, a 1982 Brown graduate originally trained as a physician and anthropologist, is vice chairman and partner at Global Infrastructure Partners, a fund that invests in infrastructure projects across the world. From 2012 to 2019, Kim served as the 12th president of the World Bank Group. Soon after he became president, the organization established goals to end extreme poverty by 2030 and to boost shared prosperity, focusing on the bottom 40 percent of the population in developing countries. During Kim's tenure, the World Bank supported the development priorities of countries at levels never seen outside of a financial crisis. The group achieved two record replenishments of the institution's fund for the poorest countries and launched several innovative financial instruments, including facilities to address infrastructure needs, prevent pandemics and help millions of people forcibly displaced from their homes. Before joining the World Bank, Kim served as president of Dartmouth College and held professorships at Harvard Medical School and the Harvard School of Public Health. From 2003 to 2005, he served as director of the World Health Organization's HIV/AIDS department, leading the first-ever global goal for AIDS treatment, which greatly expanded access to antiretroviral medication in developing countries. In 1987, Kim co-founded Partners In Health, a nonprofit medical organization that now works in poor communities on four continents.
 
Amanda Boston, who earned master's and doctoral degrees in Africana studies from Brown in 2016 and 2018, respectively, is a Provost's Postdoctoral Fellow at New York University and an assistant professor/faculty fellow at NYU's Marron Institute of Urban Management. Her research, writing and teaching focus on 20th-century African American urban history, politics and culture. At Brown, Boston was a Ford Foundation Dissertation Fellow, a graduate fellow with both the Center for the Study of Race and Ethnicity in America and the Spatial Structures in the Social Sciences initiative, president of the Nabrit Black Graduate Student Association, and a mentor in the Brown Center for Students of Color's ALANA program. She also worked with the Graduate Resources for Improving Professional Structures program and served on the Diversity and Inclusion Oversight Board and the Graduate Student Advisory Committee for the Sheridan Center for Teaching and Learning. Prior to attending Brown, Boston earned bachelor's and master's degrees from Duke University. Born and raised in Brooklyn, New York, she sits on the alumni council of the New York City-based Prep for Prep program, which provides students of color with access to life-changing educational and leadership opportunities. 
 
Orlando Bravo is a 1992 Brown economics and political science graduate who earned a J.D. from Stanford Law School and an MBA from the Stanford Graduate School of Business. He is a founder and managing partner at Thoma Bravo, one of the most successful private equity firms, where he spearheaded the firm's investment strategy in enterprise software and technology. Bravo has led more than 200 acquisitions for the firm, representing more than $60 billion in enterprise value, and he was named one of "Eight Buyout Pros to Watch" by Thomson Reuters' Buyouts. Bravo remains an active philanthropist and advisor empowering the next generation. He is a founder of the Bravo Family Foundation, whose mission is to foster basic principles of social justice in Puerto Rico, where Bravo was born. Bravo serves on Brown's President's Leadership Council and he is a board member and founder of the Border Youth Tennis Exchange, a charitable organization created to enhance the lives of children and young adults on the U.S. - Mexico border.
 
Kate Burton, a 1979 Russian studies/European history graduate of Brown, was a trustee from 2009 to 2015 serving on the committees on campus life and facilities and campus planning. She is an actress, director and a professor of the practice at the University of Southern California School of Dramatic Arts. Best known for her Emmy-nominated work on "Grey's Anatomy" and "Scandal," she will soon be in the film, "Where'd You Go, Bernadette," starring Cate Blanchett, and has been seen in "Big Trouble in Little China," "Unfaithful," "Ice Storm," "Celebrity," "Liberal Arts," "Rescue Me," "2 Days in New York" and "127 Hours." On Broadway, she has been Tony-nominated for "Hedda Gabler," "The Elephant Man" and "The Constant Wife" and, most recently, played opposite Kevin Kline in "Present Laughter" and as Prospera in "The Tempest" at the Old Globe. She is currently in "Coriolanus" in New York City. She is a trustee of Broadway Cares/Equity Fights AIDS, an ambassador for the Elizabeth Taylor AIDS foundation and serves as a national councilor of the Actor's Equity Association. She directs at the Los Angeles Philharmonic and University of Southern California. A master of fine arts graduate of the Yale School of Drama, Burton received an honorary doctorate from Brown in 2007 and a Pell lifetime achievement award in 2013. She gives master classes at the Brown MFA program and is the co-chair of the Brown Arts Initiative. 
 
Richard Caputo Jr., a 1988 Brown graduate, is the chief executive partner of the Jordan Company, a New York-based private equity firm focused on investments in middle-market companies across a range of industries. Caputo serves as chairman of the firm's partnership board and executive committee and is a director of a number of the firm's portfolio companies. Prior to joining the Jordan Company in 1990, he was a financial analyst in the high-yield corporate finance group at Prudential-Bache. Caputo earned a bachelor's degree in business economics and mathematical economics from Brown where he was also a member of the men's rowing team. He is currently a director of the National Rowing Foundation and the Brown University Sports Foundation.
 
Joseph E. Edelman is the founder, chief executive officer and portfolio manager of Perceptive Advisors, LLC, a hedge fund focused on investment opportunities in health care with an emphasis on biotechnology. Prior to founding Perceptive Advisors in 1999, he was the Senior Analyst at Aries. Previously, he was the Senior Analyst at Prudential. He began his career as a biotech analyst at the research firm Labe, Simpson & Co. He is a former director of Penwest Pharmaceuticals Company. Edelman earned a bachelor's degree in psychology from the University of California, San Diego, and an MBA from New York University. He is a former trustee of the Hewitt School in New York and former chairman of Prostate Action, Inc.
 
Jill Furman is a theater producer and the founder of Jill Furman Productions, Inc. On Broadway, she has produced the Tony Award-winning musicals "Hamilton" and "In the Heights," as well as "Rodgers + Hammerstein's Cinderella," "The Heiress," "Seminar," "West Side Story," "The Drowsy Chaperone," "Sly Fox" and "Fortune's Fool." Off-Broadway, she has produced "Freestyle Love Supreme," "On The Line" and "Adult Entertainment." In 2011, Furman received the Robert Whitehead Award for Outstanding Achievement in Commercial Theatre Producing. She is on the board of the Lung Cancer Research Foundation, the alumnae board of the Spence School, and the President's Advisory Council for the Arts at Brown. Furman received a bachelor's degree in art history from Brown in 1990 and an MBA from Columbia University in 1997. 
 
Oliver Haarmann, a 1990 Brown graduate, is a founding partner of Searchlight Capital Partners, a private investment firm active in North America and Europe. Previously, Haarmann was a partner of the global private equity firm Kohlberg Kravis Roberts & Co. based in London. Haarmann earned bachelor's degrees in history and international relations from Brown and an MBA from Harvard Business School in 1996. He serves as chairman of the board of IntoUniversity, a leading charity helping disadvantaged young people attain higher education in the United Kingdom. He is a co-founder and trustee of Surgo Foundation, which seeks to improve public health care outcomes in developing markets, and serves as a trustee of ArtAngel, which funds innovative art projects. 
 
Mitchell R. Julis is co-founder, co-chairman and co-chief executive officer of Canyon Partners, LLC, a leading global alternative asset management firm headquartered in Los Angeles. Canyon specializes in value-oriented investments for endowments, foundations, pension funds, sovereign wealth funds and other institutional investors. Julis is a graduate of the Woodrow Wilson School at Princeton University (bachelor's degree), Harvard Law School (J.D.) and Harvard Business School (MBA). He served on the board of trustees at Princeton University and is a member of the advisory council for the Julis-Rabinowitz Center for Public Policy and Finance at the Woodrow Wilson School of Public and International Affairs. In addition, he is a member of Princeton's School of Engineering and Applied Science Leadership Council. Furthermore, he sits on the board of trustees at the Asia Society, the board of overseers at the Watson Institute at Brown University and the Jacobs Technion-Cornell Institute Advisory Council. Also noteworthy is Julis' active role in establishing the Harvard Law School Program on Jewish and Israeli Law.
 
Frayda B. Lindemann is president and CEO of the Metropolitan Opera and immediate past chairman of Opera America. Together with her late husband George Lindemann, she established the Lindemann Young Artist Development Program at the Metropolitan Opera. Previously, she served on the board of directors of Lincoln Center and the Palm Beach Opera. She is co-chair of the music advisory board at Hunter College and was the director and chairman of the executive committee of Young Concert Artists, and co-chair of the music advisory board at Hunter College. Prior to her nonprofit work, Lindemann was an assistant professor of music history at Hunter College. She earned a bachelor's degree from Hunter College, and a Ph.D. in musicology from Columbia University.
 
Sara Savage is a co-founder of Sane Designs, a full-service interior design firm with projects in New York and Connecticut. Prior to founding Sane Designs in 2005, she served as a law clerk to the Honorable Reena Raggi of the U.S. District Court for the Eastern District of New York. Following her clerkship, Savage practiced law for eight years at Stillman & Friedman, where she specialized in white collar criminal defense work and complex commercial litigations, including internal corporate investigations, mediations, plea negotiations and trials. Savage graduated from Brown University in 1990 with a degree in political science. She earned her J.D. from Columbia Law School in 1994, where she received an award for excellence in advocacy. She is the president-elect of the Brown Alumni Association with her term as president set to begin in July 2019; the association's president is also elected to serve as a trustee for a six-year term. Savage also serves on the Brown Annual Fund Leadership Council and the President's Advisory Council on the College. She is married to a Brown classmate and is a Brown parent. Savage serves on the board of directors of ASAP!, a nonprofit organization that fosters hands-on learning through the arts, and she is also a director of the Access Challenge, an international nonprofit organization that works with national leaders to advocate for equal access to health care and education for the world's most underserved populations.
 
Donna McGraw Weiss, a 1989 Brown graduate, is an adviser to Terrapin Palisades, a private equity firm with a focus on domestic and international real estate and agriculture investments, and a director of Communities in Schools, a national student dropout prevention organization. From 2001 to 2008, Weiss was a managing director of Midstream Partners, a private equity firm specializing in midsize oil and gas companies. Prior to joining Midstream, she was an attorney at Skadden, Arps, Slate, Meagher & Flom LLP, where she specialized in international project finance and leveraged buyout transactions. Weiss began her career in the Friedman molecular biology laboratory at Rockefeller University. Weiss earned a bachelor's degree in biochemistry from Brown and a J.D. from Harvard University. She sits on the board of Communities in Schools of Los Angeles, a regional affiliate of Communities in Schools, as well as the advisory board to the Rogel Cancer Center at the University of Michigan.
 
Nancy G. Zimmerman, a 1985 Brown graduate, was a trustee from 2010 to 2016. She is co-founder and managing partner of Bracebridge Capital, a leading hedge fund manager with over $12 billion under management. Established in 1994, Bracebridge is a pioneer in the field of absolute return investing and for over 25 years has focused on generating returns that are largely uncorrelated with broad moves in equities, currencies and rates. Zimmerman began her career at O'Connor & Associates and managed the interest rate option group on a worldwide basis for Goldman Sachs before founding Bracebridge. She earned bachelor's degrees from Brown in economics and the practice and production of art. Zimmerman serves as the chair of the Carney Institute for Brain Science Advisory Council. She is a member of the board of directors of Social Finance US, a nonprofit that tackles complex social challenges through innovative public private partnerships, such as Social Impact Bonds and Pay for Success financing. She also served for a decade on the scholar selection committee of the Institute for International Education's Scholar Rescue Fund.