PROVIDENCE, R.I. [Brown University] — Hurricanes have the potential to wreak immense havoc, particularly in states — Rhode Island included — with extensive waterfront. In addition to hurricane-force winds, they can bring catastrophic coastal flooding and substantial storm surge inland. 
Joyce Pak, a master of public health (MPH) student at Brown, is spending her summer doing her part to ensure the Ocean State is prepared. Working at the Rhode Island Department of Health (RIDOH), she is refining a computer modeling system used by emergency preparedness experts and responders to minimize the impact of hurricanes, and other severe storms, on the state's critical infrastructure such as hospitals and highways. 
"Because we're looking at hurricanes, which can have such a big impact, I know that by identifying critical infrastructure, my work is going to make a difference," Pak said. "If we look at the 1938 New England hurricane, it caused hundreds of millions of dollars in damages and cost hundreds of lives."
Working with Nicholas Larmore, a program support specialist with RIDOH's Center for Emergency Preparedness and Response, Pak is interviewing managers for critical facilities in Providence such as hospitals, water treatment plants and bridges. As she determines which assets present the most pressing concerns in the event of a hurricane — a hospital's backup generator, for example, or a low-lying road connecting a nursing home to a major thoroughfare — she collects key data on those assets, including precise locations, the amount of water or wind predicted to cause damage and the likely consequences of damage.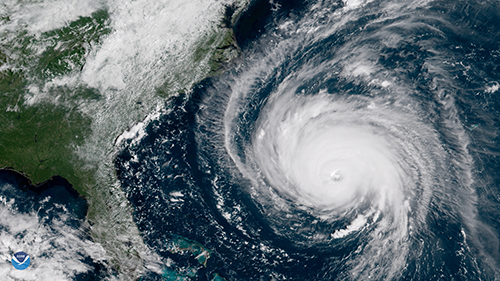 Upon completion of her interviews, Pak plans to integrate her findings into a computer model developed by the U.S. Department of Homeland Security. Ultimately, the system will inform the state's Center for Emergency Preparedness and Response, the Federal Emergency Management Agency and the facility managers themselves about potential hazards and — most importantly — strategies to reduce the risks posed by those hazards in real time as a hurricane or nor'easter batters the state. 
Pak said that compared to prior research she has conducted in the life sciences — she earned her bachelor's in integrative biology from the University of California, Berkeley — she's been able to see the real-world impact of her work more immediately. 
In fact, collaborative research opportunities like her work with RIDOH were a part of what brought her to Brown's School of Public Health in fall 2018 to begin the two-year master's program.
She was also attracted to the more intimate cohort size offered by Brown's MPH program — Pak is studying with approximately 40 students, while many comparable programs have 100 to 200 incoming students, she noted. The smaller cohort boosts opportunities for both collaboration with students and scholars as well as mentorship from accomplished faculty — such as Tongzhang Zheng, a professor of epidemiology and her core advisor.
"Coming to Brown, I was really surprised by the focus on individualized learning," Pak said. "Professor Zheng was interested in my future and my next steps. He connected me to different people in different fields. I feel that each of my professors gets to know me."
Zheng encouraged Pak to consider epidemiology, a focus in which she's currently immersed, in addition to pursuing her initial interest in biostatistics and honing her computer programming skills. 
This summer at theCenter for Emergency Preparedness and Response, Pak has also assisted in conducting emergency preparedness training sessions and drills at area hospitals and skilled nursing facilities. 
She says that the skills she has cultivated during her summer research experience will benefit her professionally, whether she sticks with qualitative interviewing or returns to more quantitative research. Her plan is to pursue a Ph.D. in epidemiology after she earns her MPH in May 2020.
"The process of working with people — such as knowing how to ask the right interview questions — has been the most educationally rewarding," she said, adding that Larmore has been an excellent mentor in teaching her how to successfully interview participants. "Prior to this, the only public health research I've done has been coding. Working with people is a skill I'll always need, no matter what career I go into."