PROVIDENCE, R.I. [Brown University] — Why look elsewhere for talent when there's so much right in front of you?
At Brown University, that was precisely the sentiment behind the launch of the Administrative Fellows Program — a professional development initiative designed to advance leadership skills and build on the strong commitment to diversity and inclusion among staff members from across Brown's departments.
This month, the five Administrative Fellows for academic year 2018-19 returned to campus after an immersive, experiential learning trip to Brazil, marking the culmination of the program's second cohort.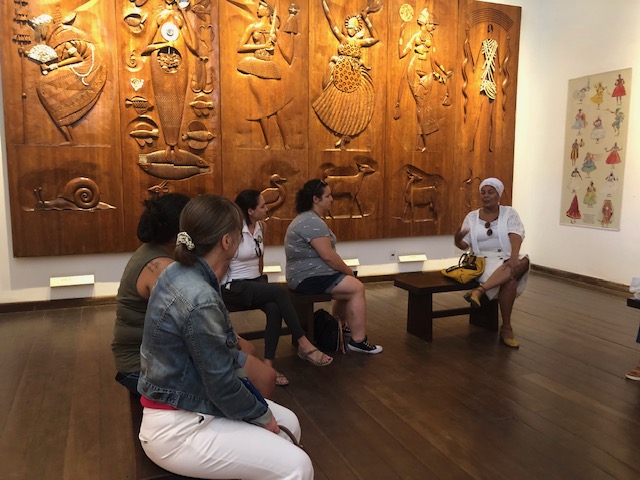 "Brown becomes a better place when we can leverage the talents of our staff," said program leader Shay Collins, the University's director of institutional equity and community engagement. "We want them to know that they are valuable — not expendable."
A global experience
The Office of Institutional Equity and Diversity created the program in 2016 as a direct result of a climate survey in which Brown staff members collectively expressed a desire for professional development opportunities comparable to those afforded to students and faculty. The survey followed the launch of Pathways to Diversity and Inclusion, the University's ambitious action plan for becoming a more fully diverse and inclusive campus.
The program, which has included 11 fellows over its first two years, is a cohort-based fellowship that encompasses a wide range of mentorship and networking opportunities, from collaborating with University leaders to participating in a "critical consciousness" reading group and designing individual projects related to diversity and inclusion.
In each of the first two years, the experience has culminated in an international trip designed to offer fellows on-the-ground learning experiences in a variety of cultural and historic settings. The trips are clustered into three-year cycles. Inspired by Brown's pioneering Slavery and Justice report, the initial cycle highlights regions impacted by the Atlantic slave trade. Last year, fellows went to Cuba; earlier this month, the second cohort spent a week in Brazil; next year's fellows hope to wrap up the cycle with a trip to West Africa.
"We recognize that Brown has its history related to slavery, but we wanted to expand and learn from it, specifically for our staff to learn from it with an international experience," Collins said. "A global component is crucial to diversity and inclusion, because everything has global implications."
In Brazil, the fellows visited the Valongo Wharf heritage site, which was the country's largest arrival point for slaves, and met with representatives from the Steve Biko Institute, who spoke about race and class struggles and successes. Stops at cultural and heritage institutions on the itinerary explored the experiences of the country's indigenous peoples, and LGBT activists spoke to the cohort about how they grapple with gender and sexuality in a changing Brazil.
Collins said the trip was a well-rounded experience centered around people whose narratives are often not at the forefront of Brazil's national attention.
Many of the participants agreed.
"You can read about things and go to lectures, but really going there and being immersed in day-to-day life, especially involving the local cultures and natives to the area... was incredibly educational, thought-provoking and eye-opening," said Linda Angela, department manager of the Department of Behavioral and Social Sciences in the School of Public Health. "I came back with a thirst to learn more, a sense of gratitude and a great appreciation for my job and everything I have."
Bringing it back to Brown
One of the tenets of the program is service to Brown's educational mission, and participants said that the experiential learning conducted throughout the fellowship has already informed how they approach their daily work as University staff members.
"I'm reminded on a regular basis that people have stories that you may not know — that their experiences created them, and it's unfair to put anyone in a box," Angela said. "Be open to different perspectives, because they all may be right."
Seeking input from and collaborating with individuals who brought a wide variety of perspectives was built into each of the program's activities. As participants learned more from others, they learned more about themselves.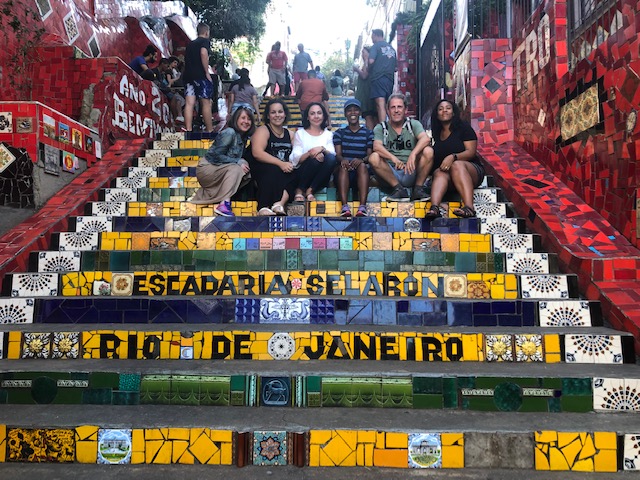 "Throughout the program, we met such a diverse group of people, all of whom gave fascinating talks and were interested in what we had to say," said Mary Oliver, academic department manager for the Department of Hispanic Studies. 
Participants also said the opportunity to work with University leaders and meet people across departments made their roles at Brown feel less insular, which led to a shift in confidence.
"I felt like, 'Wow, my entire experience has changed, and I feel like I matter more than I thought I did,'" Angela said. "I can approach leaders and be an advocate for change and really be heard, because I realized that folks are willing to listen."
When others view University staff as confident and inclusive, the participants agreed, it empowers them to become the same. Feeling supported and part of a community is crucial to the Brown experience, and the lessons learned reach far beyond the scope of any single individual.
Melanie Neves worked at Brown for eight years and completed the program while in an assistant director role in the Office of Financial Aid. The program helped her to enhance her skills and a build a mindset that played a role in securing a new opportunity with advanced responsibilities at the nearby Lincoln School. The fellowship aims to make an impact both at Brown and beyond, she said, and its leaders and participants take that responsibility very seriously.
"It's not just something you put on your resume — it's actually something palpable," Neves said. "A lot of places will give you chances to learn, but not very many chances to implement. Yes, it's a time commitment. Yes, it's a lot of work. But when you think about the bigger picture, there are just so many benefits. I came back looking at the world differently."