PROVIDENCE, R.I. [Brown University] — The National Trust for Historic Preservation has honored South Street Landing with the 2019 Richard H. Driehaus Foundation National Preservation Award, which recognizes adaptive reuse projects that give new meaning to communities while preserving architectural and cultural heritage.
Brown University is an anchor tenant in South Street Landing, a $220 million redevelopment project that transformed an abandoned electrical power station into a modern mixed-use facility that houses 11 administrative units of the University as well as the Rhode Island Nursing Education Center, a joint Rhode Island College and University of Rhode Island complex.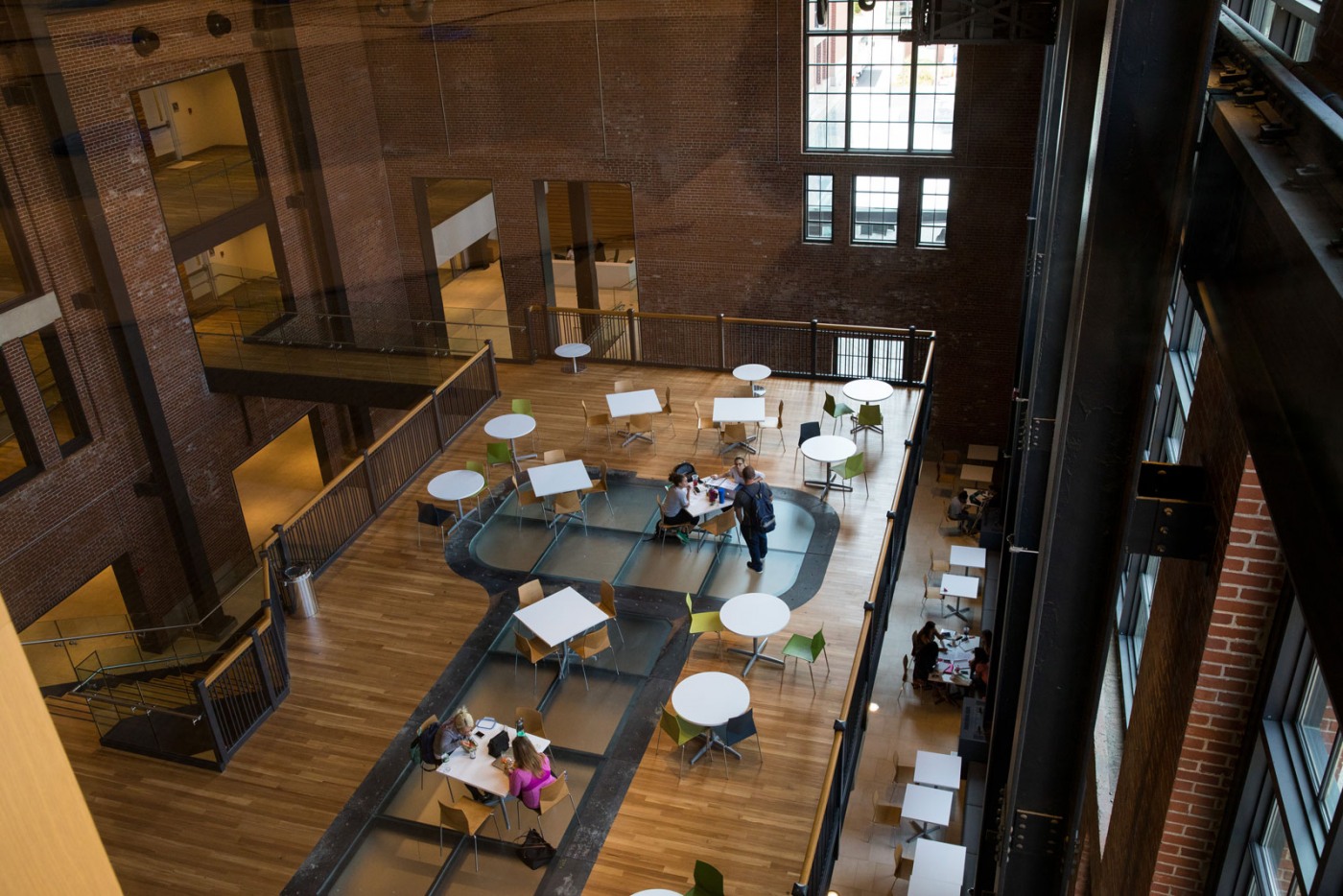 "Contributions from a wide range of key public and private partners were instrumental in making South Street Landing a reality, and it's gratifying to see the result being celebrated," said Russell Carey, executive vice president for planning and policy at Brown. "Not only did the project preserve a long-abandoned historic building, it has also played a foundational role in bringing new life to a neighborhood that is increasingly a home for the innovative academic and economic activity that will drive Providence and Rhode Island forward."
The renovation — designed by TK&A Architects and developed and completed by CV Properties and Wexford Science + Technology — has revamped the interior while preserving some of the plant's signature historical features, such as its exposed brick walls and large concrete dynamo block, which held the original power turbines.
The building dates back to the early 1900s, when the South Street Power Plant was built as a coal-fired electric generator to power the growing manufacturing industry in Providence. It was decommissioned in the 1990s and ultimately named a Most Endangered Property by the Providence Preservation Society in 2011 and 2012.
Brown announced its interest in the private-public partnership redevelopment project in June 2013, and the developers broke ground in December 2015.
In 2018, the building won the IFMA Boston Chapter "Best Practices-Large Project" award.
"South Street Landing tells the story of Rhode Island — where we've been, and where we're going," said Rhode Island Gov. Gina Raimondo. "I'm thrilled that the National Trust for Historic Preservation recognizes its significance to our state as a testament to our comeback."
Brown's role in sparking the South Street Landing project reflects the University's goal to catalyze economic growth in Providence's Jewelry District and beyond. Brown's investments in the neighborhood include the Warren Alpert Medical School building and the 191,000-square-foot Wexford Innovation Center, an adjacent commercial space occupied by Brown's School of Professional Studies executive master's programs, biomedical master's degree programs and Division of Pre-College and Summer Undergraduate Programs, as well as the Cambridge Innovation Center and offices for Johnson & Johnson.