PROVIDENCE, R.I. [Brown University] — Each fall, thousands of parents and family members descend on the Brown campus from across the globe for Family Weekend, an opportunity to connect with students and see the world through a Brunonian's eyes. On a separate date, scores of graduates return for Fall Alumni Weekend.
This year, in a joint Family and Alumni Fall Weekend from Oct. 18 to 20, they all came together for a shared purpose.
The occasion that united generations of alumni, currently enrolled students and family members? The yearlong celebration of Brown's Open Curriculum at 50 Years. As Brown's distinctive, student-driven approach to teaching and learning marks its 50th anniversary, weekend events honored the curriculum's pioneers and enabled students and families to hear from alumni about its impact on lives and careers.
Brown President Christina H. Paxson welcomed families in an address on Friday evening and introduced keynote speaker Dara Khosrowshahi, a Class of 1991 graduate who now serves as CEO of ride-sharing giant Uber. Khosrowshahi has touted the value of the Open Curriculum, noting that as a bioelectric engineering concentrator, he took intellectual risks with courses like European Intellectual History, ultimately one of the classes that inspired him most.
"For a half-century now, the Open Curriculum has empowered students to be the architects of their education," Paxson said on Friday.
Twenty-four hours later, the annual Alumni Recognition Ceremony offered the opportunity to pay homage to the pioneers who paved the way to establishing the University's innovative approach. Dean of the College Rashid Zia welcomed alumni who in 1968 and 1969 contributed to the influential "Draft of a Working Paper for Education at Brown University" or served as members of the Special Committee on Educational Principles — two of the most essential factors that ultimately led to the May 8, 1969, approval by the Brown faculty of the educational principles that still guide the Open Curriculum today.
"The advocacy of all students in the classes of the late '60s and early '70s enabled reforms that strengthened our community and our university," Zia said. "They empowered an optimistic vision of what Brown could and should be. Optimism is at the very core of the Open Curriculum, which underlies the spirit of shared learning and open inquiry on this campus."
Zia shared with the audience that earlier this month, a plaque was erected in the Stephen Robert '62 Campus Center — in honor of 27 named individuals who were contributors to the working paper and members of the special committee, and in recognition of the countless students, faculty and administrators who helped to define and uphold the ideals of the Curriculum then and now.
Three of those 27 individuals — alumni Susan Friedman, Elliot Maxwell and Ira Magaziner, whose names are synonymous with the influential working paper from 1968 — joined Zia on stage to accept replica plaques.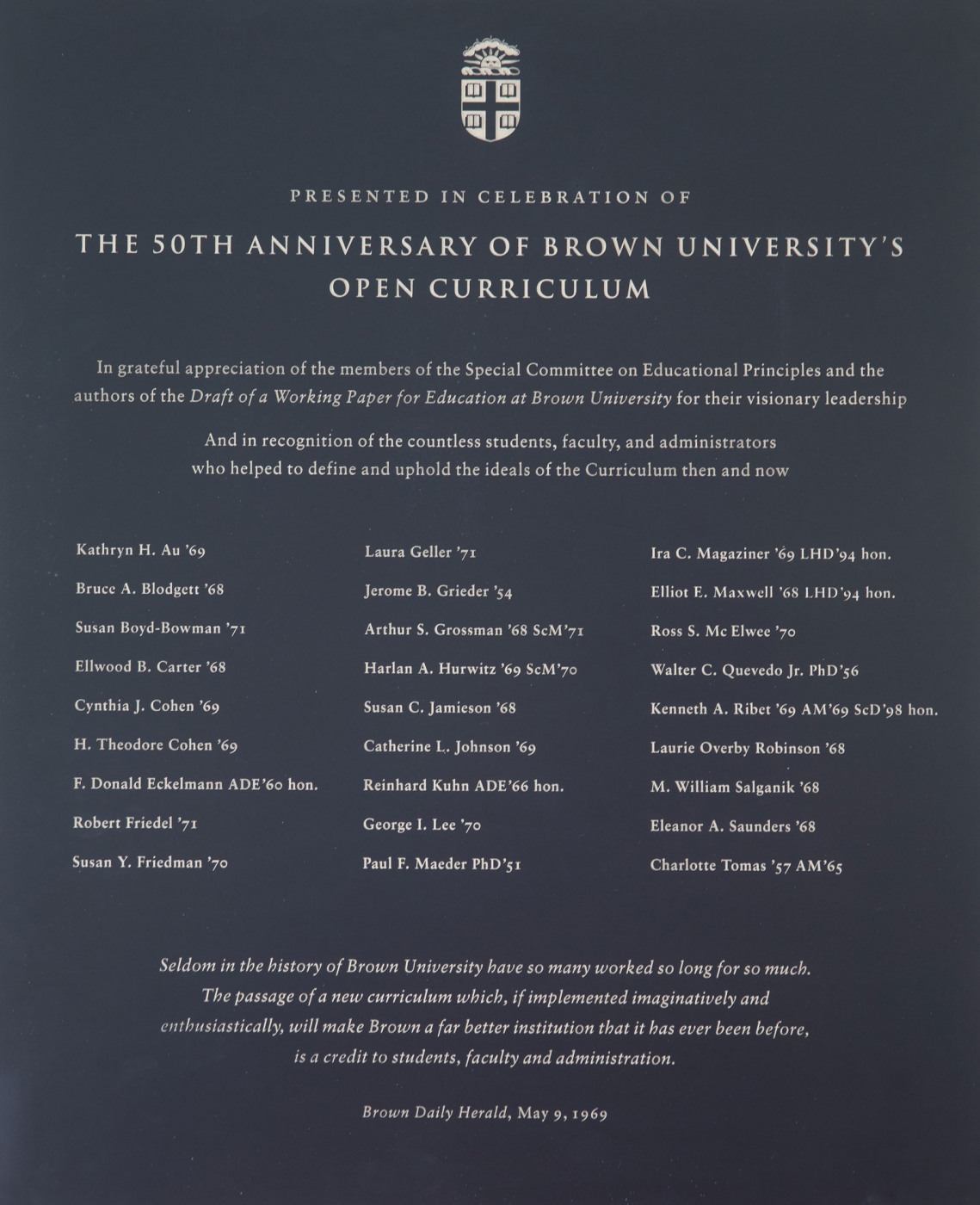 Always a highlight during Family Weekend, this year's forums and colloquia with faculty, alumni and guest speakers featured a number of conversations that highlighted the values espoused in the Open Curriculum. Zia — who in addition to his role as dean and professor is also a Brown alumnus who experienced the Open Curriculum personally — moderated two discussions with fellow graduates about how their career trajectories were informed by the philosophies behind their education.
In a forum titled "An Indirect Path to Fulfillment," Class of 1990 alumna and Brown Alumni Association president Sara Leppo Savage traced the path of her early career as an attorney to one as an entrepreneur. Savage said that as an undergraduate, she initially wanted to pursue an English degree but pushed herself to take advantage of the University's "shopping period" to explore classes not yet on her radar.
"I remember feeling an enormous sense of responsibility for my own education, which was daunting but exciting," Savage said. That curiosity led her to enroll in an introduction to political science course. "I thought, 'Maybe I'll be horrible at this,' but it ended up being that I absolutely loved the class."
Savage ultimately concentrated in political science, which led to law school, and years later, a path to partnership at a New York law firm. She found herself well-suited to the analytical nature of the discipline, but an eventual breaking point arrived during her 4-year-old's ballet class.
"The class was running around in their little tutus, and I was sitting in the corner, whispering into my cell phone, negotiating a bail package," she said. "That was the first crack in the armor."
Six months later, it was time for a career change. Savage credits her experience exploring different paths via the Open Curriculum for giving her the confidence to do so.
"Brown allows you to not have to stay in your lane..." Savage said. "Reflecting back on it, it gave me the courage to say, 'this lane is not working anymore.'"
The same week she left the legal world, the seeds were sown for Sane Designs, the interior design firm she founded in with her friend and fellow Brown alumna Nikki Nesci. The duo drew on their time at Brown to guide them.
"Part of the education at Brown is learning how to learn," Savage said. "So we were OK kind of figuring it out as we went along. We were very up front about what we didn't know, and people responded to that honesty." 
Zia echoed that sentiment, explaining that the goal of the Open Curriculum is not for students to discover everything there is to know, but to build the capacity to continuously grow knowledge in partnership with others.
"We hope that one of the things that defines our community is this sense that it's OK to ask for help and give help to others when we can," he said.
In a subsequent weekend panel titled "A Not-So-Simple Path Forward," Zia spoke with an alumnus who said his entire life is built upon that principle.
For Class of 2001 graduate Carlos Lejnieks, the journey to Brown was an unlikely one. He dropped out of high school in the 10th grade, taking a job as a bus boy and helping his mother clean houses to alleviate financial struggles. He started a business collecting baseball cards and organizing autograph shows in New Jersey, one of which featured retired baseball legend Yogi Berra.
Eventually, a team of mentors helped Lejnieks get back on track to graduate high school. He was focused, re-energized and motivated to enroll in college — but his guidance counselors were concerned about the lapse in his academic resume and his viability as an applicant. Determined, Lejnieks got back in touch with Berra, who believed in him, encouraged him to apply and wrote him a letter of recommendation for Brown. He was accepted, but the transition to the Ivy League was not entirely smooth.
"I carried inside me this imposter syndrome," Lejnieks said. "I didn't think I belonged here."
It took another mentor, this time the then-president of Brown's Undergraduate Council of Students, who sought Lejnieks out over their shared Latino heritage and took him under his wing, encouraging him to run for student government. He was elected and fully embraced the role, seeking out opportunities to get involved.
With his childhood on his mind during his time on campus, Lejnieks said he was hyperaware of financial struggles and thought a career in finance would lead to happiness. He pursued his degree and launched himself into a study-abroad program through Brown at the London School of Economics — but even as he worked his way to an internship at Goldman Sachs, he felt unfulfilled.
"It was this classic, grey, misty London day, where I was having a reflective moment, and I just needed to get out of the rat race," he said.
At the time, Lejnieks was mentoring Aljameer Henderson, a student in Newark, N.J. "Someone very close to me said, 'There's something different about you when you make a breakthrough with Aljameer than when you make the next big deal to forward your career. Embrace that.' So I did," Lejnieks said.
From London, mid-degree, he took a leap of faith in a new direction, from the private sector to the social sector. Sixteen years later, he hasn't looked back. Calling upon the principles he adopted during his time on College Hill, particularly becoming an engaged participant in his own community and recognizing the value of social consciousness, Lejnieks worked to become the CEO of Big Brothers Big Sisters of Essex, Hudson & Union Counties in New Jersey.
"The theme of the day is human connection," said Lejnieks, president-elect of the Brown Alumni Association. "When you see someone for their potential and you embrace that, and you're open to support and giving support to others — it's the spirit of what I do."
Beyond the forums, from lectures to student performances to athletic events, the campus was bursting with academic, extracurricular and social activities across the full Family and Alumni Fall Weekend.
Community members celebrated 25 years of Harambee House, which for a quarter century has served as a living center for those interested in the politics, history, society and other aspects of African and African American culture. The 21st annual Ceremony of Commitment to Medicine saw each first-year student at Brown's Warren Alpert Medical School receive a white coat, symbolic of their entrée to the world of medicine. And though the Bears didn't come out on top, it was a festive day at Brown Stadium as the football team took on Princeton on Saturday afternoon.
One graduate that attendees did not hear from was NASA astronaut and Class of 1999 alumna Jessica Meir. Currently orbiting the Earth aboard the International Space Station, Meir had been scheduled to chat live with Brown students and weekend attendees on Friday, Oct. 18, via a video downlink from the ISS.
NASA's mission meant a last-minute change in plans, so Meir had a good excuse for rescheduling — she and fellow astronaut Christina Koch ventured outside the ISS to replace a power controller, completing the first all-female spacewalk in history in the process. The University is working to reschedule the Q&A session.
Among the many alumni honored during the weekend was the late Ken McDaniel, a Class of 1969 graduate who died in June. McDaniel — an economics concentrator, 1968 Black Student Walkout participant, longtime alumni volunteer, Brown Corporation member and mentor to generations of Brunonians who followed him —  received posthumously the Joseph M. Fernandez '85 Award, which recognizes a commitment to diversity and collaboration with the University community.