[*Editor's Note: On Feb. 28, 2023, Mencoff wrote to the Brown community to share that Paxson's term will extend to June 30, 2026. Mencoff noted that a month after this February 2020 announcement, "the COVID-19 pandemic dramatically altered our lives on campus and around the world. In light of... the need for the leadership of the University to remain wholly focused on the health and safety of the Brown community... we set aside formalizing the appointment extension I had announced. When we came back to it the following year, the Corporation approved, and President Paxson accepted, an additional year in her current term, to June 30, 2026."]
PROVIDENCE, R.I. [Brown University] — Hailing a record of transformational impact and growth, the Corporation of Brown University has unanimously approved the early extension of President Christina H. Paxson's appointment for an additional three years, to June 30, 2025.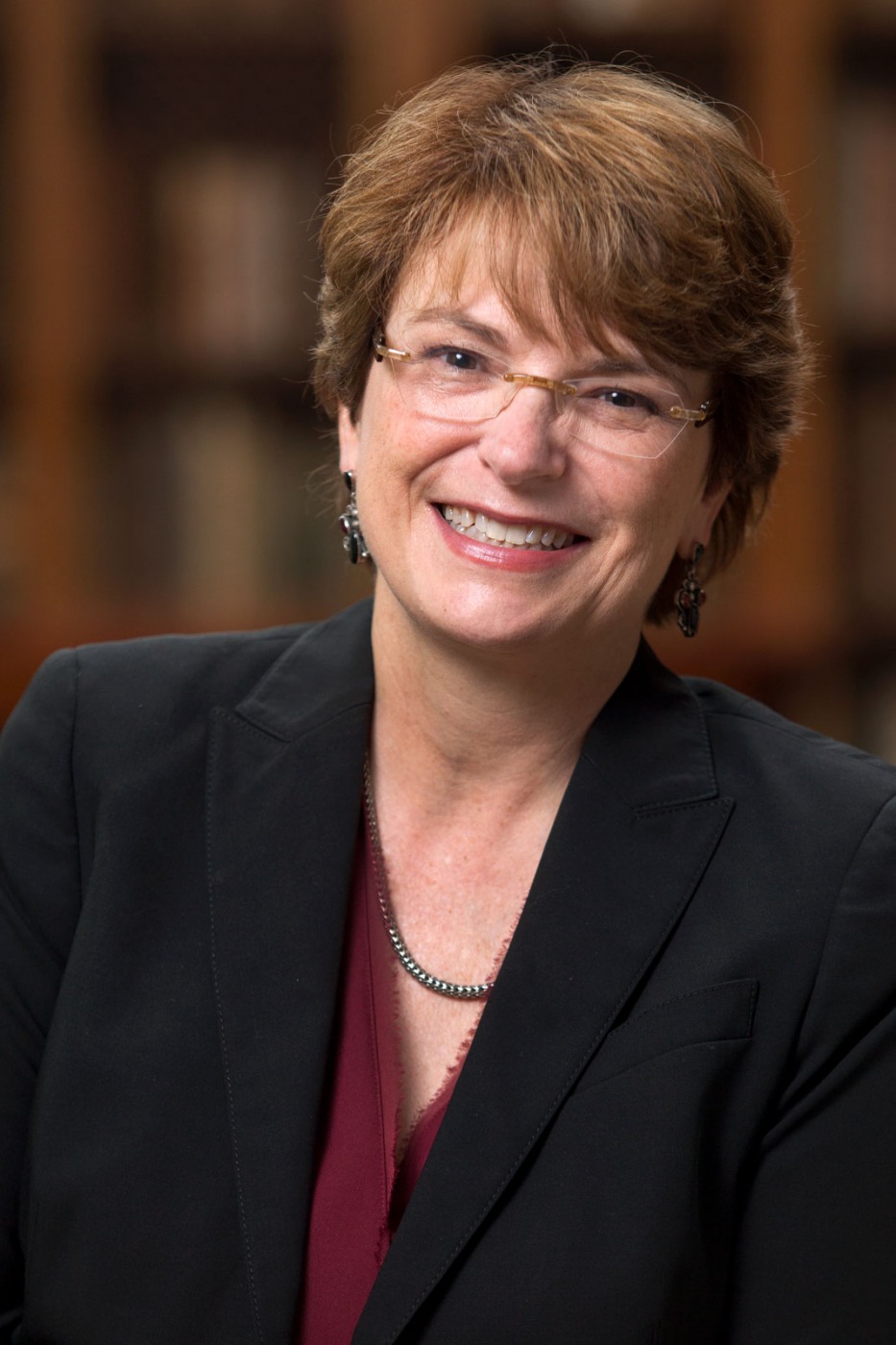 Chancellor Samuel M. Mencoff announced the extension in a Feb. 10 letter to the Brown community, citing Paxson's eight years of accomplishments in the decision to extend the president's tenure more than two full years before the expiration of her current term.
"The Corporation has expressed its absolute and unqualified confidence in her leadership, and its conviction that the most certain way to ensure the University's continued momentum and success without pause is to keep Christina Paxson at Brown," Mencoff said.
"Now in her eighth year as Brown's president, Christina Paxson is a proven leader of extraordinary ability, enormous energy, unshakeable values and boundless passion for Brown," he said. "Her impact on the University has been transformational, leading Brown forward with vision and purpose, setting a standard for excellence in all that Brown does, and elevating the institution's standing among the world's great universities."
Paxson was the architect for the University's 10-year strategic plan, Building on Distinction: A New Plan for Brown, which launched in 2014. Mencoff noted that in the five complete fiscal years after the launch of the plan, Brown added about 90 faculty members engaged in scholarship and teaching, invested $528 million in capital projects and awarded $927 million in scholarship aid, aligned with the University's goal of keeping a Brown education affordable for talented students from all economic backgrounds. In Fiscal Year 2019, Brown expended $196 million in grant funding toward cutting-edge research across the humanities and the life, physical and social sciences. Brown's annual research spending has grown by nearly 30%, with the grant portfolio in the Division of Biology and Medicine having increased 109% since 2013.
Alison Ressler, vice chancellor of the Corporation, asserted that Paxson is "an extraordinary leader, elevating the University, while demonstrating both her vision and steady hand."
"While much has been accomplished," Ressler said, "this extension assures the community that we will be able to seamlessly continue the implementation of our strategic plan and bring Brown to even greater heights."
Paxson said she considers it a privilege to serve the University.
"Over the last eight years, I have come to love the Brown community — faculty, students, staff and alumni — and I'm really thrilled to extend my service to this exceptional institution," Paxson said. "I am proud to be a part of the deep intellectual engagement, creativity and shared commitment to service that I see every day at Brown. Collaborating with individuals across the Brown extended family has been an extraordinary experience, and I must express my deep gratitude to the trustees and fellows for their unending support."
In addition to the achievements noted above, Mencoff's letter to the Brown community noted these highlights of growth at Brown under Paxson's leadership:
Creation of numerous academic centers, institutes and initiatives to advance research and educational excellence: the Institute at Brown for Environment and Society, Hassenfeld Child Health Innovation Institute, Native American and Indigenous Studies Initiative, Nelson Center for Entrepreneurship, Data Science Initiative and Brown Arts Initiative.
 
Expansion of Brown's brain science institute, renamed the Robert J. and Nancy D. Carney Institute for Brain Science with a $100 million gift that established it as one of the best-endowed university brain institutes in the country.
 
Construction and major renovation to foster dynamic and world-class teaching and learning, including the Engineering Research Center; Friedman Hall; the Nelson Center for Entrepreneurship's home at 249 Thayer St.; the Stephen Robert Hall expansion of the Watson Institute for International and Public Affairs; a new home at 164 Angell St. that houses the Carney Institute for Brain Science, Data Science Initiative, Center for Computational and Molecular Biology, Department of Education and Annenberg Institute for School Reform. New and ongoing construction includes site work for an innovative Performing Arts Center and a new Center for Lacrosse and Soccer.
 
Deepening the University's valued relationship with neighbors and partners in Providence and Rhode Island through an increasing number of strategic projects, fueling economic innovation and production. This includes private-public partnerships that anchored the development of South Street Landing and the Wexford Innovation Center in the Jewelry District; the Brown and the Innovation Economy initiative; expansion of local collaborations through the Nelson Center for Entrepreneurship; and expanded support of Providence Public Schools.
 
Launch of Pathways to Diversity and Inclusion: An Action Plan for Brown, creating a national model across higher education for diversity and inclusion.
 
Opening the Undocumented, First-Generation College and Low-Income Student Center, a successful partnership with undergraduate students and the first of its kind in the country.
 
Strengthening support for ROTC and veterans, including plans to become need-blind for undergraduate veterans, which builds on earlier leadership in restoring relationships with the Navy, Marines and Air Force (adding to Brown's Army Reserve Officer Training Corps relationship).
 
Brown becoming a "no loan" university with The Brown Promise, reducing financial barriers for the most talented students to choose Brown by replacing all loans packaged in financial aid awards for new and returning undergraduates with scholarships.
 
Establishing BrownConnect to provide Brown students with increased support for summer internships, research and funding, and later expanding the initiative to enable alumni to connect with each other to extend their professional networks and cultivate career connections.
 
Kickoff of the $3 billion BrownTogether comprehensive campaign, the most ambitious in Brown's history, which to date has raised $2.3 billion.
 
Leading Brown through efforts to strengthen its financial position through enhanced budgeting practices, first-in-class investment management, and an endowment that has surpassed the $4.2 billion mark, the highest in Brown's history.
 
Leading Brown in pioneering sustainability efforts that include establishing an aggressive goal to cut campus greenhouse gas emissions by 75% by 2025 and to achieve net-zero emissions no later than 2040.
 
Engaging alumni in the life of the institution and encouraging the extended Brown community to remember and celebrate the University's rich history and to imagine its exciting future, including during the Celebration of Brown's 250th anniversary in 2014-15; the 125 Years of Women at Brown conference that took place in 2017; the Black Alumni Reunion and recognition of the 1968 Black Student Walkout in fall 2018; and the more recent Open Curriculum at 50 celebration that launched last May.
Prior to her appointment at Brown, Paxson was dean of the Woodrow Wilson School of International and Public Affairs and the Hughes Rogers Professor of Economics and Public Affairs at Princeton University. While at Princeton, she served as chair of the economics department and was the founding director of the Woodrow Wilson School's Center for Health and Wellbeing.
Paxson is currently the vice-chair of the board of directors of the Boston Federal Reserve Bank, vice-chair of the board of the Association of American Universities and a member of the American Academy of Arts and Sciences. The website for the Office of the President hosts Paxson's full biography.