PROVIDENCE, R.I. [Brown University] — In November 2019, when Brown University broke ground on a new integrated health and wellness center and residence hall, nobody could have known that a worldwide public health crisis would arise in the subsequent months, shuttering much of campus and introducing the need for new safety considerations at the center's Brook Street construction site.
But thanks in part to a comprehensive set of on-site safety practices, workers have continued to make quick progress on the future residence hall and hub for Brown's health and wellness programs, placing the final steel beam of the center's structure on Monday, May 11. 
The University and its partners marked the project milestone and the efforts that helped achieve it at a topping-off ceremony that featured live-streamed remarks by Brown leaders and members of the Rhode Island building community.
Because in-person attendance was limited to the workers on the building site, the final beam — traditionally signed by the ceremony's attendees — was instead covered in advance with the digitally printed signatures of the Brown, Shawmut Design and Construction, and William Rawn Associates representatives who together have led the project. On-site workers added their signatures in person before the ceremony, which was streamed in its entirety to virtual attendees via the Brown website.
Brown President Christina H. Paxson thanked the workers, whose dedication during a time of unprecedented challenges has kept the project on target, with the University's health and wellness programs scheduled to move into the new building in April 2021.
"Building construction is demanding, exacting work that all too often goes underappreciated," Paxson said. 
"On behalf of Brown, I want to thank the Shawmut Building and Construction team and especially the skilled craftsmen and women who are making this building come to life ...  You have been incredibly important to what we do here at Brown and for helping us get to this milestone."
When it opens, the new center will bring together in the same space services and programs instrumental to students' physical and emotional well-being — including Health Services, Counseling and Psychological Services, Brown Emergency Medical Services (EMS) and BWell, the University's health promotion program. It will also include beds for more than 162 students who share a deep commitment to sustaining healthy lifestyles and promoting health in the Brown community and beyond.
By uniting these programs and students in a single building, the new health and wellness center gives the University the chance to advance its approach to student wellness, said Dr. Vanessa Britto, executive director of health and wellness at Brown. 
"Not only does it co-locate all the University's health and wellness services, but it also invites students to come together as a community to learn about and commit to a healthy lifestyle," she said. "This will be a home for students and a hub for wellness that will allow us to collaborate in innovative ways, across health and wellness center departments and with students."
For Britto, this collaborative approach to student health demonstrates the University's recognition that physical, mental and emotional well-being together allow students to thrive. 
"To me, this building project is an extension of Brown's mission — it's a way of caring for the whole student that goes well beyond medicine."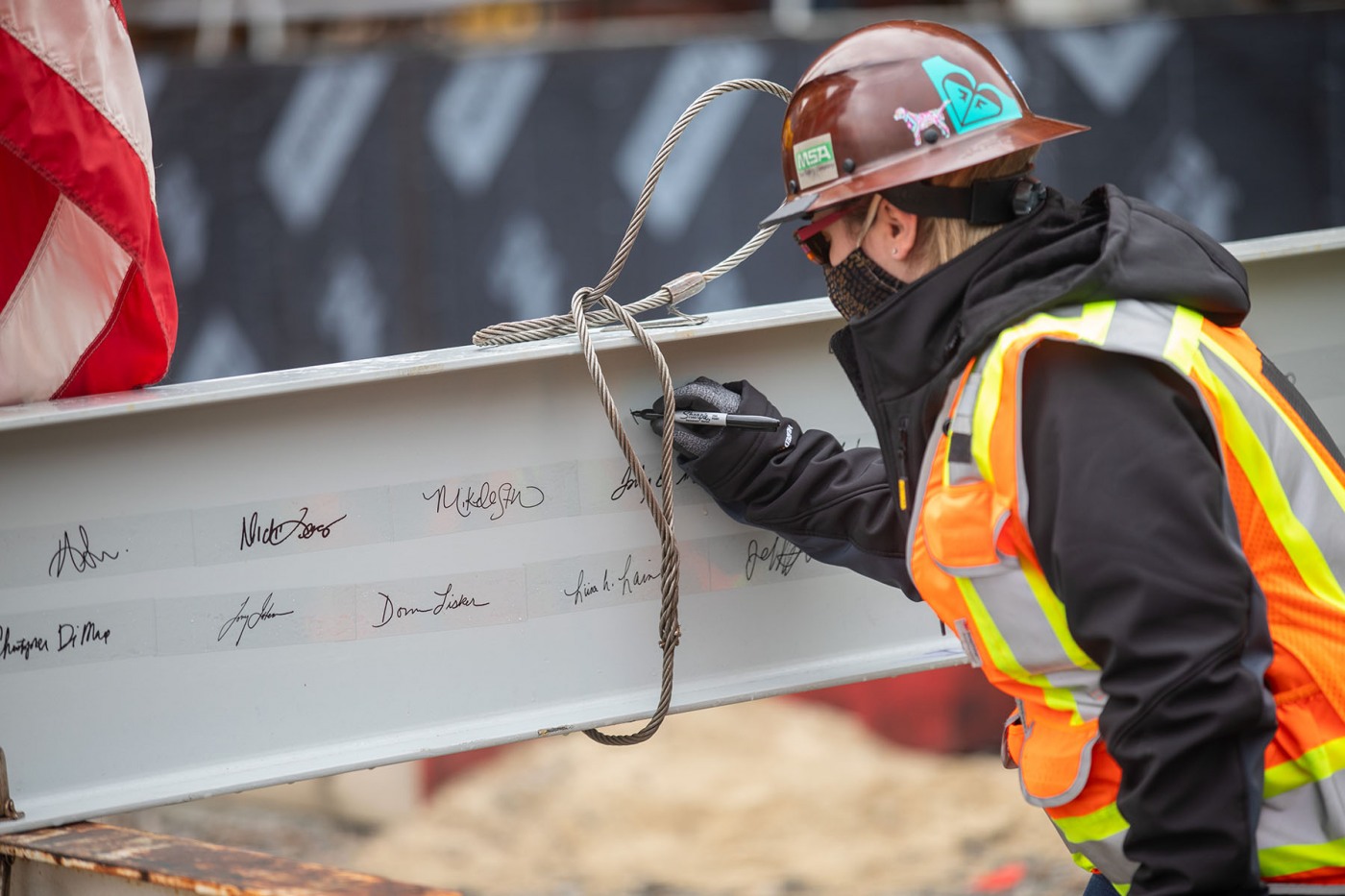 To date, the project has stayed on schedule as workers have adopted new safety protocols aimed at protecting against COVID-19. The University, working closely with the Rhode Island Building and Construction Trades Council, began implementing a range of safety procedures at the Brook Street site in mid-March, said Paul Dietel, Brown's assistant vice president for planning, design and construction.  
Each day, all workers complete a health questionnaire and have their temperatures taken before being allowed on-site. Once there, they are issued personal protective equipment, including facemasks, and are required to maintain 6 feet between them — a measure that can require innovative problem-solving on a construction site, "where it might take two workers to install a piece of heavy equipment," he said.
The project also has a dedicated COVID-19 safety officer responsible for overseeing all of the safety protocols on site.  
"Brown has been extremely fortunate to keep the project going through this crisis without skipping a beat," Dietel said. "I can't tell you how thankful we are for the workers who are showing up every day and to the Rhode Island Building and Construction Trades Council for proactively implementing these policies to keep them safe."
As part of a staggered approach to opening the building fully, the center is currently scheduled to welcome students into its residential spaces for the Fall 2021 semester. 
The center is under construction at 450 Brook St., a site on Brown's College Hill campus approved by the Providence City Plan Commission in April 2018. The location, between Cushing and Meeting streets, is directly adjacent to green space on Pembroke Field and a short walk to Brown's Erickson Athletic Complex and Nelson Fitness Center.