PROVIDENCE, R.I. [Brown University] — When Francesca Raoelison was training to become a sexual assault peer educator as a community college student in Virginia, she learned the definitions, signs and after-effects of many forms of interpersonal abuse.
But her most revelatory lesson was an unexpected one about herself.
"It was the first time I had studied emotional abuse, and it was then that I realized that, actually, I had lived with it all my life through different relationships growing up in Madagascar," said Raoelison, who is now finishing her sophomore year at Brown through the Resumed Undergraduate Education program. "It was a real eye-opener."
Raoelison quickly realized she wasn't alone. As she began to research emotional abuse, she discovered that, according to UNICEF, 84% of Malagasy children between ages 2 and 14 have experienced some form of psychological or physical abuse in their homes. These patterns, which can happen in all types of relationships, continue into adulthood: France's Institute for Research Development reports that as recently as 2013, 46% of women in Antananarivo — Madagascar's capital — had been emotionally and psychologically abused.
"I began to realize that emotional abuse was so engrained in the culture that people think it is normal," Raoelison said. "We don't talk about it, let alone acknowledge its consequences on people's sense of identity, dignity, self-esteem and mental health. It was like all of these puzzles were finally making sense to me, and I knew I needed to do something about this."
The realization planted the seed that has sprouted Omena, a nonprofit that Raoelison founded in 2019 to teach school-aged Malagasy children and adolescents how to recognize emotional abuse in their relationships.
Omena pursues this mission through in-school workshops, which use learning tools from One Love Foundation and Educate2Empower Publishing — organizations dedicated to raising young people's emotional awareness and eliminating emotional abuse — that Raoelison received permission to adapt for classrooms in her home country.
The workshops are designed to be developmentally appropriate for students at different stages of emotional development, she said: Elementary school-aged children learn how to identify and describe their own emotions, while adolescents focus on identifying the characteristics of toxic relationships and promoting healthy ones.
"We're trying to provide this preventive education to the next generation because we believe that that's the way to really change prevalent cultural attitudes and break the cycle of abuse in Madagascar," Raoelison said.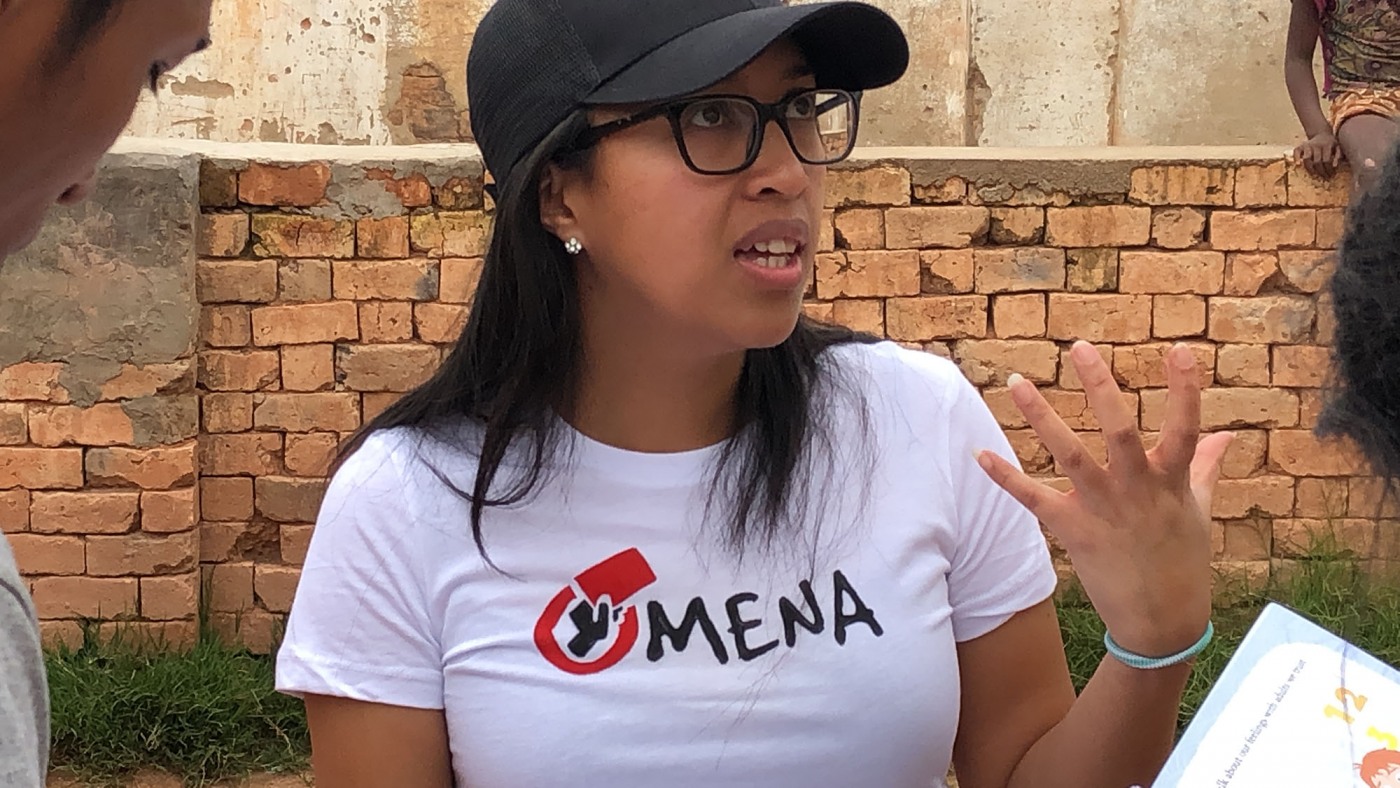 From 2019 to 2020, during the break between Brown's fall and spring semesters, Raoelison returned to Madagascar to pilot her program. Through a partnership with Youth First, a Madagascar-based organization dedicated to empowering young people, she gave 15 workshops in six public elementary and upper-level schools in Antananarivo. She also held workshops for homeless children in the city and at a local private school, reaching 350 young people in total over the course of her pilot.
The positive effects of the workshops were immediate, Raoelison said. Workshop surveys suggested that as many as 90% of the young people involved in the pilot had no prior knowledge of emotional abuse.
"Students were coming up to me and sharing that they hadn't realized that a family member or romantic partner was being controlling or toxic toward them, and that they realized now that the anxieties they had been feeling were totally valid," she said.
Many have stayed in touch with her since her visit.
Raoelison also used her time in Madagascar as an opportunity to conduct research, leading focus groups with women from the Go Women Project, a local organization that promotes women's autonomy, to learn their perspectives on abuse in the country.
Raoelison is now turning her sights to increasing Omena's programming capability. With support from a fellowship from Projects for Peace — a program supporting peace-building projects led by undergraduates around the U.S. — she is now seeking to recruit and train a cohort of 40 peer educators to expand Omena's work with Malagasy children and adolescents.
"I'm working on finding the right people to create a learning community where peer educators and students are open with each other," she said.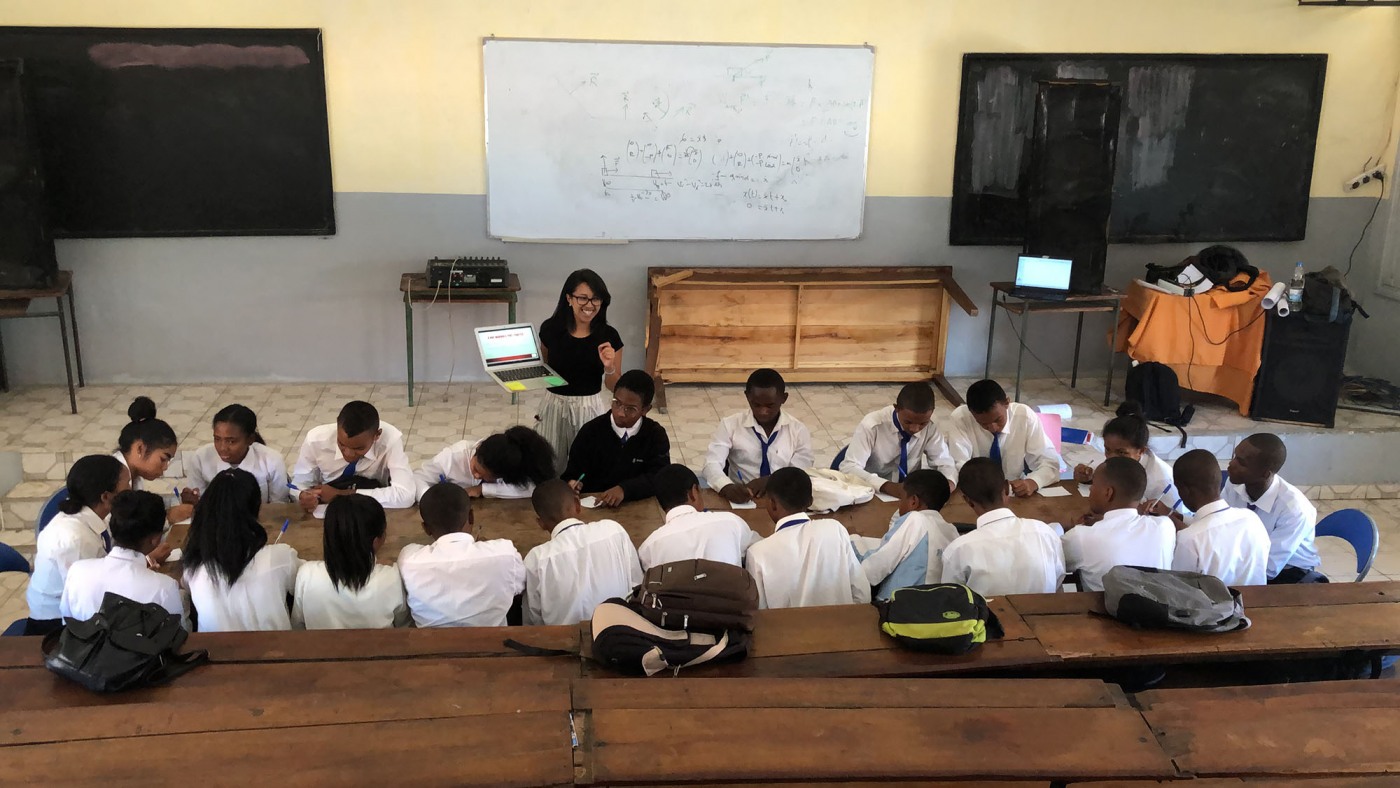 Building a movement
Raoelison's vision for Omena had been taking shape for years before she arrived at Brown. As a community college student, her early concept for the project earned her support from the Clinton Foundation and landed her an MTVU video spot that quickly went viral in Madagascar.
But she says it wasn't until she arrived at Brown in Fall 2018 that she had the resources to turn her vision into a vehicle for concrete change.
"When I was in community college, I was passionate about this project, I was working on it, but I didn't have the time, I didn't have the mentorship, I didn't have the knowledge to turn my idea into something tangible," she said. "And that's what Brown has given me."
Raoelison, who intends to concentrate in sociology on the organizational studies track — which teaches sociological theory and methods in the context of social leadership — credits the flexibility of her coursework at Brown, her participation in Breakthrough Lab — an accelerator program run through the Nelson Center for Entrepreneurship — and her fellowship with the Swearer Center's Social Innovation Initiative with making this growth possible.
"Both B-Lab and the Social Innovation Fellowship helped me frame entrepreneurship as solving a problem — and they both emphasized the importance of understanding that problem before suggesting a solution," she said. "The fellowship allowed me to tackle the problem with a more sociological lens and with a more systemic approach, while B-Lab offered a co-working space that allowed me to work on my venture daily with a community of entrepreneurs."
Her experience with B-Lab also helped her strike a nerve — yet again — on social media. The morning after reposting her B-Lab presentation on Omena to her own Facebook page, Raoelison received over 300 new friend requests, many from young people in Madagascar sharing their own stories of abuse. Soon, the video had been shared over 10,000 times.
"My hope is for them to feel that they, too, can initiate social change through their stories," she said.
The urgency and resonance of Raoelison's work quickly caught the attention of Alan Harlam, a mentor leader at the Nelson Center and the founding director of the Social Innovation Initiative at Swearer.
"Over the many years I've been working with student entrepreneurs, for a student to hit upon a problem of this magnitude is rare," Harlam said. "Francesca has shined a light on something that was invisible to most but there in plain sight for all to see. And now that she has, there is a community of folks who see themselves in her work and want to help her make a difference."
He added: "She's doing more than leading an entrepreneurial project. She's leading a movement."