PROVIDENCE, R.I. [Brown University] — While finishing up his final semester at Brown remotely from his home in Connecticut, Will Collier and his family kept seeing news stories about farmers throwing away food they'd normally be selling to restaurants, many of which were now shuttered by the coronavirus pandemic. Meanwhile, people in need of food were lining up in droves at food banks nationwide.  
Collier, a double concentrator in architecture and economics, thought there must be a way to head off that food waste by connecting farmers directly with food banks. Meanwhile, on the other side of the country in California, Collier's close friend and Brown water polo teammate, Aidan Reilly, was thinking the same thing. Reilly had just reached out to an onion farmer who was about to toss his crop into a landfill, and was in the process of redirecting those onions to food banks in Los Angeles.   
"I was on the phone with Aidan talking about projects that we were trying to do to keep busy during quarantine, and he mentioned that he and a friend had connected an onion farmer they read about in the New York Times with a local food bank," Collier said. "I said, 'That's crazy — my brother and I have been talking about doing the exact same thing.'" 
Shortly after that conversation, the FarmLink Project was born. Running on donations and volunteers, the organization is now arranging farm-to-food bank shipments nationwide. As of mid-May, Collier said, it had shipped more than 800,000 pounds of food that might otherwise have gone to waste, while providing more than $35,000 in relief for truckers and farmers.
Along with Collier, who earned his degree with the Class of 2020 in late May, and Reilly, a junior, the team includes Brown juniors Max Goldman (another of the organization's co-founders) Ben Collier (Will's brother and another co-founder), Jordan Hartzell, sophomore Matt Garcia, as well as students from Stanford, Cornell and elsewhere. Will Collier talked about the project in an interview. 
How did FarmLink get its start? 
It's really been an incredible few weeks. It started when Aidan and his friend James Kanoff reached out to a farmer in Idaho who they read about in the New York Times. The farmer said he had a truck loaded up with 50,000 pounds of onions that he was about to send to the dump. But instead of taking it to the dump, we paid the driver to take it down to a food distributor in Los Alamitos, California, called Food Finders. They were able to then distribute it throughout the city of Los Angeles as well as the surrounding Southern California area. That was our first proof of concept. 
After that, Aidan and James rented a truck and delivered 11,000 eggs from a ranch in California to another Los Angeles food bank. So then we really knew that we had something that worked, and things took off from there.  
How have you managed to take the effort nationwide?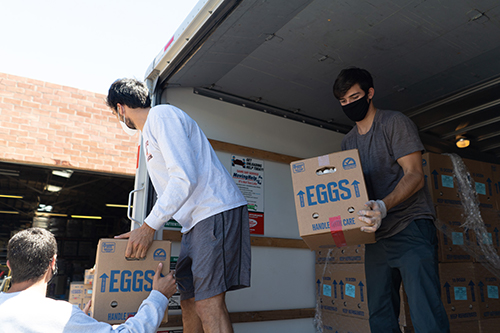 We realized pretty quickly that the best way to incentivize donations of both money and food was to become a 501c3 organization. We operate 100% on donations to pay farmers and truckers, so we really needed that designation. But getting registered as a 501c3 can take months, and we didn't have that kind of time. So what we did, as many other organizations do when they're getting started, is we became a fiscal agent of a registered organization — Food Finders. Through that partnership we are able to collect donations with tax deductions.  
We started with a team of six to 10 people. We now have a core group of probably 65 or 70 individuals, pretty much all college students, organized into teams. Some do farm outreach; some work on the food bank side; others work on trucking and logistics. We recently started a partnership with Uber Freight, which is helping us with some of our trucking. And we're talking to a couple other companies about streamlining our packaging and trying to make things as efficient as possible. 
So all that has helped us to do this across the country. A few days ago, we moved 6,000 pounds of carrots and celery from North Carolina to Richmond, Virginia. We're making connections in Maine and expanding into hotspots like New York and Boston where they're seeing extreme shortages. We're in touch with some farms in Pennsylvania. We've got a shipment going to Detroit, so we're working our way into the Midwest as well. By late May, we expect to have moved 1.1 million pounds of food.
In the last week we have made a connection with Borden Dairy, one of the largest dairy producers in the country. We connected with them after a story about us ran on ABC News, and we have been helping them connect their dairy to food banks all over the country.
How do you find farmers to participate? 
It's mostly been cold calling, just calling up farmers and talking to them. We've had a few farmers get in touch with us after seeing us in the media. But really cold calling has been the biggest thing. One thing that we really are proud of is the fact that we are forming these direct, person-to-person relationships and making these connections happen. 
We've learned a lot doing that. We have to be wary of what harvest season it is, and think about the kinds of farms we contact. It's actually the bigger farms that are more likely to be supplying restaurants or universities, so they're ones that are seeing the most waste with everything shut down. 
How would you describe what this experience has been like for you?  
It's been an absolutely amazing learning experience — making relationships with farmers and food banks, becoming literate in shipping and agriculture. And I think it's been really impactful on a lot of communities so far, and that feels great. We're really excited to keep going, building the amount of pounds per week that we're putting out, and to make our process scalable so we can reach as far across the country as we can.
It's just been an incredible way to unite people, and really great to see so many young people wanting to help. We're getting lots of emails from people who want to be involved because they recognize that food waste and insecurity are really big issues. 
It has taken off at a far greater pace than I think any of us ever expected. Five weeks ago, our goal was to make one transport to one food bank. And now, in a little over a month, we've reached thousands of people across the country. It truly is mind-blowing. 
Do you see a future for this model beyond the current pandemic? 
The issues we are trying to tackle — food waste and food insecurity — they're not new. During the pandemic we've seen these issues explode and come to the forefront, but food waste has always been an issue and will be after the pandemic. So maybe by raising some awareness and building a network to move these goods, it's something that can continue in some way after the pandemic, whether we're doing it or another group of volunteers sees what we did and takes it from there.  
We are still so early in the process and so to us the potential is endless. We just want to help as many people as we can, and I don't think that our impact should stop just because the current pandemic conditions change. 
Now that you're graduating, what comes next for you? 
I'm moving eventually to San Francisco. I was supposed to start a job doing consulting at Accenture in August, but that's gotten pushed back likely to November. That opens up the next five or six months to continue on this project, which is great.