PROVIDENCE, R.I. [Brown University] — One night in 1982, S. James Gates Jr., then a young postdoctoral researcher in physics at the California Institute of Technology, sat in a car with a friend outside his apartment. As the two discussed the finer points of a bowling match they had just completed, a bright light suddenly flashed through the rear window.
It was the spotlight on a police cruiser.
"Someone had called the police about these two suspicious Black men in the neighborhood," Gates recalled. "I guess we were in one of those places where African Americans weren't supposed to be."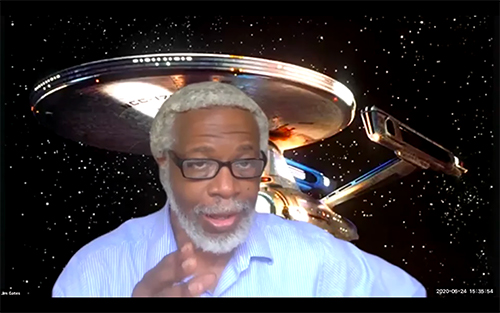 It was Gates' second encounter with law enforcement during his time in California, and he was angry about once again being targeted by police despite doing nothing wrong. He stepped out of the car and quickly found himself staring down the barrel of a gun.
"He had drawn his gun and was ready to pull the trigger," Gates said. "All of a sudden, a couple of thoughts occurred to me. One of them was that I could die right now. Another was that there would be no consequences at all for this policeman if that happened. And my final thought was, this is quite a statement about how much my life is worth in the country of my birth."
Tensions eased, however, and Gates did not die that night. He would go on to become one of America's most renowned and decorated physicists, receiving the country's top scientific award, the National Medal of Science, in 2011.
Gates, now a professor at Brown, shared a bit of this story in late June with hundreds of physicists, students and others as part of a webinar sponsored by the American Physical Society (APS). The goals of the webinar were to harness the sharpened awareness of racial injustice, stirred by the killing of George Floyd, Breonna Taylor, and others at the hands of law enforcement, to improve diversity and equity in the physics community.