PROVIDENCE, R.I. [Brown University] — When she was in first grade, Jessica Meir drew a picture of what she wanted to be when she grew up. She drew herself in a spacesuit, standing beside the American flag of the surface of the Moon.
That childhood dream just took one giant leap toward reality.
On Dec. 9, NASA announced that Meir, a Brown Class of 1999 alumna, is one of 18 astronauts selected for the agency's new human exploration program on the Moon, dubbed Artemis. NASA hopes to start flying the first Artemis missions next year, with the first crewed lunar landing happening as early as 2024.
Meir said that her selection felt "a little bit surreal," but she's excited to be part of a mission that marks a new chapter in NASA's history.
"The next step is the Moon," Meir said in a Dec. 11 interview. "We're going to establish a presence there, we're going to learn from that, and then we're going to propel on to Mars from there. So it is absolutely a tremendous time to be a part of all of this."
Meir, who was initially selected for the astronaut corps in 2013, completed her first mission to space earlier this year. She spent more than 200 days working aboard the International Space Station during that mission, making history with crewmate Christina Koch by successfully completing the first all-woman spacewalk. Now, both Meir and Koch begin training to walk on the Moon.
The Artemis team is comprised of nine men and nine women with a wide range of personal and professional backgrounds. Meir says that the talent and diversity of the team will be key to the program's success.
"If you want to solve a problem... you're going to have a more creative and I think much more optimal solution if you have many different ways of thinking about it," Meir said. "So including people have all of these diverse backgrounds and skillsets and ways of thinking makes us a much, much stronger team."
That approach toward problem-solving is inherent in research and teaching at Brown, where Meir — as an undergraduate who concentrated in biology — got early lessons in the geology of the Moon as well as an initial connection with NASA's space program. She took a class with Jim Head, a planetary scientist at Brown, who has conducted pioneering research in lunar geology and helped to train astronauts who explored the Moon during the Apollo program.
"During her tenure at Brown, she took my introductory Geo 5 'Earth, Moon and Mars' course and got the highest grade ever," Head said. "It has been a pleasure to continue to work with Jessica and her astronaut colleagues in Houston during their training period, and we all look forward to accelerating this training as these exceptional candidates prepare to explore the South Polar region of the Moon."
Meir said her work with Head, as well as other mentors at Brown and elsewhere, helped to put her on the trajectory to become an astronaut.
"[Jim] taught me so much and that was such an incredible opportunity," Meir said. "I even got to meet John and Annie Glenn back then because of Jim, so that was an extraordinary experience. I think mentors like that, like Jim... and others [at] various points throughout my life, helped me believe and realize that this was a reality if I wanted to set my mind to it."
Building on a legacy of lunar exploration
It has been nearly 50 years since the last crewed lunar mission of the Apollo program. Meir says that the legacy of Apollo underscores the importance of continued human exploration of the Moon.
"The science conducted on the Apollo missions has changed the way that we view the solar system; that is undisputed," Meir said. "And we are still learning new things from the samples [returned from Apollo] to this day."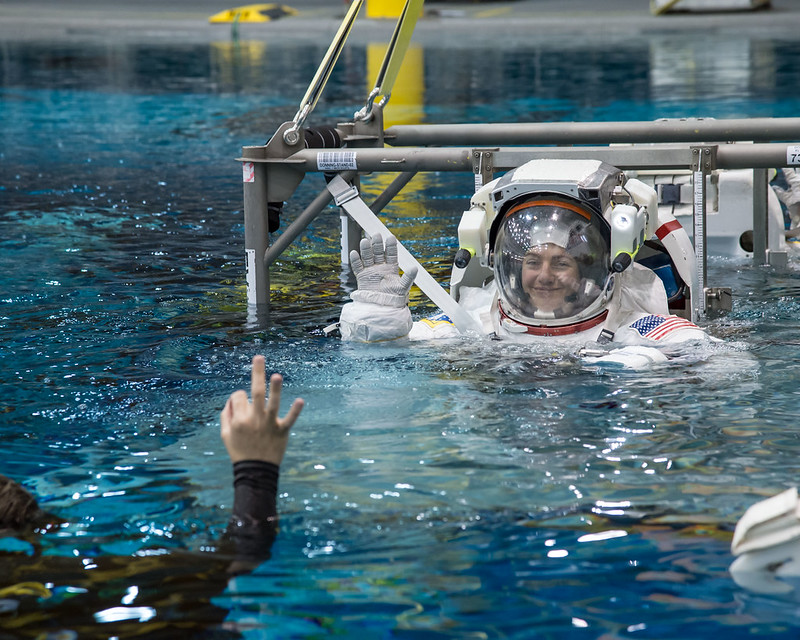 But there are other perhaps less tangible benefits to human exploration, Meir says. She notes the famous "Earthrise" photo of the fragile planet taken by astronaut William Anders during the Apollo 8 mission. That photo, Meir says, played a major role in shaping the modern environmental movement.
"I don't think that anybody thought that we're leaving the planet to discover the planet, but that's exactly what happened," she said. "It really did help shape how we treat our own planet."
Meir says she expects Artemis to be a vast expansion of the Apollo legacy. NASA plans to explore parts of the Moon where no human has ever set foot, particularly the lunar South Pole. Researchers from Brown and elsewhere have shown that the South Pole is home to patches of water ice, a resource that could make a long-term lunar research base a reality.
But before any mission can lift off, the entire Artemis team will participate in years of rigorous training. The team will work on the development of new spacecraft, including the Orion space capsule and a new rocket, NASA's mammoth Space Launch System. They'll also study the geology of potential lunar landing sites.
NASA has yet to assign astronauts to any particular Artemis flights, so Meir will have to wait to see if she might be the first woman on the Moon. However it turns out, she says she's thrilled to be part of this historic program.
"It's just so exciting to think [that] I could be that person," Meir said. "Or if it's not me, it's going to be one of my friends."