PROVIDENCE, R.I. [Brown University] — Gwyneth Paltrow. Sarah Jessica Parker. Steve Madden. Kenneth Cole. Stella McCartney. Even the least fashion-inclined would be hard-pressed to skip over those luminaries, who make up just a fraction of the speakers slated to present at the student-run [email protected]'s Fashion Week 2021.
This year's event, which will be held virtually over the span of nearly three weeks, will look quite different from years past, but [email protected] president and Class of 2021 student Sasha Pinto says the mission will remain the same: to host a robust lineup of professionals to present, chat, encourage and educate the community on the ins and outs of all aspects of the fashion industry.
"We wanted to give the community something to look forward to — something wonderful, something interesting," Pinto said. "Everyone will get something out of it, and I suspect that may look different for everyone."
Brown Fashion Week '21 will feature presentations by 26 renowned fashion and film experts across 16 events, including student-led conversations and panel discussions on journalism, business, modeling, sustainability, design and more.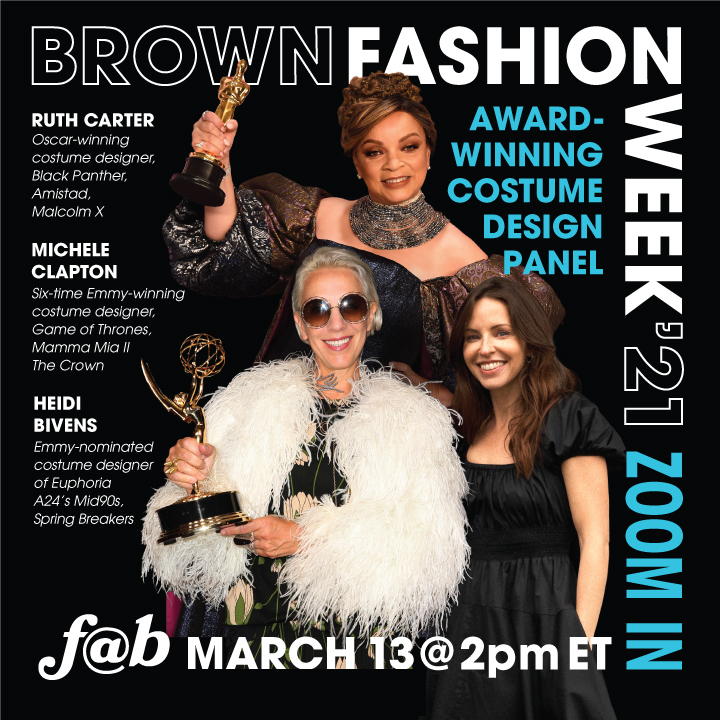 In addition to the fashion powerhouses listed above, the lineup includes the award-winning costume designers for "Black Panther," "Game of Thrones," "The Crown" and "Mamma Mia!"; the editors-in-chief of Glamour Magazine and Vogue.com; the CEOs of Yves St. Laurent, Ralph Lauren and Maje; creative directors and fashion influencers; models and many more.
The weeks of virtual programming will culminate in [email protected]'s 11th Annual Runway Show, though the COVID-19 pandemic and current public health guidelines transformed what the show will look like. In lieu of an in-person runway event, the organization will premiere a student film showcasing the creations of its student designers. Because of pandemic-induced gathering size limitations, designers will feature members of their own living pods as models for their creations.
"The designers are extremely creative," Pinto said. "They're using high fashion films as inspiration, and it's going to transcend the boundaries of a traditional runway show. I believe the end result is going to be something great."
While Pinto acknowledges that the need to execute all programming virtually came with some challenges, it was a necessary decision for the organization. Pinto, who also serves as a director for the student-organized Ivy Film Festival, noted that Brown's decision to complete the Spring 2020 semester remotely in the early weeks of the pandemic's arrival came right before the film festival had been scheduled to take place.
"The office of President Paxson sent us, the directors, a message expressing their hope that we would do it virtually to help build community and create shared experiences." she said. "That idea stayed with me all summer, and I was thinking that [email protected] should really do something big this year. It would just be a great thing to do for Brown, and a great way to pull the community together and give them something of value."