PROVIDENCE, R.I. [Brown University] — Readers who browse the politics section of a bookstore will find countless anthologies of essays and speeches by American political thinkers. But most have one thing in common: They focus chiefly on white, wealthy and powerful intellectuals and barely skim the surface of African American political thought. 
Melvin Rogers, an associate professor of political science at Brown University, has long wished he could change that fact. For decades, he felt someone needed to create a comprehensive textbook chronicling the societal contributions of influential African American thinkers through the centuries, from early writers such as Phillis Wheatley to present-day scholars such as Clarence Thomas.
Just in time for Black History Month, Rogers and his longtime colleague, University of Washington political scientist Jack Turner, have now created just that.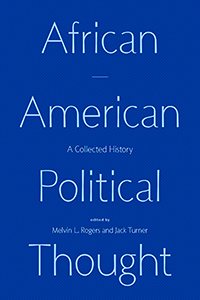 Over the course of several years, Rogers and Turner co-edited the text "African American Political Thought: A Collected History," released by University of Chicago Press on Tuesday, Feb. 23. By way of essays from some of today's most esteemed political science scholars — including Anthony Bogues, director of Brown's Center for the Study of Slavery and Justice — the book takes a closer look at 30 preeminent Black intellectuals throughout American history, from W.E.B. Du Bois to Zora Neale Hurston to Martin Luther King Jr.
Upon the book's release, Rogers answered questions about the text, the essayists and the thinkers they spotlight.
Q: What led you and your colleague to create this book?
Jack Turner and I both work in political theory, a sub-field of political science. Specifically, we study African American political thought. We both agreed that there's a big hole in the literature: There has never been a signature text that provides something of a tour through the major African American political thinkers. We wanted to create that together as a gift to the profession that has given us both so much.
In the beginning, we sat down together and identified scholars who were well-known and widely praised for their scholarship on each of the figures we wanted to feature. We were incredibly happy and humbled that so many of them agreed to contribute essays. Every chapter focuses on a different figure, first offering some biographical context, then zooming in on a particular aspect of that thinker's life or work, and making a distinctive argument.
Q: Many of the thinkers spotlighted here are public figures, living or dead, whom people might believe they know well: Frederick Douglass, Langston Hughes, Toni Morrison. What new things might people learn about them in this book?

When I read the contributors' essays, I learned a great deal about the richness and variety of some of these figures' contributions to public thought.
For example, Ida B. Wells, writing in the late 19th and early 20th centuries, is most famous for her anti-lynching journalism and activism. But the author of the Wells chapter, Naomi Murakawa, helps the reader see that Wells isn't just interested in exposing the false claims that were used to justify the lynching of Black people — she's also interested in expressing deep and profound concern with the way the criminalization of many Black people created a stigma against all Black people that pervaded every facet of society. 
Every chapter is a little like that: Each writer helps you see something about each thinker that you wouldn't have been able to see by going it alone. To me, this text highlights the importance of continuing to subject historical figures to interpretation, of continuing to excavate their archives, in order to shed new light on persistent injustices.