PROVIDENCE, R.I. [Brown University] — As public health conditions continue to improve across much of the nation, the Brown University community reached a major milestone on Wednesday, July 7 — students, faculty and staff currently engaged in on-campus, in-person activity achieved a 90% overall COVID-19 vaccination rate.
Russell C. Carey, executive vice president for planning and policy and co-chair of Brown's vaccine working group, shared the news in a letter to the campus community.
"This marks a tremendous milestone in the University's response to the pandemic, and I want to thank all community members who received a vaccine and uploaded your vaccination card for your diligence in complying with this requirement," Carey wrote. "You are not only helping to protect community health, but also playing an essential role in enabling Brown to return to more traditional in-person operations."
Reaching the 90% mark followed a months-long campaign to encourage vaccination, establishment of a requirement that all students and employees (unless exempted on medical or religious grounds) receive a COVID-19 vaccine for the 2021-22 year, and a series of on-campus vaccination clinics.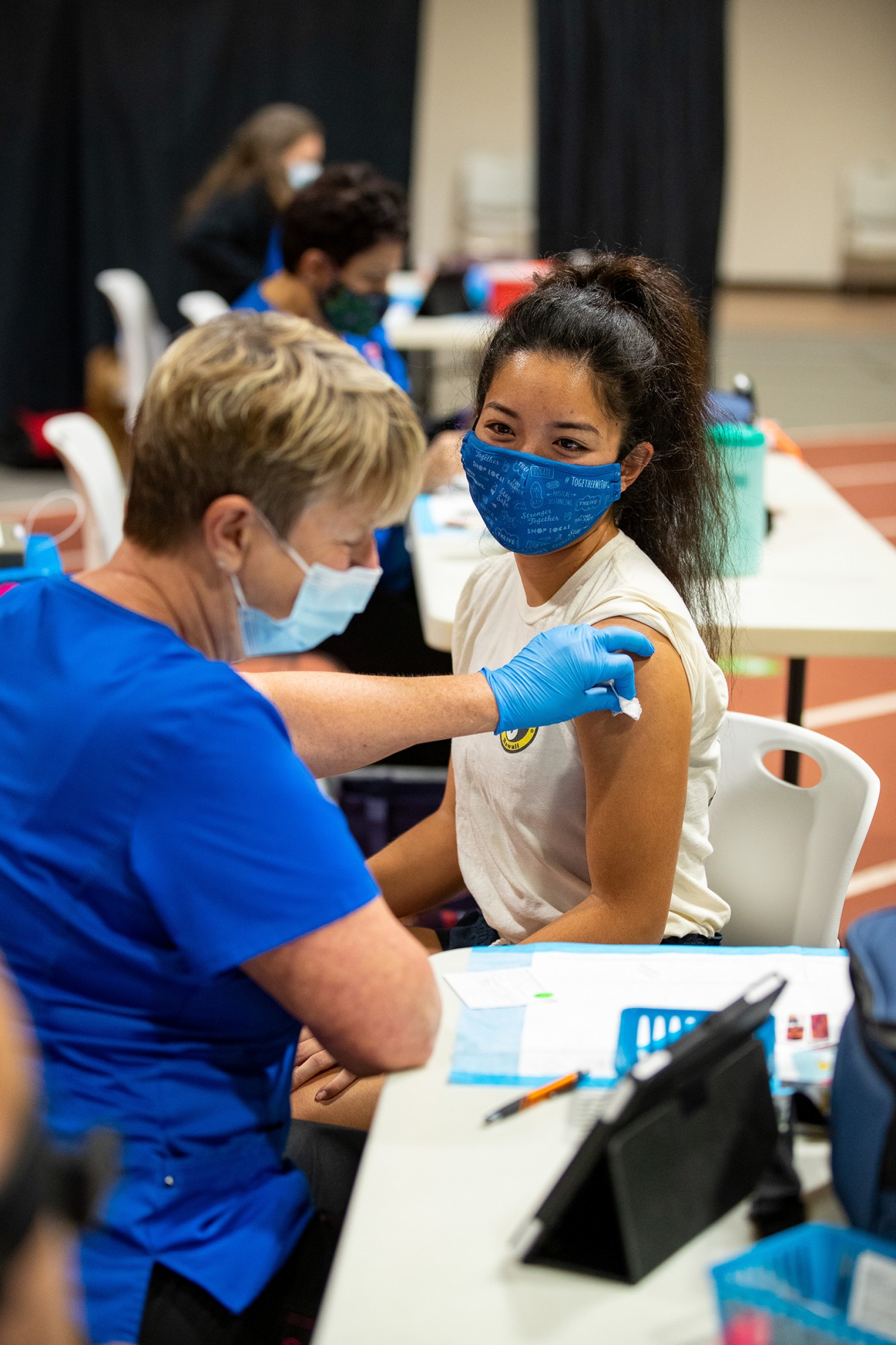 Carey detailed a set of immediate policy changes enabled by the milestone. Vaccinated members of the Brown community are no longer required to wear masks indoors or outdoors, other than for a small number of exceptions such as visits to University Health Services and travel on Brown shuttles. And over the coming days, the University will begin to remove vaccinated community members from the routine COVID-19 testing program that has been essential since its August 2020 launch in preventing spread of the virus on campus.
Other activities, including in-person dining and increased access to recreational athletic facilities, will begin to increase over the remaining weeks of the Summer 2021 term, and elimination of restrictions regarding events and campus visitors will begin in mid-August.
Based on discussions with public health and medical experts, Brown aims to achieve near-universal levels — 90% or greater — of vaccination against COVID-19 among all University community members to enable a return to near normal operations for Fall 2021. Among the total population of students, including those not currently on campus (who are required to receive a vaccination by Aug. 1), the overall vaccination rate is 77.2%. Among all Brown employees, including those who continue to work remotely, the overall vaccination rate is 87.9%.
"There is no question that COVID-19 vaccination is extremely effective," Carey said. "We continue to see little to no COVID-19 positivity on the Brown campus, and we can attribute that in large part to vaccination levels."
Despite the fact that the vaccine is required and compliance is mandatory, he said, the commitment of Brown community members to achieving near-universal vaccination is commendable: "The fact that people have done it is terrific for Brown, terrific for their individual health and really enables us to continue on a path back to more normal operations."