PROVIDENCE, R.I. [Brown University] — Nearly 140 years after his death, the German composer Richard Wagner's name is still splashed across newspaper front pages. 
In recent weeks, members of the Wagner Group, a Russian network of private security contractors, have been linked to indiscriminate killings of civilians in Ukraine, according to German foreign intelligence. The mercenaries are rumored to have engaged in fighting on the Kremlin's behalf. And the group's leader, Dmitry Utkin, is reportedly an avowed neo-Nazi who uses the call sign Wagner in reference to Adolf Hitler's favorite opera composer.
The Wagner Group's rise to prominence is reigniting some generations-old questions: Was Richard Wagner anti-Semitic, and would he have been a Nazi sympathizer? If so, is it possible to separate his art from his views?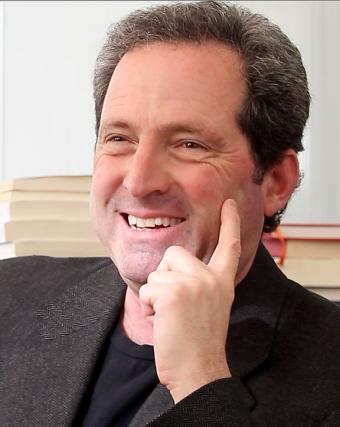 Those are questions that Michael Steinberg, a professor of history and music at Brown University, has long pondered. Like many scholars of European music, he is one of Wagner's biggest fans and biggest critics — a tough tightrope to walk in a world where hot takes and 280-character tweets reign supreme. For decades, he has investigated how the most revered musician of the 19th century, and possibly one of the most influential cultural figures of all time, became an idol for racists and an often taboo topic in countries such as Germany and Israel.
Steinberg's latest project invites the world to ponder those questions alongside him. He recently worked with Berlin's German Historical Museum to curate "Richard Wagner and the Nationalization of Feeling," an exhibition that explores how Wagner's emotionally moving music and socially relevant plots and characters fueled a kind of national pride that sometimes bred hatred and resentment of outsiders.
The exhibition, some of which is available to explore online, opened in April and continues through Sept. 11. Following its opening, Steinberg answered questions about his relationship to Wagner's work, the composer's responsibility for the atrocities of World War II and more.
Q: How did you first learn about Wagner? 
My parents were born in Germany, and because they were Jewish, they had to leave with their families during the Nazi rise to power. I grew up in the United States, in a family with a deep affinity for German culture but where the language was rarely spoken, I suppose because they wanted to move on from the past.
I can't tell you why I grafted onto opera when I was a kid, but I did. I started going to the opera all the time when I was 13, and by 15, I was a passionate Wagnerian. My parents probably thought, "This is a bit weird, but it's a phase and it'll pass." It didn't.
I came to Brown in 2005 to teach history and music. Integrating those two subjects feels very natural to me; I tend to approach my music classes through a historical lens and to work music into my history classes. I've taught a number of courses on Wagner and opera here, alongside other courses on European cultural and intellectual history. In 2018, I wrote a book called "The Trouble With Wagner." Over the years, this simultaneous sense of loving Wagner's work while hating certain parts of it has become more and more integrated into my work. I just got increasingly more committed to finding ways to approach the deep reality of his work: It's so flawed and so important at the same time. 
And thus begins the story of how an American Jew ended up curating an exhibit about Wagner in Berlin!
Q: Why does Wagner remain such a cultural force today?
There are two answers to that question, and both are equally important. Let's start by acknowledging that you can't separate the great Wagner from the bad Wagner. You can't separate the genius artist from the anti-Semite.
The first answer is that his compositions not only shaped 19th century culture but also still shape what music sounds like today, particularly the music of blockbuster entertainment. You can hear his influence in John Williams' "Star Wars" themes and in pretty much every other big-ticket movie franchise. He created that hallmark large, overwhelming, over-the-top orchestral sound that you hear in movies today. The sounds we associate with certain emotions, like despair and triumph, are sounds that come from Wagner.