PROVIDENCE, R.I. [Brown University] — Based on recommendations from the University Resources Committee, composed of faculty, staff, students and senior administrators, the Corporation of Brown University approved during its May 2022 meeting a $1.5 billion consolidated base budget for Fiscal Year 2023.
The FY23 budget continues Brown's focus on investing in the faculty, staff and students who work to fulfill the University's academic mission every day — salaries, wages and benefits comprise the largest share (42%) of the approved budget's expenses, and student aid and support comprises the second-largest share (27%).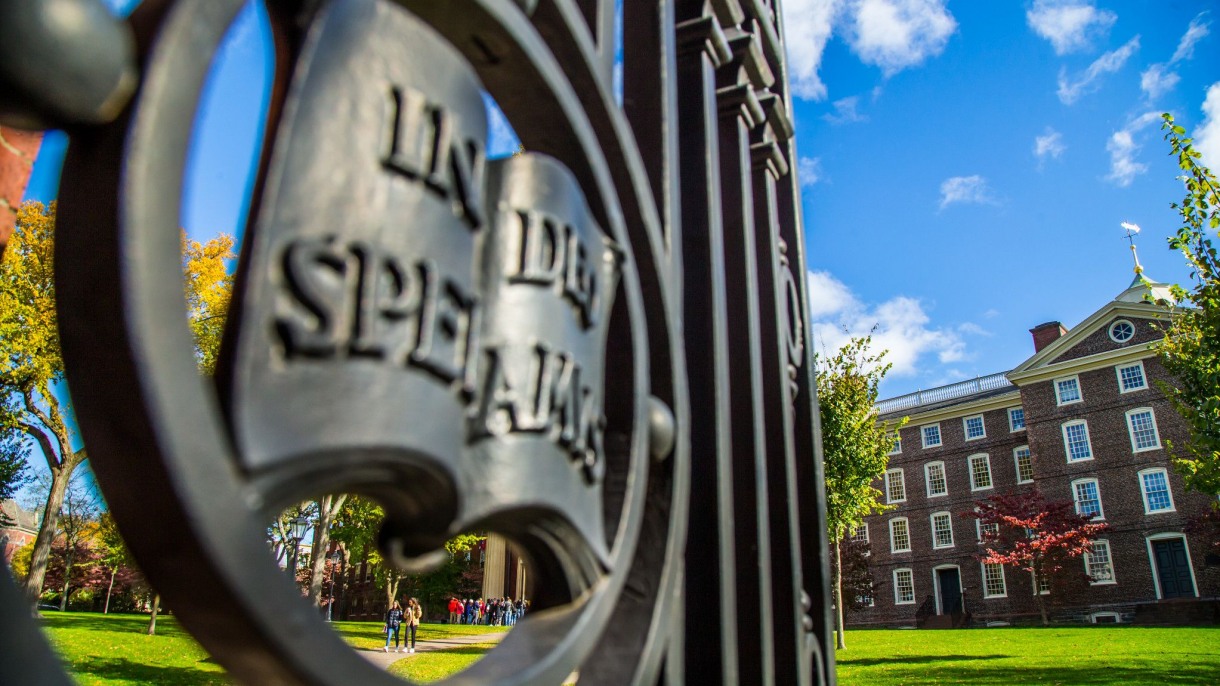 The budget also includes $227.4 million (a 23% increase) in endowment spending to support students and advance research, teaching and campus life initiatives; and 19% growth in revenue from Brown's continually expanding research enterprise.
The approval of the FY23 budget comes as Brown approaches the end of FY22, which will conclude on June 30. The new budget projects an operating deficit of just $2 million, a meaningful improvement from the current year's budgeted deficit of $34.8 million, which was due in large part to COVID expenses such as routine testing, housing for students who needed to quarantine, and personal protective equipment.
"As the world continues to grapple with a persistent pandemic, threats to democracy and global security, and complex challenges like climate change, the ability of Brown community members to generate new ideas and solutions is more important than ever," said Brown Provost Richard M. Locke, who chairs the URC. "It's essential that we provide the financial support to enable that ability across campus. This budget reflects unwavering commitments to advancing academic excellence, making a Brown education accessible to all admitted students, sustaining a diverse and inclusive community, and ensuring a financially sustainable operating model."
The budget's approval follows the February 2022 establishment of a 2.85% increase in tuition and fees for 2022-23, matching the lowest increase in more than a decade. The same month, the Corporation approved faculty and staff salary increase pools of 4.25% for FY23 and one-time bonus payments ranging from $2,000 to $4,500 to approximately 4,600 eligible employees to recognize their shared extraordinary efforts.
With $418 million in total funding for undergraduate and graduate student financial support, the FY23 budget continues Brown's long-term expansion of financial aid. The 13% increase in student aid over last year's budget is driven in large part by Brown's new actions to significantly increase scholarships for moderate-income undergraduates, reduce summer earnings expectations for high-need students, and move toward need-blind admissions for international students. The University will maintain its commitment to meeting the full demonstrated financial need of all undergraduates, with an undergraduate aid budget of $187 million, which is an increase of $16.1 million, or 9%, compared with FY22.
The budget also reflects significant enhancements in financial support for graduate students. Brown will provide $212.3 million in student aid and support for graduate students, an increase of $25 million, or 13%, compared with the FY22 base budget.
"Today's prospective students represent the most socioeconomically diverse group that we've seen to date," Locke said. "It's essential that when these extraordinarily talented students consider where they can go to make an impact and realize their potential, financial resources are not a barrier to coming to Brown. We have vastly increased our ability to meet full student financial need over the last two decades, and it's important that we continue to make new investments and ensure that Brown is accessible to every talented student we admit."
For FY23, the largest share of Brown's budget is devoted to the staff and faculty who enable Brown to fulfill its teaching and research mission. The University will invest $655 million in employee salaries, wages and benefits, which comprise 42% of total expense for FY23.
"The URC felt strongly that although COVID-19 has had significant financial consequences in recent years, it was crucial to put forth a generous salary pool increase to address recruitment and retention and acknowledge the incredible community of our staff and faculty throughout the pandemic," Locke said.
Locke said that the budget and the investments it includes are bolstered by the extraordinary performance of the University's endowment and the success of its BrownTogether comprehensive fundraising campaign.
He also noted that the development of the FY23 budget marked the third year of the University's zero-based budgeting process, which is designed to capture actual academic and administrative costs and needs each year with the goal of ensuring an increasingly predictable budget that is less reliant on tuition and fees. Units across Brown worked with finance staff to propose budgets that align with spending needs to meet their strategic objectives. As a result, the URC focused attention on strategic budget decisions to support Brown's academic mission rather than deliberating specific line-item funding requests.
The full URC report is available on the website of Brown's Office of the Provost.
Brown's Fiscal Year 2023 Base Operating Budget
Consolidated Budget Revenue — Key Components
Undergraduate tuition: $440.1 million
Graduate and medical school tuition: $203.9 million
Endowment: $227.4 million
Sponsored research: $282.2 million
Annual Fund and spendable gifts: $131.4 million
Auxiliary and miscellaneous: $246.7 million
Consolidated Budget Expenditures — Key Components
Faculty compensation: $267 million
Staff compensation: $373.1 million
Undergraduate student aid: $187 million
Graduate student aid and support: $212.3 million 
Budget by Division
The University's $1.5 billion consolidated budget comprises six main budget divisions, detailed here with total revenue budgets for FY23:
Education & General and Auxiliary Enterprises: $1.1 billion
Biology and Medicine: $208 million
Public Health: $126 million
Engineering: $24 million
Pre-College Programs: $39 million
Professional Studies: $13 million
Endowment
Brown's endowment payout is governed by a disciplined policy that balances the need for current income with the important goal of preserving the endowment's value to provide funding for future generations of students. 
For FY23, Brown's endowment will provide $227.4 million of revenue to the operating budget, a $42.2 million increase over FY22. A payout of 4.8% — closer to the low end of the policy recommendation of an amount in the range of 4.5 to 5.5% of the endowment's 12-quarter average fair value — will help to preserve the value of the endowment and ensure the University's solid financial footing over the next decade and beyond.
This year's payout will enable support for activities that range from undergraduate scholarships and professorships to graduate student fellowships, library acquisitions, academic programs and varsity athletics.
Tuition and Fees
To enable students to anticipate the following year's cost of attendance, the Brown Corporation approves tuition and fees in February each year. Undergraduate tuition and fees, as approved in February 2022, will be:
Tuition: $62,680
Standard room rate: $9,368
Standard board: $6,472
Health fee: $1,036
Undergraduate student resources fee: $974
Student activities fee: $286
Student recreation fee: $70
TOTAL UNDERGRADUATE: $80,886 (a 2.84% increase)
Graduate tuition for most doctoral and on-campus master's degree programs will increase by 2.85% to $7,835 per course. Given a shift in 2018 to market-based pricing for some master's degrees, approximately a dozen master's programs have tuition rates that vary from the standard — for most, tuition for 2022-23 will remain the same as for 2021-21 or increase by 2.85%.
Medical school tuition will increase by 1.75% to $67,268.