Date
July 15, 2022

2022-07-15
Ashish Jha: Moving the needle on public health
Ashish K. Jha, dean of the School of Public Health, unravels the pandemic's most teachable moments and how to apply them to the way public health research is conducted at Brown and beyond.
PROVIDENCE, R.I. [Brown University] — Dr. Ashish K. Jha was appointed Dean of the Brown University School of Public Health in February 2020, just as the COVID-19 pandemic was emerging. The virus — the greatest public health threat in a century — remains an ongoing theme of his tenure. He is working with the Brown public health community to understand the pandemic's impact on local, national, and global populations and is positioning the School of Public Health to foster health systems and public health responses that, as he says, "work better for all."
In March 2022, Jha was selected by U.S. President Joe Biden for a short-term special assignment as the next White House coronavirus response coordinator. In this role, Jha performs a critical service advising President Biden and leading the nation's pandemic response.
"Ashish will bring to President Biden and our nation what he has successfully brought — and will bring back — to Brown: an unrivaled commitment to improving public health equitably, effectively, creatively, with heart and a commitment to science," said President Christina H. Paxson. "The work he has begun at the School of Public Health will continue with the strong team he has recruited and the full support of the University. And it will advance even further with the benefit of this experience in national and global leadership."
In an interview prior to the news of this temporary role for Jha, he spoke about how public health research continues to grow at the University, springboarding from the demands of the pandemic to tackle the big challenges facing human health.
Q. In your State of the School Address, you talked about how America doesn't have the public health system we need, and certainly doesn't have the public health system we deserve. What did you mean by that?
Let's face it: our public health system largely failed during this pandemic. Building new public health systems and more effective health policies requires very different ways of thinking about what goes into them, how you meet the challenges, and what kinds of investments are necessary. One of the ways we're trying to address that is by recruiting new faculty who have been working and thinking about these issues from different perspectives. But we can't do it alone. We need to enlist strong partners both across the University and the state, from the Watson Institute to the Rhode Island Department of Health.
Q. How can the School of Public Health and Brown University 'move the needle' in improving public health?
One of the great things about working in public health is the natural collaborations that take shape when you take on the big health challenges. To understand the health consequences of climate change, public health scientists need to work closely with climate scientists; to understand how to mitigate the climate impact of the health sector, we need to work closely with people who understand energy policy.
Those of us working at the School of Public Health can have the biggest impact on actual health by partnering with colleagues, and I came to Brown because, in addition to our academic excellence, collaboration is part of the University's DNA. To give just one example, the pandemic has turned a spotlight on the immense racial disparities in health in our country; as we think about how to start to close some of these gaps, I'm thrilled to be able to partner with the University's Center for the Study of Race and Ethnicity in America.
Q. How did the school and its faculty adapt to the pandemic's disruptive impact on public health research?
Many researchers shifted their focus to the pandemic, which of course makes sense given that this is the most pressing public health issue of the last century. There are now faculty doing prediction modeling for the state of Rhode Island and looking at infection spread across the state, which has been helpful for local leaders. Vince Mor, professor of health services, policy, and practice, has done critical work on long-term care, and during the pandemic he has led important studies that examine how COVID-19 is affecting elderly people and those in nursing homes.
Then there are examples of brand-new projects, including our Global Epidemics website and risk-level dashboards that have been consulted by people around the world. And there are researchers who have recently joined Brown and are focusing on the pandemic — for example, Alyssa Bilinski, assistant professor of health services, policy, and practice, who has been looking at COVID-19 testing strategies to keep kids safe in schools.
Because of the volume and nature of this research, I would say that over the last two years, we've seen the Brown School of Public Health emerge as one of the leading institutions working on COVID-19. In the months to come, we will transition to managing the threat posed by this virus in a way that allows us to resume normal life, but we need to make sure we learn from this experience, both the mistakes and the things we did relatively well, like vaccine development. That's why we're leading a new effort for pandemic preparedness, to build and share the tools to help us weather the next outbreak.
Q. You've spoken about how COVID-19 has laid bare the deep racial inequities in our society. How can this lesson of the pandemic be applied to the way public health research is conducted at Brown?
To start, there is a very important new project looking at how to improve vaccine uptake in communities of color by engaging with community partners. That's being funded by the Rockefeller Foundation and is led by Stefanie Friedhoff, professor of the practice and senior director of strategy and innovation at the School of Public Health.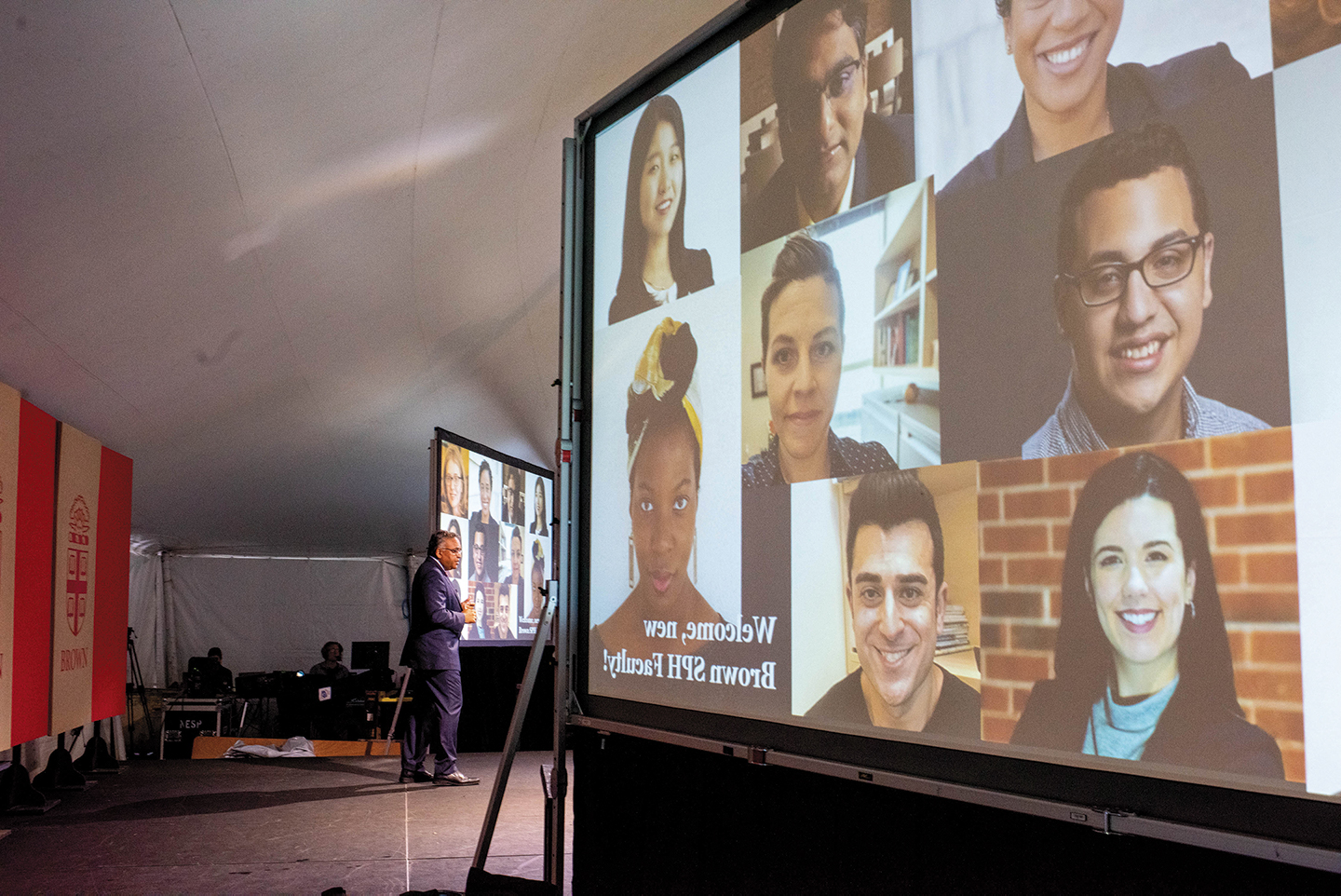 Then there are things we're doing from a leadership development point of view, like launching the Health Equity Scholars program, which provides MPH students from historically Black colleges and universities with the opportunity to address health disparities through research and practice while also gaining critical skills for leadership. I think that program is going to be key in bringing more diverse faculty into the school and addressing long-term issues.
It's really important that it be understood that to me, health inequities and disparities are not simply interesting points that we need to pay attention to moving forward. They are the central organizing principles of our school. The awareness of these issues will inform the broader strategy for public health over the next decade. The fact is that we simply have to deal with deep inequities in our society and the way they manifest themselves in health crises like a pandemic.
Q. During the pandemic, we saw that the truth wasn't always as powerful as expected — that sharing health facts and explaining science sometimes failed as a way to connect and communicate with groups of people, leaving them vulnerable to dangerous misinformation. What is the school doing to combat this epidemic of misunderstanding?
We've launched a new initiative looking at the impact of misinformation and what to do about it. Misinformation is a global phenomenon, so one of the key questions is why Americans have been so much more vulnerable to it than some of our peers in other countries. We're looking at the spread of mistruths and unfounded facts through the lens of science to understand the underlying factors driving the spread of misinformation and the reasons why some points stick while others do not. And of course, we need to find out what can be done to counteract these dangerous processes — what types of interventions, one could say, can be applied to stop the spread of untruths.
… to me, health inequities and disparities are not simply interesting points that we need to pay attention to moving forward. They are the central organizing principles of our school.
Dean of Brown's School of Public Health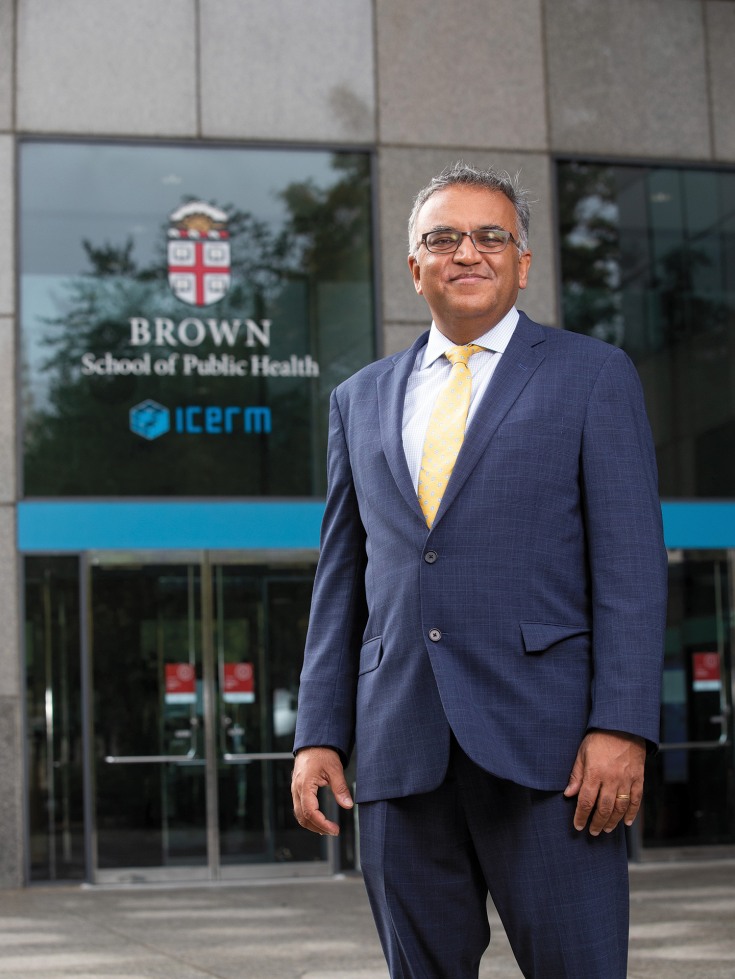 Q. You have said that harnessing the data revolution would be one of your first priorities, and data continues to be a key challenge during the pandemic. What are the next steps?
This is a big challenge. There are some relatively straightforward fixes, and some areas where public health still has a lot of work to do. We've launched a new search for a senior professor of data science to help lead a new school-wide initiative on data science. One of the first orders of business for the initiative will be to pull together the various data assets and begin to develop new methods for how to analyze that data. This is just getting going.
Q. Beyond harnessing and analyzing data, how is the school changing the way research is conducted?
We've learned that giant, complicated problems like pandemics require the combined efforts of people working across departments, across the school, and across the University.
Right now, the research infrastructure of the University really sits within the individual centers. So we have been doing a lot of work to think about how we set up our research infrastructure to create incentives for more cross-school collaboration.
We're doing this with an eye toward understanding that the most important work of the next decade is going to be done in large teams of people that are truly multidisciplinary. You know, the National Institutes of Health recently came out with a strategic plan for funding research, and it emphasized cross-disciplinary work — which, of course, is Brown's well-known strength.
On top of that, we're bringing in scholars outside of the traditional field of public health to help us think about some complex public health challenges from different points of view.
I believe that the next few months and even years are going to be a very exciting time for public health research, especially at Brown. Perhaps this will be a small glimmer of a silver lining from the past two years.
Disclosure: At the time of this interview, Dr. Jha was the dean of the Brown University School of Public Health. He is currently the White House COVID-19 response coordinator and counselor to President Biden. The views represented in this article are his own.