PROVIDENCE, R.I. [Brown University] — At any Brown hockey, football or lacrosse game, one would be hard-pressed to find Liliana King and Charlotte Scott missing from the stands. They're likely dressed up, cheering for their friends, holding up signs and defending their home turf from competitors' taunts.
It's all in a day's work for the two friends, both seniors concentrating in history and economics, who said they have taken it upon themselves to become Brown's biggest fans.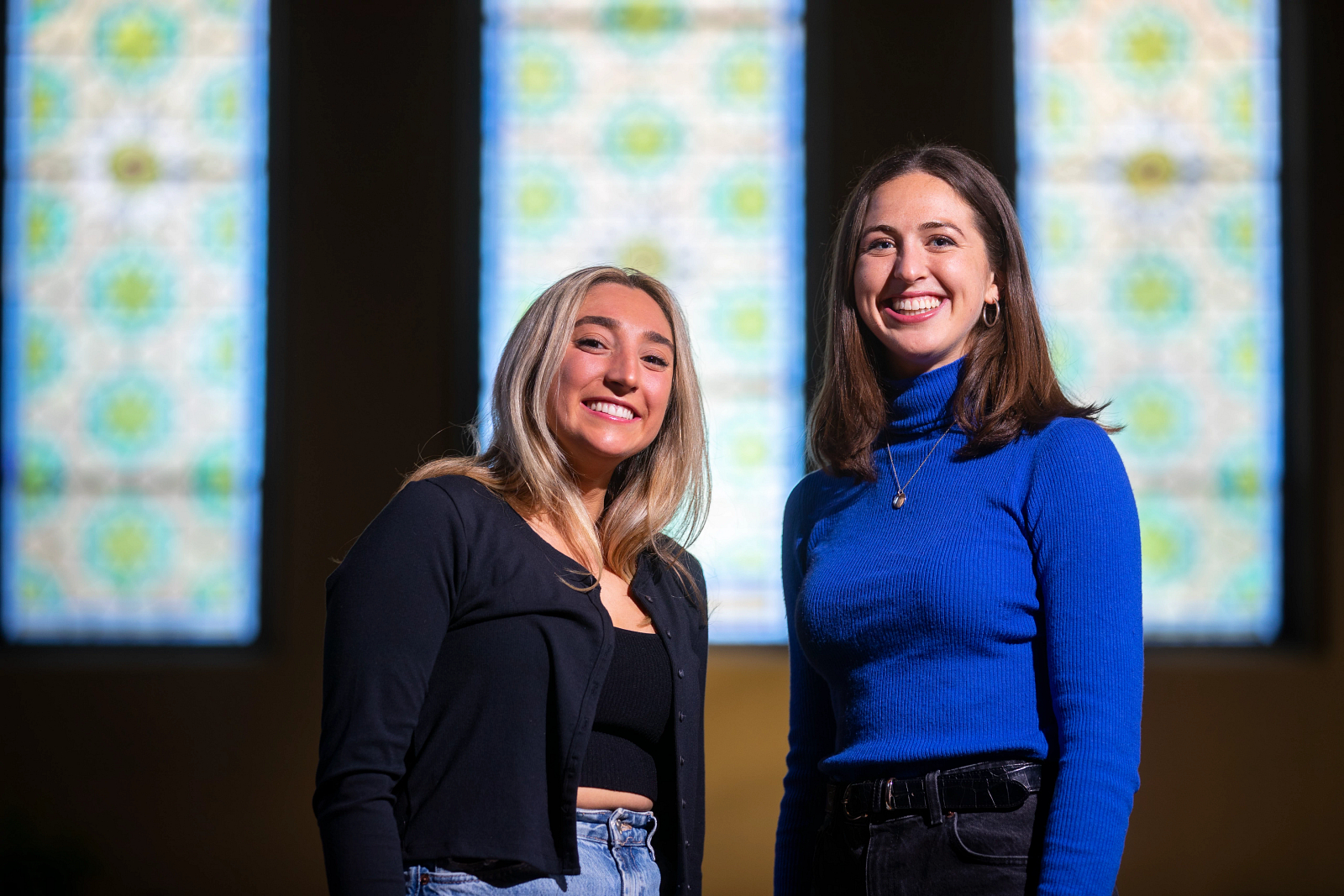 "We're at every sports game, we're always in the Ratty and we literally went to CPax's [Brown President Christina H. Paxson] open office hours totally unprepared, just to tell her how much we love Brown," King said.
It's fitting, then, that they will mark the end of their Brown educations together on stage, delivering a joint address as part of the Midyear Completion Celebration honoring the University's Class of 2022.5.
King and Scott are among 235 ".5ers" who will complete Brown degree requirements in December, most of whom will take part in the annual Midyear Completion Celebration on Saturday, Dec. 3. Scott, King and fellow .5er Seth Goldstein will offer student reflections at the ceremony; Dean of the College Rashid Zia will preside; and the Dallas String Quartet and University a capella group the Chattertocks will perform.
Reasons for finishing studies mid-year vary widely. Some students arrive mid-study as transfer students from other institutions. Some take time off to intern, volunteer or work. Others leave to travel or pursue creative projects. Sometimes academic or medical issues motivate a leave.
For King and Scott — and many members of the Class of 2022.5 — the decision was spurred by the COVID-19 pandemic.
Liliana King and Charlotte Scott: Embracing enthusiasm
When the coronavirus arrived in Rhode Island and students had to leave campus housing in March 2020, King and Scott moved in to King's mother's childhood home in South Kingstown, R.I., each taking a floor. They navigated lockdowns, quarantines and pandemic life together, sometimes not seeing each other all day until they sat down for dinner to talk about what happened in their virtual classes earlier.
But when plans for the Fall 2020 semester were announced, Scott said, they — ever the economics students — had to weigh the costs of not taking leave. Given the public health conditions at the time, many courses would be held remotely. Access to common areas, like dining halls and libraries, would be restricted and in particular moments, even off-limits. Large social gatherings and events would have to be paused.
"I just thought, 'What are the main things I love about Brown?' and it was all those things," Scott said.
Having made their decisions, Scott traveled back overseas to her native London, where she researched bonds for a new investment group and narrowed down her career goals in the finance industry. King assumed a leadership role in the marketing department of an ice cream company in her hometown, Pittsburgh, where she enjoyed seeing the fruits of her work when she walked into grocery stores and saw pints she designed lining the freezer aisles.