March Student Spotlight - Lis Evans and Ben Wilks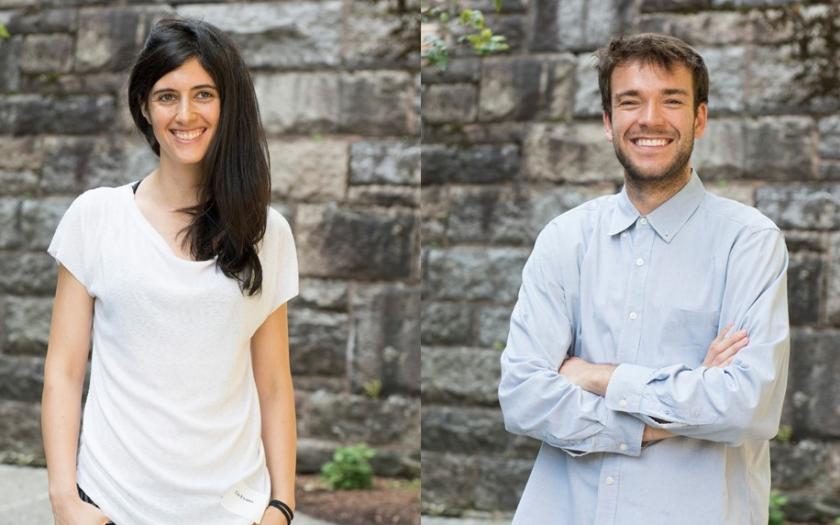 Lis Evans:
1.  If you could have dinner with one scientist (dead or alive) who would it be?
Ben Barres, a neuroscientist pioneer who recently passed away. The first Barres paper I read was about mentorship, in which Barres introduces the concept of a mentorship index and advice on how to choose a mentor. After reading a thoughtful article from a prolific scientist, I wanted to know more about this person and was inspired to learn how dedicated he was not just to the pursuit of science, but also in striving to be an advocate for students and people, unafraid to talk about personal topics and experiences most scientists would shy away from.
And if I was throwing a dinner party, with multiple scientists, I would also invite mathematical biologist D'Arcy Wentworth Thomas, author of "On Growth and Form," a book which is notable for its influence across disciplines- from architecture to biology. As I think towards my future, I think there is a lot of opportunity in education to be elevated by teaching between disciplines by seeking out parallels, as embodied in the spirit of this book.
2.  Broadly speaking, what are some of your research interests / motivations?
I am interested in biomaterials that incorporate naturally-derived components, biomimetic design, and fabrication processes.
3. Are there people or resources on campus that you wish you knew about sooner?
Brown as a university is great due to the accessibility of people and the fact that all talks on campus welcome people of all disciplines. I have attended really engaging talks outside of my discipline at the Watson Institute, Swearer Center for Public Service, Nelson Center for Entrepreneurship, and the Brown Arts Initiative. I have learned a lot from workshops on grantmanship given by Dean Harrington, Associate Dean of Graduate and Post Doctoral Students.
4. What conferences have you been to and do you recommend other students consider applying for?
BMES (Biomedical Engineering Society), Society for Neuroscience (SfN), and most recently American Society for Cell Biology (ASCB). Each conference is great for their own reasons, but I really was impressed by the programming at ASCB, which is really targeted for professional development of graduate students and post-docs. There were a lot of great sessions in addition to the research talks, which also included innovative studies on improving biology education at the undergraduate level.
5. What's a life lesson you've learned during grad school?
When I tell people why I like science, I often say because it taught me the danger of assumptions. Sometimes you get a result, and you might jump to the nearest logical conclusion, however over time, you recognize to acknowledge assumptions and discern evidenced facts from accumulated data supporting a hypothesis. I like this take away because I think it applies to all of life. We can only perceive a situation from our limited set of facts. Keeping this in mind can help us all be more understanding of each other and better appreciate the complexity of the world.
Ben Wilks:
1.  If you could have dinner with one scientist (dead or alive) who would it be?
Wangari Maathai, the first woman in East and Central Africa to earn a doctorate degree (1971) and the first African woman to receive the Nobel Peace Price (2004). Wangari Maathai founded the Green Belt Movement to combat widespread deforestation in Kenya by empowering women to plant and manage millions of trees or "green belts". As her passion for ecological sustainability converged with Kenyan politics, she embraced activism not only around her field but also governance and women's rights. She overcame intimidation and violence, ultimately being elected to the Kenyan parliament and later became deputy minister for the environment. Her ability to navigate the intersection of her passion, identity and politics is an attribute I find immensely inspiring and something that is too often missing from the modern-day scientist.
2.  Broadly speaking, what are some of your research interests / motivations?
Currently I'm interested in the interplay between internally and externally generated forces on cells, how these forces contribute to tissue development, particularly cellular alignment and collagen synthesis, and how we can modulate these forces and consequently the tissue via changes in the geometry in which we seed the cells.
More broadly, I'm interested in better understanding how tissues develop, the relationship between form and function, and how we can apply the knowledge we learn about which parameters are important to tissue function to engineer lab-grown tissues with strong predictive power for human physiology or disease.
3. Are there people or resources on campus that you wish you knew about sooner?
There are a ton of resources available on (and off) campus at Brown that your cohort, program, or department might not be aware of and I would strongly advise asking Deans or folks both inside and outside of your network if you're not sure. In general, I would also strongly encourage students to try to get to know folks outside of their department including/especially administrators at Brown who can be a fountain of knowledge and resources.
Teaching – Sheridan Center
Community / Service – Swearer Center
Entrepreneurship – Nelson Center
Conflict Resolution – Ruthy Rosenbeerg (Ombudsperson)
4. What conferences have you been to and do you recommend other students consider applying for?
BMES (Biomedical Engineering Society), TERMIS-AM (Tissue Engineering and Regenerative Medicine International Society), and a few smaller, "local" conferences. I think BMES is an exciting conference to attend for our field because it's the first time for a lot of people to put faces to the names we read in the literature and it's a platform to ask critical questions that aren't addressed in something as a concise as a journal article.
In general, my favorite aspects of a conference are (1) getting facetime with someone whose work you respect and getting to humanize them by talking not only about science but their lives and work outside of just their next paper and (2) the breakout sessions with leaders in a sub-field talking about the state of the art and the future, what to watch, what needs more attention and my personal favorite, what they think is junk or problematic within the field.
5. Is there anything outside of research that you're excited about / working on?
I'm currently working with another PhD student (Patrick Freeman, EEB) to develop a Brown chapter of Out in Stem, Engineering, Technology and Mathematics (oSTEM), which is a national society dedicated to supporting the LGBTQ+ STEM community. In my experience, the overarching field of science generally discounts the role identity plays in our research, perhaps under the guise of maintaining "objectivity", but effectively that "check your identity at the door" mentality disproportionately disadvantages underrepresented identities and unfortunately, LGBTQ+ folks in STEM continue to confront challenges of underrepresentation, negative workplace experiences, and a perceived or actual need to conceal their identity. But I'm excited by the immense interest and support we've received from a wide spectrum of the Brown community including undergrads, graduate students, post-docs, staff and even a couple faculty and administrators. Feel free to reach out if you're interested in learning more or getting involved!
6. What are some take-aways and lessons you've learned so far during grad school?
How to navigate frustration and failure constructively (and not so constructively).
Friends and support networks are invaluable not only to your mental health but to your success as a researcher / scientist.
An institution is heterogeneous and reflects a multitude of interests, opinions and values, many of which are competing. I think this has helped me learn more about my own values, what I will and will not negotiate, that advocacy for yourself and others is crucial, and when to, when not to get involved.