September Student Spotlight - Ramisa Fariha ScM'20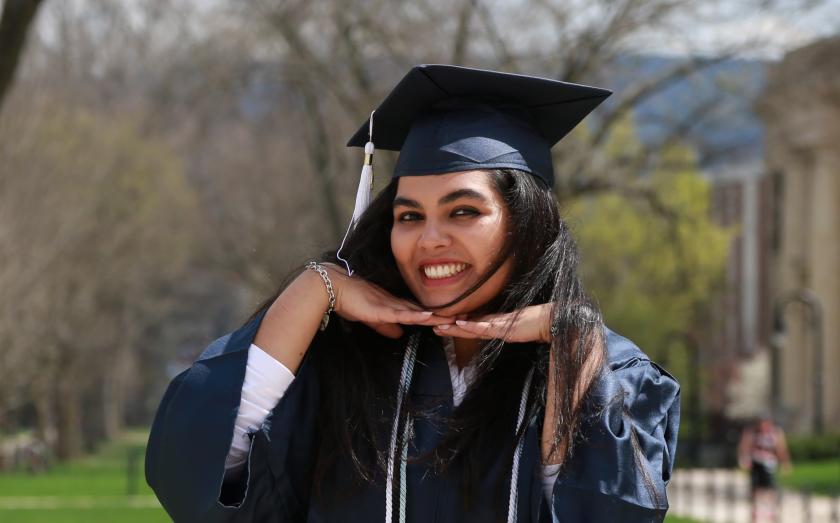 Incoming Master's student Ramisa Fariha's celebrity crush helped her realize she wanted to be a biomedical engineer. Growing up in Bangladesh, she had very slow dialup internet and had to share internet time with her cousins, brother, and parents. But she still managed to find ways to learn about Dave Bautista, an actor and professional wrestler. "He was the only and biggest crush of my life," Fariha says. "His then-wife, Angie, had ovarian cancer. I started looking in [ovarian cancer] and came across Dr. Jeff Morgan's paper on mouse ovaries. At the time, it was just a news article about researchers at Brown working to create the first artificial ovary for mice." After reading the article, she spent the next several years following Dr. Morgan's work and expanding her interest in ovarian tissue engineering.
Fariha's path had started with a crush, but it lead to a deep and lasting passion for biomedical engineering. "My friends would say I am a passionate person, and when I set my mind on something, I stick to it," she says. "At first there was Bautista's wife's cancer, but I was then personally was diagnosed with polycystic ovarian syndrome." Polycystic ovarian syndrome, or PCOS, is a hormonal disorder which results in improper egg release from the ovaries. It can result in irregular or prolonged periods and infertility. "I come from a culture where talking about fertility is a big taboo, so that's something I want to break," says Fariha. "Often even if the man is at fault, the woman often gets blamed. In a circumstance like that if you can help someone with their reproductive health that would be really great."
Fariha graduated from Penn State University in 2017 and spent a year working at ACell, a regenerative medicine company, as a Research and Development Intern. She was the first international student to become Freshman of the Year. "I was involved in a variety of organizations, including roles as a writer and photographer for the yearbook and a campus events correspondent for the newspaper. I was was the first elected female President for Muslim Students' Association and was very active in SWE (the Society of Women Engineers)."
Following college, she knew she wanted to get a PhD but wasn't sure if she was ready. "I didn't think I had the skill set yet to become an independent researcher," she says. "The Master's program at Brown will give me that boost." She hopes to become a professor in BME: "I have learned that one thing we need more of in BME is strong female professors who are teachers and researchers. I would love to have my own lab and design and work on projects. There are so many research questions that need to be addressed."
Throughout college, she took any chance to study ovarian cancer for independent projects. "One day I woke up and announced that I wanted to become a biomedical engineer and I wanted to work on an artificial human ovary. Unfortunately for me, when I was a second-semester freshman, Dr. Morgan published his three-dimensional self-assembled artificial human ovary paper. It broke my heart because I wanted to work on that project," she says.
However, she's had another chance to work with ovarian cancer cells in Dr. Jongwan Lee's lab for her master's research. When she mentioned her interest in Dr. Morgan's work, Dr. Lee offered her a position working on a collaborative project between the labs. "When you're given an offer like that from your research hero, you can't say no," Fariha says. "Dr. Lee wants me to put together a project that combines OCT imaging and ovarian cancer cells. But I'm still in a basic literature research stage now."
She's excited to rejoin academia after a year at a company. "I went from a state college in the middle of nowhere to Baltimore, which was quite an experience. I really missed the ability to walk places and having that college town vibe." She's excited to explore Providence, and is especially enjoying the Nelson Fitness Center.
As classes begin, she hopes to expand her focus on physiology and pharmacology. "When I started looking at many of the courses I realized I want to take all of them," she says. "It's super cool that at Brown you get to shop for classes. This is a brand new world."