The Dietary Guidelines for Americans are issued and updated every 5 years by the Department of Agriculture (USDA) and the Department of Health and Human Services (HHS). The purpose of the guidelines is to provide advice for Americans about making informed food choices and being physically active to attain and maintain a healthy weight, reduce risk of chronic disease, and promote overall health.
MyPlate goes along with the Dietary Guidelines and replaced the food guide pyramid (MyPyramid) as the new symbol for healthful eating in the United States. MyPlate illustrates what portions of the different food groups can look like divided out on a plate in order to be representative of a balanced diet. From the Myplate website, "MyPlate illustrates the five food groups that are the building blocks for a healthy diet using a familiar image-a place setting for a meal. Before you eat, think about what goes on your plate or in your cup or bowl."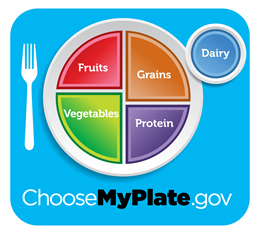 The Dietary Guidelines and MyPlate emphasize the importance of eating a variety from the different food groups each day, but keep in mind that the most recent dietary guidelines have a strong focus on reducing overweight, obesity, and chronic disease. It is best to read and use this information as a general guideline and tool to reflect on current behaviors related to nutrition and physical activity, while taking into account your individual needs. Honoring your health with nutrition is important, but if a positive relationship with food is not in place, it can be difficult to truly pursue healthy eating. If food is a source of stress or struggle, or if you are focused on nutrition for the sole purpose of weight loss, it may be a good idea to first review the section on positive eating attitudes and behaviors, or visit our webpage on eating concerns before reading through the dietary guidelines.