What is SHAG?

The Sexual Health Awareness Group (SHAG) is a peer education program from Health Promotion. SHAG is comprised of Brown students who promote sexual health on campus through workshops, a confidential texting Q&A response service (if you are a Brown student, click here for the texting number), and other outreach projects.
SHAG is also on Facebook and Instagram!
Can I really ask SHAG anything?

Yes! SHAG is now offering personalized, confidential answers to students' sexual health and safer sex questions via text. Responses from our trained peer educators within 24 hours! If you are a Brown student, click here for the texting number.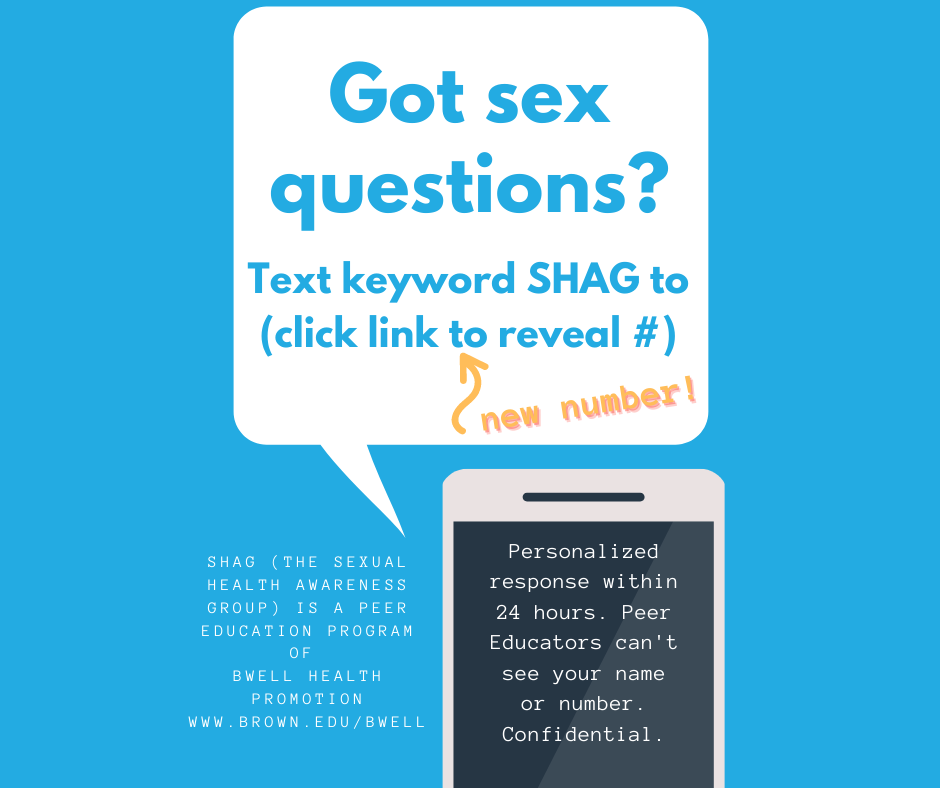 How do I schedule a SHAG program?

SHAG is available to present sexual health workshops to Brown students. All workshops are fun, informative and interactive and address a range of pertinent sexual health issues including safer sex, STIs, and protection methods. Choose from the following formats:
Sex Trivia
Test your knowledge of all things sex, with trivia challenge categories including Pop Culture, Risky Business, History of Sex, and Philias, Phobias and Phetishes. Friendly competition, surprising factoids, and plenty of safer sex prizes make for a super fun (and informative) program.
Sex Jeopardy
Think you're a sexpert? Looking to learn more about safer sex? This competitive game provides you with information on contraception and STI protection that will help you make healthy choices.
Safer Sex Express
This hands-on interactive workshop gives students the opportunity to learn about safer sex methods by moving between "stations" where they explore a method through discussion and experiments.
E-mail [email protected] or [email protected] for more information or to schedule a program. Or use the workshop request form here.
What is the role of a SHAG peer educator?

Peer Educators are trained in current sexual health knowledge and effective approaches to sexual health education. You will have the opportunity to learn valuable facilitation skills, develop expertise in a range of sexual health topics, and serve as an advocate for sexual health at Brown. Peer Educators facilitate workshops in conjunction with Health Promotion staff and also participate in sexual health outreach projects through Health Promotion (like tables on the green and materials development and distribution). Workshops and outreaches are designed to:
Promote conversations about healthy sexuality and safer sex. 
Increase understanding of sexual health and safer sex. 
Model an open and honest approach to sexual health discussions. 
Be inclusive of the diverse student body at Brown, recognizing the range of sexual health issues, sexual and gender identities, and varied levels of sexual health knowledge.
Educators are expected to facilitate two to three workshops per semester. There are biweekly meetings to discuss programs, get ongoing training, and plan special projects. Peer educators also enter the weekly shift rotation to respond to incoming questions from the SHAG texting service, with an average of 2 weeks "on call" each semester.
Is there training?

Yes!  There is both an initial training, at the beginning of the spring semester, and ongoing training covering topics including:
Effective Facilitation Strategies for Inclusive and Empowering Sexuality Education
Diversity and Inclusion
Sexual Orientation
Gender Identity
Anatomy & Physiology
Protection Methods
Sexually Transmitted Infections
Sexual Health Care
Healthy Relationships/Communication/Consent
How do I join?

SHAG recruits new members each fall, with a new cohort starting with SHAG each spring semester. To find out more about SHAG, you can contact Naomi Ninneman, SHAG staff advisor, at 401-863-3521 or naomi[email protected], or e-mail the peer educators at shag@brown.edu.
SHAG videos

Check out SHAG's how-to-use videos and enjoy the SHAG Safer Sex Supers' adventures!