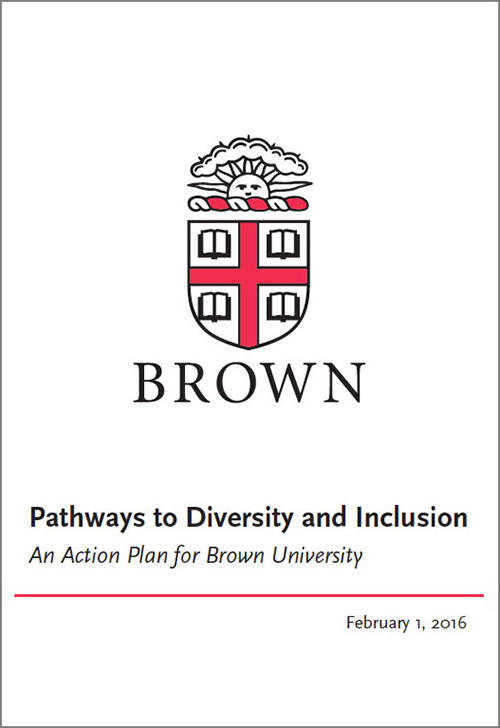 PROVIDENCE, R.I. [Brown University] — Asserting a goal of sustaining a campus environment where all members can fulfill their potential as scholars and leaders, Brown University has finalized a detailed action plan to create a more diverse and inclusive academic community and to address issues of racism and various forms of discrimination that can interfere with these goals.
President Christina Paxson shared Pathways to Diversity and Inclusion: An Action Plan for Brown University with the Brown community Monday, Feb. 1, 2016, after more than two months of campuswide discussion and comment following the release of a draft plan last November. The plan outlines "a set of concrete, achievable actions, many of which are already underway, that will make Brown more fully diverse and inclusive."
Key goals of the plan include doubling the number of faculty members and graduate students from historically underrepresented groups by 2022; creating learning environments where students and researchers can thrive in their fields of study; and bolstering Brown's national and international impact on research and teaching focused on race, ethnicity, inequality, and justice around the globe. The document formalizes and expands upon diversity and inclusion efforts articulated in Brown's Building on Distinction strategic plan.
"A diverse and inclusive academic community is foundational to every ambition we have as an institution of higher education," Paxson said. "A diverse campus brings together the wealth of experiences and viewpoints that are critical for a vibrant intellectual community. An inclusive campus — one in which people from all backgrounds are respected and supported — is essential to fully realize the benefits of our diversity. This plan outlines the actions Brown will take in achieving both."
The University launched a $3-billion comprehensive campaign, BrownTogether, in October 2015. Approximately $165 million in new endowment outlined in the campaign will support the goals of the plan, Paxson said. The total includes $100 million for endowed faculty positions, $25 million for graduate student fellowships, $20 million to endow research centers focused on race, ethnicity, and social justice, and $20 million to support curricular and co-curricular initiatives. The figures reflect a more detailed final analysis for funding the initiatives, updating a broader $100-million estimate released with the draft of the plan in November.
Paxson said the strengths of the plan are its concrete actions; the inclusive University-wide process that contributed to its development; the plan's recognition of the challenges and opportunities of previous efforts toward diversity; transparent processes for oversight; and accountability measures that track progress. A website for the action plan includes implementation tables outlining all of the plan's action steps. The website will serve as "the living plan" that shares ongoing progress.
"An action plan that encourages ownership by faculty, students, and staff across Brown is the truly distinctive element of this effort," said Liza Cariaga-Lo, vice president for academic development, diversity, and inclusion. "So many members of our community are invested in this plan, and the input we received during the open comment period influenced the final document in important ways."
Based on community feedback, University leaders were able to identify areas of greater opportunity to deepen the curriculum, provide more resources for mentorship and professional development, engage with the Providence community, and add specificity that will contribute to the successful implementation of the action plan.
Paxson released a draft version of the plan to the Brown community on Nov. 19, 2015, after more than a year of development. The University opened on online comment period lasting through Jan. 8, 2016, and senior administrators held a series of campus forums for students, faculty, and staff to further the conversation and gather more input.
Campus activism around issues of race at Brown and around the country coincided with the Diversity and Inclusion Action Plan's planned release and informed the process for final development of the plan. Feedback from all sources throughout the community engagement process amounted to more than 720 comments, edits, and proposals that were considered in finalizing the document.
"It is important that input from faculty, staff and students helped to shape and improve the plan," said Thomas Roberts, professor of ecology and evolutionary biology and chair of Brown's Faculty Executive Committee. "Ideas and experiences shared through online feedback and both large and small group discussions reflect a true commitment on campus to create a more diverse and inclusive community."
Provost Richard Locke, whose office collected and analyzed the input, said this commitment will be essential for the plan's successful implementation.
"We hope to harness that energy as we work to realize the goals we have established in this plan," Locke said. "There is significant work to do in the coming months and years to implement the Diversity and Inclusion Action Plan, and we remain committed to partnering with our community to realize the important goals that we have set forth."
'Concrete, achievable actions'
The Pathways to Diversity and Inclusion Action Plan acknowledges that colleges and universities have not succeeded in efforts to fully bring diversity and inclusion to higher education. The plan builds on decades of student activism and University diversity initiatives dating back to the Civil Rights Movement of the 1960s. While Brown has made substantial progress in recent decades in increasing diversity among its undergraduate population and among medical students, diversity among the faculty and graduate students has not seen the same level of progress.
Brown students of color, the LGBTQ community, veterans, students with disabilities, and students from various religions, nationalities, and political preferences who gave input on the draft plan during the comment period reflected national trends in reporting exposure to insensitivity and forms of discrimination both in and out of the classroom.
To address these issues, the plan focuses attention on areas that "will have the biggest immediate impact on our community." The plan's goals and actions fall into six categories: People, Academic Excellence, Curriculum, Community, Knowledge, and Accountability.
People
This section of the plan aims to "identify, recruit and retain individuals from groups that have been historically underrepresented in higher education" through strategies that include early identification, cluster hiring, mentoring, and professional development. The actions focus on:
Doubling the number of faculty members from underrepresented groups by 2022, which amounts to an increase of 60 faculty members.
Doubling the number of graduate students from underrepresented groups by 2022.
Expanding programs that ensure a growing undergraduate applicant pool from underrepresented groups.
Increasing diversity among staff through hiring practices, professional development and mentoring.
Academic Excellence
This section of the plan includes efforts to create environments conducive to learning for students of all backgrounds and to support research and teaching on issues of diversity and social justice around the globe. The set of actions focus on:
Curriculum
This section builds on the innovations of Brown's open curriculum with a set of actions focused on:
Expanding mentoring programs aimed at including students from underrepresented groups in STEM fields (science, technology, engineering, and mathematics).
Doubling the number of seminars related to issues of power, privilege, inequality, and social justice.
Expanding support for low-income students to engage in internship and summer research opportunities.
Community
This section outlines goals to create a campus "that works actively to counteract inequity and injustice." The actions focus on:
Increasing support for critical expenses for low-income students, such as health insurance, laptops, and travel expenses.
Expanding resources for centers that support diverse communities, such as students of color, women, and LGBTQ+ students.
Developing a suite of lectures and professional development seminars for faculty, staff, and students on such issues as implicit bias, structural racism, and pedagogical methods in diverse learning environments.
Establishing a center for first-generation students, those who are the first in their families to attend college.
Expanding culturally competent counseling and psychological services.
Expanding the existing diversity and inclusion training for the Department of Public Safety.
Promoting Brown's engagement with and positive impact on the Providence community.
Knowledge
This section calls for collecting information to achieve effective benchmarking of progress. Actions include:
Improving collection of data on historically underrepresented students, faculty, and staff.
Producing a campus climate study.
Accountability
This section specifies measures to ensure implementation of the steps outlined in the plan. This includes actions focused on:
Establishing diversity and inclusion plans for individual departments, tailored to their specific needs and objectives.
Creating an oversight committee responsible for the plan's implementation.
Reporting of annual progress to the Brown community, including the Brown Corporation.
Expanding resources for the Office of Institutional Diversity and Inclusion, including new staff.
University leaders said the provisions set forth in the plan represent a strong starting point. They expect the plan to evolve as it is implemented and as circumstance require. An implementation team will work with a new oversight committee to continue the rollout of the plan's provisions.
"The work ahead will be complex and challenging and also essential," Paxson said. "Colleges and universities have a unique opportunity to address issues of structural racism, social justice, and inclusion. It's part of Brown's core mission to advance knowledge while preparing students to thrive in a world where problem-solving, innovation, and positive change are only made possible by the convergence of diverse perspectives and ideas."