PROVIDENCE, R.I. [Brown University] — When Caitie Whelan trekked to India in the summer of 2006, her goals had been clearly articulated in her successful Royce Fellowship application: she wanted to work with the Merasi, a community of marginalized lower-caste musicians in rural India who live in extreme poverty, to create an archive of their 38-generation-old folk music. 
But as she traveled the hot, dusty roads of the Thar Desert, stopping in dung huts to talk to the Merasi people about their musical ambitions over cups of hot tea, she came to realize that preserving their music was only part of their hopes. What the Merasi desired above all, she recalls, was not an archive of their history but a provision for their future: education for their children, many of whom had never attended school.
"I thought this was going to be like UNESCO and 'StoryCorps' and 'All Things Considered' wrapped into one," says Whelan, who was an anthropology concentrator at Brown. "I was out there preserving culture! But that wasn't really what the day called for."
So Whelan shifted gears. With the support of Folk Arts Rajasthan, a nonprofit with the goal of empowering the Merasi community and preserving their cultural legacy, she began to work with the community to develop what would eventually become a school for their children. She returned to Brown in the fall and began raising money to make the school a reality. 
Whelan's journey to India was funded by a Royce Fellowship, which awards grants to approximately 20 Brown undergraduates each summer to design and carry out independent research and study projects in locations across the U.S. and around the globe.  
Established by Brown Class of 1961 alumnus Charles M. Royce and celebrating its 20th anniversary this year, the Royce program enables students to explore developing interests and to extend the ideals of Brown's open curriculum beyond the walls of the University, organizers say. In 2007, several additional Royce Fellowships for Sport and Society were created for student athletes, with projects focused specifically on the intersection of sports and human rights. To date, 458 Brown undergraduates have received Royce Fellowships. A key element is the Royce fellows' commitment to presenting their work on campus within their multidisciplinary group of peers during the academic year following their projects.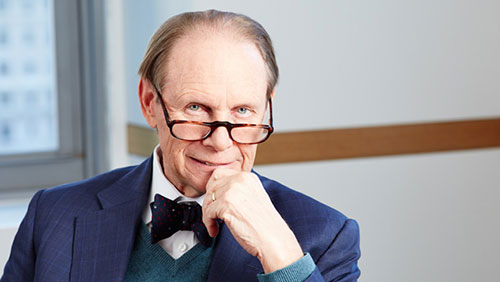 And Whelan's shift in focus? Totally in line with the program's goals. Housed within the Swearer Center for Public Service's program in Engaged Scholarship, the Royce encourages both a deep commitment to scholarship and a sense of responsibility to engage in the community and the world, says Mathew Johnson, director of the Swearer Center.
"Royce fellows often cite the opportunity to engage with the community as a moment in which they began to reconsider the public use of their disciplinary knowledge," Johnson says. "This is a profound experience — the opportunity to integrate and connect academic knowledge to the lived experience."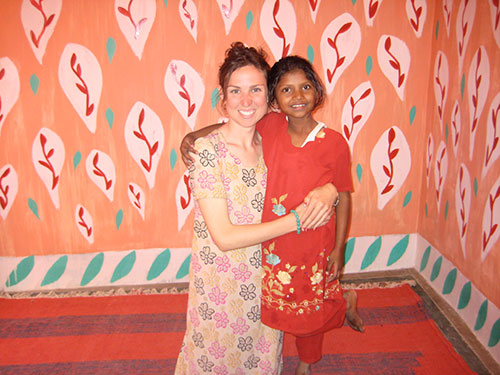 Whelan's attentiveness to the Merasi's lived experience, along with her major fundraising effort, enabled her to co-found The Merasi School in the Jaisalmer District of Rajasthan in 2007. Nine years later, the school, with a community-driven curriculum focused on both music and literacy, has become a cornerstone of the neighborhood. 
"What is great about the Royce is that it's not limited by what your initial vision is," Whelan says. "It has the flexibility for you to realize, 'Wow, the world is not what I thought. And I need to rejigger and have the agility and the nimbleness to actually respond to what the world is giving me.'"
Where are they now?
Whelan is among many Royce fellows who have proceeded to subsequent endeavors informed by their project. After working with the Merasi for five years, Whelan stepped down from her role as co-director to work as a senior foreign policy advisor in Congress. Recently, she founded The Lightning Notes, a website featuring short, inspirational daily posts "to help us move the world forward."
Katy Love, who graduated from Brown in 2004, traveled to rural Costa Rica in 2003 to study how the temporary migration of men away from their homes disrupts traditional notions of gender by obliging women to become household heads and community leaders. After graduation, she worked for the Global Fund for Children, managing grants and capacity building initiatives to grassroots NGOs, and then for CARE International as part of a collaboration to improve worldwide humanitarian response. Now Love directs community resources for Wikimedia Foundation, the nonprofit backbone of Wikipedia and its sister sites.
 
"Through my Royce Fellowship, I got a chance to see how academic theories around neo-liberal economics played out in the real world," Love says. "That exposure gave me the motivation to pursue work in the field of international development. My experience returning to this rural community, where I had lived before, underscored the value of humility. It gave me the wisdom to realize very early on in my career what I knew and what I didn't."
Not all Royce fellows travel so far from campus. In 1996, the inaugural year of the fellowship, Robin Romm's Royce project was to facilitate and organize writing and visual arts workshops with women inmates at Rhode Island's Adult Correctional Institute. She compiled a book of work produced by the participants and documented her experience and  continued teaching in prisons after her graduation from Brown. Now a faculty member in the master of fine arts program for writers at Warren Wilson College, Romm is an acclaimed author and was a finalist for the 2007 PEN USA Fiction Award for her short story collection, "The Mother Garden."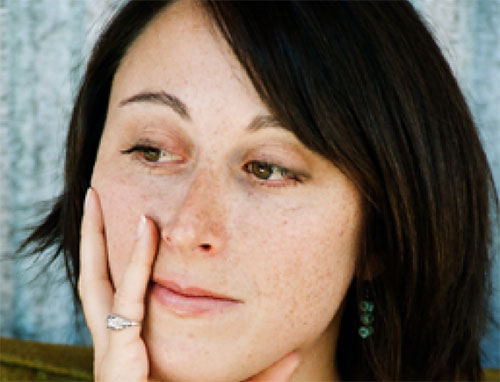 "While I learned a lot about how the prison operates and fails to operate (as well as a lot about power and poverty) from my work at the Rhode Island ACI, I feel that the lasting lesson was how to respect and value someone whose life choices were radically different from my own, how to command authority with grace and compassion in a difficult environment, and how to accept and, in the end, privilege, complicated truths," says Romm, who concentrated in English. "This has helped me in my life as a teacher and, especially, in my life as a writer."
Whelan, Love and Romm represent just a handful of the many achievements by Royce Fellowship alumni. All told, in the fellowship's twenty20-year history, five Royce fellows have become Truman Scholars, 12 have been awarded Fulbrights, 74 have gone on to pursue doctoral degrees, 49 have attended medical school and 33 have attended law school. And one,  — John Young, who used his Royce to develop a new course that traced the history of musical theater, opera, cabaret and film — went on to win the 2006 Tony Award for best lead actor in a musical for his role as Frankie Valli in Broadway's "Jersey Boys."
A year of community and dialogue
Becoming a Royce fellow isn't just about the time spent during the project itself, Royce alumni say — or the fact that it can help inspire a path forward in the years after graduation. Kerrissa Heffernan, director of the Royce Fellowship, says the program's most critical ingredient comes in the academic year following the completion of each project when fellows share their work. Opportunities to do so range from regular meetings with other Royce fellows and brief presentations to professors to campus-wide panel presentations and workshops for public high school students. 
"One of Charles Royce's central mandates is for the research of the Royce fellows to be accessible, so we create many opportunities for the students to present what they've learned to diverse audiences — faculty, kids, administrators, their peers," Heffernan says. "They reflect upon what happened to them in that summer of research within a group of other students who come from a wide range of disciplines, and all of them are asked to consider the usefulness of their work to audiences outside their discipline. This is the most important component of the Royce."
This is epitomized in the culminating Royce Fellowship presentation, a panel in which three fellows, each from a different discipline, must present their projects through the lens of a common theme to an audience comprising faculty, administrators, students and other Royce fellows.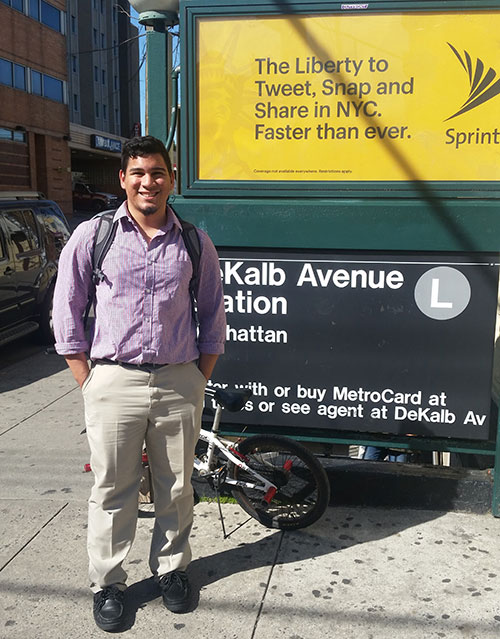 The panels can develop Royce fellows' thinking about their own work. For Brooklyn native and sociology concentrator Daniel Echevarria, who graduated in May, this was the case. He used his fellowship to study gentrification in the Bushwick neighborhood of Brooklyn, was asked to present with a fellow who did research on a former Jewish ghetto in Poland where few Jews now live, and another who was studying the gender-based marketing of skateboarding. Together, they uncovered a common theme of urban space and memory — how physical signifiers don't necessarily coordinate to what happens in a particular space. 
"It helps shed light on your own project when you have to talk about it in abstract ways," Echevarria says. "You almost have to think about it on a higher plane."
Cultivating a fine society
Heffernan hopes to facilitate similar forums and events for the growing alumni ranks of Royce fellows, bringing together graduates from different career sectors in a space where they can reflect on their commonalities. Twenty years in, she says, the group of Royce graduates has quickly grown into the accomplished, diverse and intellectual community that Charles Royce envisioned when he began the fellowship and the Society of Royce Fellows, to which all recipients belong.
This year, the University held a pilot alumni event for the society in New York, where nearly 65 alumni live. More than 50 showed up. 
"When Chuck created the Royce, he was thinking about a Truman or Rhodes model in which people years down the road still affiliate with the Royce," Heffernan says. "I think we're getting there. Alumni are very enthusiastic and effusive about how important the Royce was to them in their undergraduate experience."
Meanwhile, 27 new fellows have started their own Royce journeys this summer, traveling to locales as far flung as Rwanda and as close to campus as Brown's biomedical labs. 
"Some of them will come back in the fall and say, 'Well, my project was wildly successful,'" Heffernan says. "Some will say, 'Well, it was successful but not at all like I thought.' And then there's always a group who will come back and say 'My project completely failed, but that failure took me in a whole new direction. And what came out of it is amazing.'"
Editor's note: Some quotes featured in this story came from audio stories about the Royce fellowship that were produced by Liza Yeager .